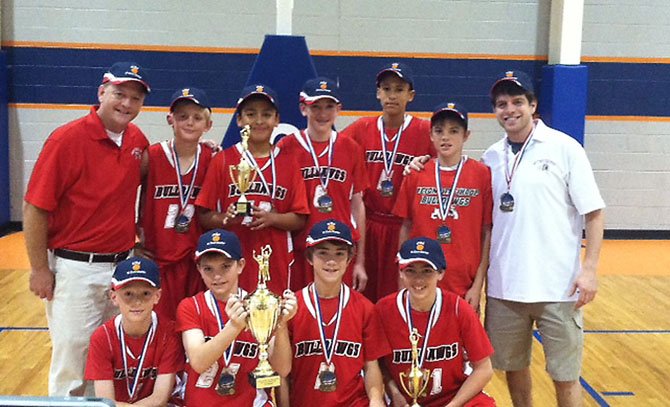 12U Bulldawgs Wins State Tournament
The 12U Arlington Bulldawgs won the AYBA Virginia State Tournament on June 3 by defeating the Stafford Magic in a hard-fought battle in the state tournament finals.
"I was proud of how our players executed our game plan in the finals," coach Bill Simmons said, "and really gutted out a great win against a great team."
The Bulldawgs roster consists of Nicholas Barahona, Nikka Gerlach, John Merlene, Zach Muleta, Will Mulquin, Chris Ozgo, Andrew Simmons, Noah Swisher and Tanner Wall. The team is coached by Simmons and Michael Lerner.
W-L Diver Buergler To Attend UVa
Washington-Lee diver Carl Buergler will compete for the University of Virginia next season.
Buergler was a four-time All-American at W-L, where he finished state runner-up on the 1-meter board. While competing for Dominion Diving Club, he was a top-15 finisher on the 1-meter and 3-meter boards at the 2011 Speedo Junior National Championships and captured the 2012 East National title in the 3-meter.
"Carl is one of the top recruits in the country," UVa diving coach Rich MacDonald said in a press release. "He is probably one of the most decorated divers to come to Virginia. I have known Carl for years and his work ethic is second-to-none. His leadership will be important with such a young team."
GWU Softball Camp
George Washington University will host an individual skills camp July 9-11, providing instruction for ages 10-18 and all skill levels. For more information, visit www.gwsports.com.
Adult Soccer Clinics
Arlington County is offering soccer clinics for adults this summer, for novices who would like to learn to play, and beginning/intermediate players who want to improve their soccer skills. The six-week clinics will be run from late June through late July. Two nights are offered: Sunday evenings from 7:30 to 9:30 p.m. at Washington-Lee High School, and Monday evenings from 8:30 to 10 p.m. at Greenbrier Stadium (Yorktown High School).
The cost for the six 90-minute clinic sessions is $110 for Arlington residents, $130 for non-residents. Online registration is now open at https://registration.arlingtonva.us/wsc/cgiip.exe/WService=wsrtlive/wb1000.html?wbp=1. For more information, contact Marta Cahill at mcahill@arlingtonva.us or 703-228-1818.
Register Early for Senior Olympics
Registration is open for the 2012 Northern Virginia Senior Olympics, to be held Sept. 15-26. Participants can register online by going to www.nvso.us and signing up to compete in more than 40 events that will take place at 18 different venues throughout Northern Virginia. Registration forms are also available at senior centers, community centers and senior residences or by calling 703-228-4721.
NVSO is celebrating its 30th anniversary. Senior adults 50 years of age by Dec. 30, 2012 residing in a sponsoring jurisdiction are eligible to compete. Deadline to register is Sept. 1. The fee is $12, which covers multiple events. There are additional facility fees for golf and bowling. Most events are divided into age categories and some by gender. Winners will be awarded gold, silver and bronze medals after each event.
Events include badminton, volleyball, cycling, track and field, swimming, diving, tennis, table tennis, golf, miniature golf, 10-pin bowling, Wii bowling, pickleball, bocce, racquetball, scrabble, cribbage, duplicate bridge, bunco, horseshoes, men's 3-on-3 basketball, men's and women's basketball free throw, team line dancing, yo-yo tricks, eight ball pool, Frisbee throw, softball hit and throw, football throw and Mexican Train dominos.
NVSO is sponsored by the cities of Alexandria, Fairfax and Falls Church, and the counties of Arlington, Fairfax, Fauquier, Loudoun and Prince William.