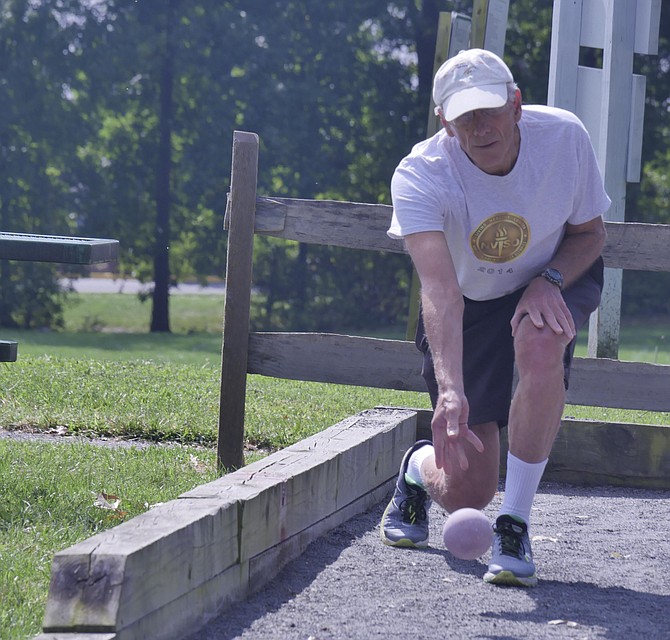 Only $13 registers you in the Northern Virginia Senior Olympics (NVSO) unless you compete in 13 different categories like Charles Toftoy. At $2 for each event, it costs him $39 for registration plus event participation. Several events require additional fees. At 83-years-old , Toftoy has been competing in NVSO for many years. His current favorite event is pickleball which is says is a national favorite.
This year NVSO begins Saturday, Sept. 15 with the opening ceremony at 9 a.m. followed by track, rowing and diving events. NVSO ends Sept. 26 with pickleball, yo-yo and bunko. In between there is everything from softball hit and throw, tennis doubles, swimming and track events, mini-javelin, volleyball and cornhole toss. New events this year include beach ball wallyball, canasta and croquet.
Events will be held at 29 different parks, recreation centers and sports courts including Fairfax Senior Center-Green Acres, Thomas Jefferson Community Center, Wakefield District Park, Northern Virginia Badminton Club, The Jefferson, Prince William Golf Course, and St. Andrews Episcopal Church.
Participants are required to be 50 years old or older and to reside in the cities of Alexandria, Falls Church or Fairfax or the counties of Arlington, Loudoun, Fairfax, Fauquier, or Prince William. Most competitions are held by age group and divided between men and women.
Registration ends postmarked Aug. 31 for regular mail and Sept. 3 for online registration at www.nsvo.us.
Volunteers are also welcomed. To volunteer at at event, call RSVP at 703-403-5360 or email RSVP@volunteerfairfax.org.