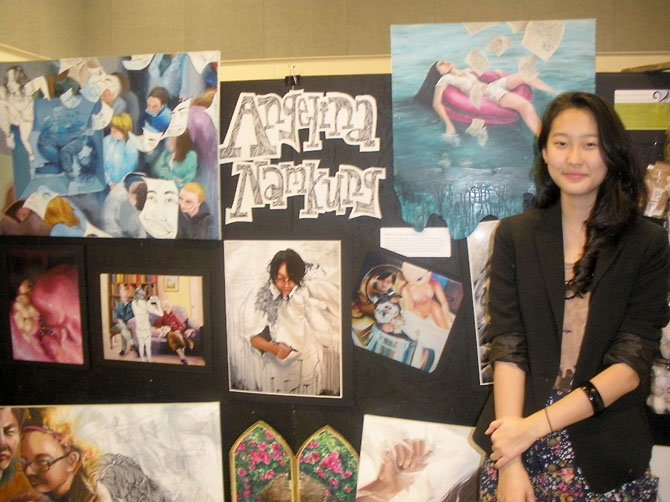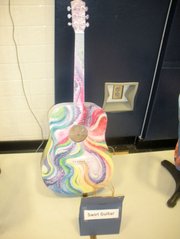 On June 6, Woodson High School's art students of all grades showcased their artwork for the community at the Woodson's annual end-of-the-year Art Show. Senior art students enjoyed their last high school art show, while others experienced their first public showing.
Woodson High School's auxiliary gym was filled with hundreds of parents, students and community members crowding around each display. Well over two dozen students' artwork was on display. Students of all grades and art levels presented their style of art including analog and digital photography, ceramics, sculpture, computer graphics, animation, printmaking, painting, drawing, and mixed media. Woodson's art teacher and Art Show coordinator, Jayne Matricardi-Burke, said the Art Show has been a great success. "We've been working hard for years to build a good program," Matricardi-Burke said.
AP Art student, junior Charlotte Guthey, said her digital photography is "therapeutic" by helping her express herself. Another student conveys her strong attachment for her art. "I wouldn't want art as a career because I wouldn't want to make it for anyone else, but myself," says senior Anna Beyer.
One of the main pieces featured was senior Angelina Mamkung's award winning art. She has received a Silver Award at the 2012 Scholastic Art Awards and an honorable mention for her artwork at the 11th District Congressional Art Competition. She will be heading to Carnegie Mellon University in the fall on a Merit Based Scholarship.
"I really suck at writing, so this is the only way I can express myself" says Mamkung. Moments later a women admiring Mamkun's art tells her, "You inspire me to do my own art".
Prints of student artwork will be available for sale. Raffle tickets for hand-painted chairs and guitars were featured, all the proceeds going towards the school's Art Booster program.