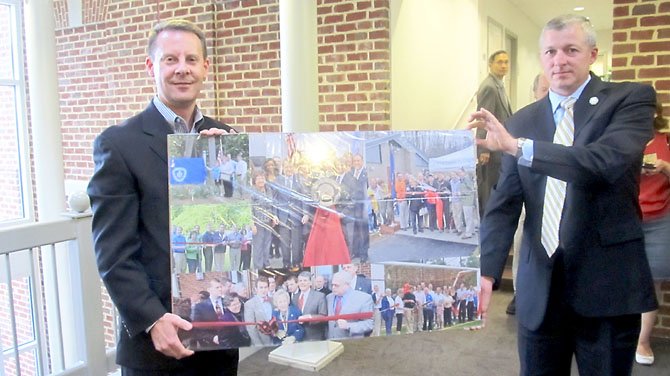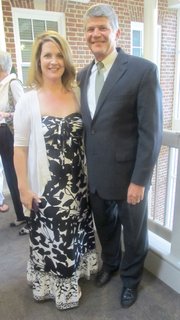 When Kim Luckabaugh's young son was in the hospital, fighting a battle with cancer, she would frequently stop by Sweet Life Café in the City of Fairfax to get him some ice cream to take to the hospital. The owner of the popular ice-cream parlor knew her situation and would never let her pay.
"He said it was a gift, and insisted that anytime I was visiting my son, I should stop by and take a gallon of ice-cream for him," Luckabaugh said. It was a neighborly gesture that Luckabaugh never forgot.
On Tuesday, June 12, Luckabaugh joined several hundred community residents, civic leaders and elected officials to celebrate the former owner of the Sweet Life Café – Mayor Robert F. Lederer, the city's five-term mayor who officially steps down later this month.
"He's a unique man," Luckabaugh said. "He takes an interest in people, and the city maintains a small-town feel because of him."
A lifelong resident of the city of 22,565, many praised Lederer, 56, for his vision and leadership in the redevelopment of Old Town Fairfax and the trendy Main Street Marketplace. The city's historic main street corridor now includes a spacious new library, an upscale shopping center, and townhomes on Chain Bridge Road.
"Rob is passionate about this city," City Councilman Dan Drummond said. "He put the city on a path that people will appreciate in the next decade, and he leaves behind a legacy of significant accomplishments. He has continued the growth of the city, while retaining its small-town charm and 'sense of place.'"
During Lederer's tenure, the city achieved AAA bond status and was ranked by Forbes Magazine as one of the top three places to live in the United States. Last year, the city celebrated its 50th anniversary during the Mayor's Ball at the new state-of-the art Sherwood Community Center, which was built under Lederer's leadership.
Lederer was first elected mayor in 2002 and served five consecutive terms. He also served five terms on the Fairfax City Council.
During the victory party for Mayor-elect R. Scott Silverthorne on May 1, Lederer said he was willing to step down after serving five terms only "when I knew Scott was willing to step up to the plate."
"Knowing the quality of leadership Scott will bring made the decision easier for me," Lederer said. Silverthorne will be sworn in on Wednesday, June 27.
"I've lived here all my life," Lederer said during the reception. "and there's a good reason we were listed as the third best place to live in America by Forbes. We have a sense of place here that's second to none. We have a something special, a sense of pride and civility."
"He will be greatly missed," said Assistant Fire Chief Andrew Wilson, "He did a great job for our city."
"He was born and raised here," said his wife Maureen. "He wanted to make sure this was a place where people wanted to raise their children. I think he accomplished that."