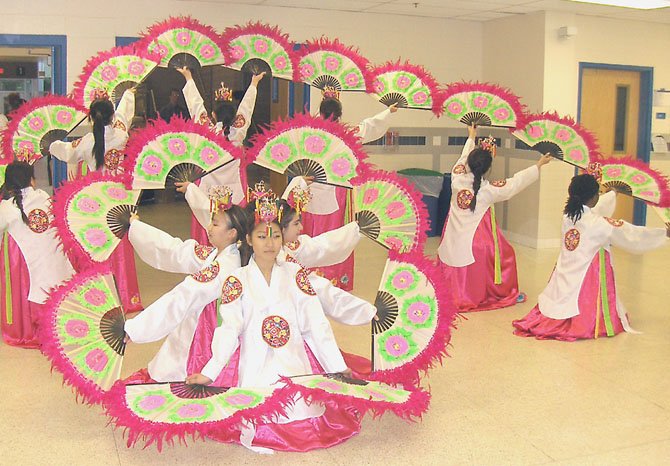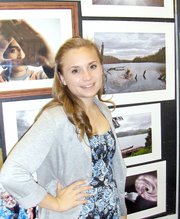 Students in the Fairfax Academy displayed their signature projects last Tuesday, June 5, during the annual Creative Works Showcase. They sang, danced, played music, showed films they'd made and displayed their graphic-art, fashion, foreign language and photography skills.
For their project, seniors Ji Won Kim and Moses Yim dressed in traditional, Korean garb and served visitors colorful kimbab, which is similar to sushi but without fish. They represented Korean III and IV, the highest level of Korean-language classes at the Academy.
"We're reading Korean novels, writing paragraphs and speaking only Korean in class," said Yim. "I took it to learn the correct grammar and because I wanted to be able to listen to Korean better so I'd understand it faster."
Senior Analise Peterson showed her work for Professional Graphics, a design and animation class. "It's a graphics design I did, plus concept art – the outline before the finished project," she said. "I worked on a mixture of graphic design and 2D animation.
Classmate Brianna Rodriguez did her project on a computer and drew it on a tablet, using Photoshop and Illustrator. "It represents me as a person," she explained. "I lived in New York for 10 years, so I drew its skyline and buildings to really stand out. There's a drawing of my sister Kayla, who has autism; and the drawing titled 'I am Strong' shows me being strong for my boyfriend in the Marines. There's also a drawing of my work and my head to show my work is me and I am my work."
For her Chinese-language project, sophomore Maeve Griffin prepared a display showing the sights of China, plus items reflecting the country. "I grew up in Nepal and Bangladesh and always had an interest in Asian culture," she said. "Chinese is going to be one of the biggest languages in the world, so I'm preparing for the future and a job hopefully working internationally for the U.N. Since this class is every day, it's as close to full immersion as you can get, so it's become second-nature to me."
Senior Haley Reynolds did her signature project for Fashion Design II. "In class, we learn the ins and outs of the fashion business – garment construction, pattern-making, illustration and CAD work on the computer for a more professional look to the design," she said. "It's an accurate look into the industry and how challenging it is."
In Professional Photo, level II, senior Alysa Baird learned how to download photos, edit them correctly and change the light balance. Most importantly, she said, "We learned how to use studio lighting to make the subject look better and also how to Photoshop things into a picture. We also learned how to work with clients and pose models." Baird displayed her photographs at the showcase; she plans to eventually go into engineering and do professional photography on the side.
Classmate Jesse Colligan showed her photographs, as well. She plans a career in psychology or counseling, but enjoys photography and wants to continue doing it on the side. "My favorite thing is taking portraits of children because they all have different personalities," she said. "So to be able to capture that in a portrait is really cool."