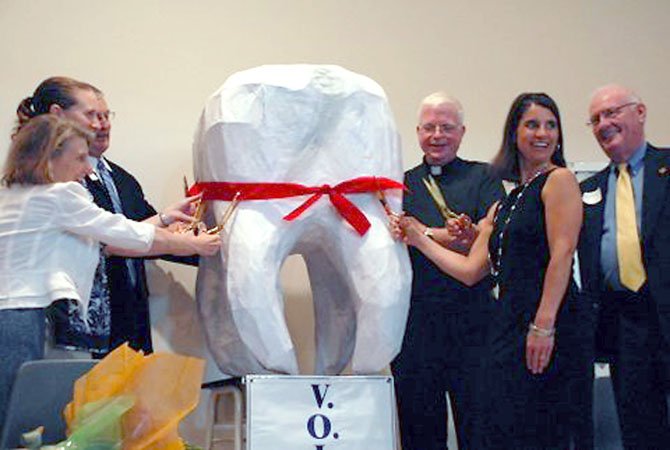 VOICE, a local interfaith group, has raised $200,000 to fund a full-time dentist at the western Fairfax County branch of the Northern Virginia Dental Clinic, low-income dental clinic. VOICE, which stands for Virginians Organized for Interfaith Community Engagement, is a collection of members from four Reston congregations: Northern Virginia Hebrew Congregation, St. John Neumann's Catholic Church, Trinity Presbyterian, and the United Universalist Congregation of Reston. The monies raised will ensure funding for the clinic for two years. The full-time dentist will begin seeing patients July 1.
"Dental health affects how you get a job, it affects your confidence. By having access to proper oral health care, it becomes a domino effect to other things, such as finding work," said Dr. Kristen Donahue, a local dentist who has a practice in Burke and has volunteered at the low income clinic.
The western Fairfax County branch of the Northern Virginia Dental Clinic, located in the Countryside Shopping Plaza in Sterling, has been in operation for over a year. The facility has space for four dentists to work; however, as the clinic relied on local dentists volunteering their time, only one dental chair was in use at any given time.
According to Joan Kasprowicz, a parishioner at St. John Neumman and a lead VOICE fundraiser, the hope is that providing a full time dentist a better, more consistent level of care can be provided.
"There is such a need for this kind of service in western Fairfax County. Dental health care for children up to the age of 18 is covered by the state. Once a person turns 18, they must find their own coverage for dental care. Once we saw this beautiful facility in Sterling and heard that it was under-staffed, we knew we had to do something," said Kasprowicz.


THE VOICE TEAM raised funds from area health and dental care providers including: Delta Dental of Virginia, INOVA Health System, Jon C. Burr Foundation, and Reston Hospital Center. In January, VOICE received a $100,000 anonymous gift.
"Virginia, historically, is one of seven states in the nation that does not provide oral health care for adults. If an individual cannot afford access to a safe heath care, they may end up pulling their own teeth or going to one of the underground clinics where there is a high risk of infection. Also, it's important to keep in mind, a lot of people who do not have proper dental care access, end up in the emergency room, incurring greater taxpayer costs," said Tom Wilson, executive director of the Northern Virginia Dental Clinic.
The Northern Virginia Dental Clinic is a private, non-profit organization that was established in 1994 by members of the Northern Virginia Dental Society who wanted to contribute dental services to the community. The Falls Church location opened in 1994. The Sterling location opened in 2010. Until now, both locations have been fully staffed by volunteer dentists.
The NVDC accepts only those individuals deemed eligible through an established network of referring social service agencies. Individuals seeking treatment must call Coordinated Services Planning (703-222-0880) to schedule their first appointment and to provide the $40 co-pay, which according to Wilson helps keep the no-show cases down.


IN ITS FIRST YEAR OF OPERATION, the Sterling location handled 3,200 appointments. It is anticipated that a full-time dentist will bring in an additional 1,500 appointments, increasing the annual appointment amount to 5,000, said Wilson.