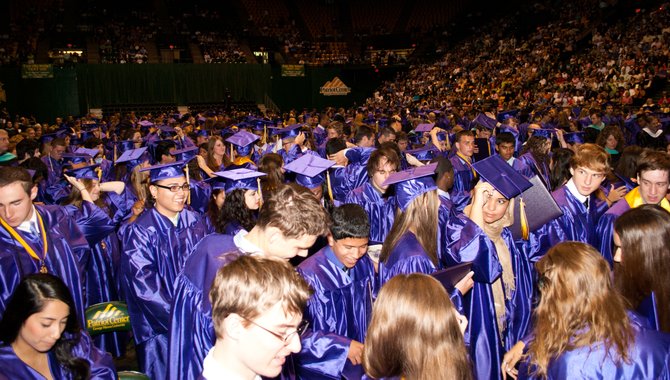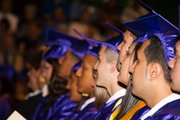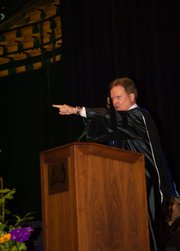 Being a vice president of the Student Government Association has its perks. Brianna Hogan, a Lake Braddock Secondary School senior, had the honor of introducing the guest speaker at the school's graduation ceremony on Friday, June 15 at the Patriot Center.
"Our guest speaker is the former Secretary of the Navy, and a highly-decorated Vietnam War combat veteran. You all know him as your senior United States Senator from Virginia, Jim Webb. I know him as my pop-pop, my grandfather," Hogan said, giving her grandfather a big hug as Webb took the podium to give the Bruins' Class of 2012 commencement address.
"I'll begin by saying I was coming anyway," Webb quipped.
He pointed out members of his blended family sitting in the audience - which includes four grown children, as well as a young child with his current wife Hong Le, and stepfather to Le's daughter Emily - as "kind of like that show 'Modern Family'…We're all here for Brianna, because we love each other."
The author of several novels, Webb, a Democratic power-player whose first legislative act in 2006 was to introduce expanded benefits for military families, announced this February that he will not seek reelection in 2012.
Senator Webb introduced the sweeping "Post-9/11 Veterans Educational Assistance Act of 2007" on his first day in office in January 2007 in order to provide those who have served since 9/11 with the most comprehensive educational benefits since World War II. He also announced his retirement in February 2011, rather than 2012.
The Purple Heart recipient captivated the audience with a rousing patriotic speech, telling the 800-plus graduation candidates to find something in life they care about and "if you succeed, do not ever forget those who made it possible for you."
He asked veterans in the audience to stand up, and told the audience of a t-shirt that struck him during a Memorial Day ceremony at Arlington National Cemetery: "It said 'If you can read this, thank a teacher. If you can read this in English, thank a veteran.'"
He related one of the most "inspirational" moments of his life:
"When I was a senior in high school, my dad graduated from college at the University of Omaha. My dad was a military pilot, and when he got his diploma, he broke out of line and strode to where I was sitting, and stuck the diploma in my face. I'll never forget that," Webb said.
"My dad said 'Son, you can get anything you want in this country, and don't forget it…This is the American Way,'" Webb said, as the audience gave him a round of thunderous applause. "You have been blessed to live, work and be a part of this historically unique country called the United States of America."
Webb's speech was one of the highlights of the ceremony, which included the Presentation of the Colors by the LBSS Junior ROTC, and special guests Del. Eileen Filler-Corn (D-41); Ilryong Moon, Vice Chairman of the Fairfax County School Board; Megan McLaughlin (Braddock) and Elizabeth Schultz (Springfield), members of the school board; and FCPS superintendent Jack Dale.
After the Pomp and Circumstance processional, Principal David F. Thomas opened the ceremony with some statistics about the graduating class. He noted that the Class of 2012 will be known for its commitment to community service.
"You have donated more than 6,000 hours of service this year. You have fully embraced President Kennedy's declaration to 'ask not what your country can do for you, but what you can do for your country.'"
The school, with more than 4,000 students, is known for its rigorous academic program and winning athletic teams. Nearly 90 percent of the Class of 2012 is headed to a two or four-year college, and 105 students are honor graduates.
Emily Petruzzelli Schell received the Faculty Award for her launching "Promise for Preschool," a program for at-risk children.

Senior Kelsey Carpenter gave an original, sometimes sardonic, amusing Honor Graduate address to her classmates, telling them "our sass sets up apart."
"It so nice to see all of you here again, since I haven't seen you since May." She frequently compared the Bruins to the Honey Badger, known as the most fearless creature in the animal kingdom, and a recent YouTube phenomenon that spawned the popular "Honey Badger Don't Care" book.
"We have a record-breaking number of Honey Badgers here. We know we're the best and we rock it out...What you call insanity, I call inspiration," Carpenter said, eliciting cheers and laughter from her classmates.