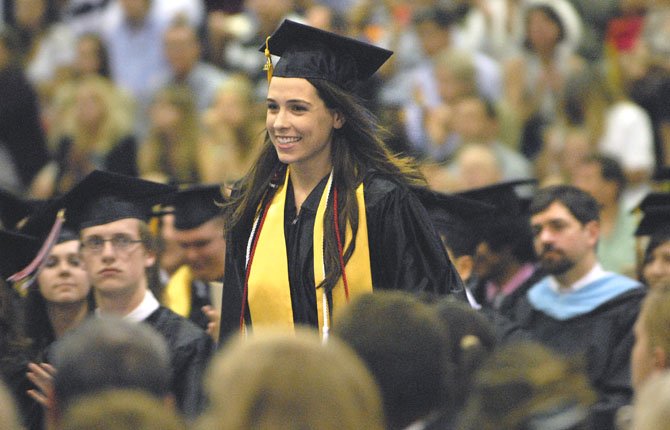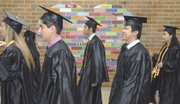 "Four score and zero years ago they entered as freshmen at James Madison High," said Forrest Schmidt, Senior Class President of 2012, in her opening speech. Schmidt talked about the ups and downs of high school and, while they may not remember everything taught, they will never forget each other.
On June 14, the James Madison graduation ceremony, held at Robinson Secondary School's gym, was filled with camera zealous parents and black robed Madison students awaiting their diplomas.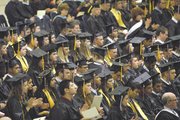 Guest Speaker Timothy Buckley, Madison counselor, welcomed those that "love coming to these things," but beyond the humor his advice to students boiled down to one simple truth. "You are all going to fail," said Buckley. "You are going to fail and you will learn from it and grow from it," he says, explaining that we wouldn't be able to succeed if we didn't "overcome the fear of failure."

On a serious note, Buckley mentioned graduate student Scott Kippler, who four years ago was diagnosed with a rare form of cancer that doctors said would only allow him 6 months to live: Kippler overcame his disease and is preparing to go to college in the fall.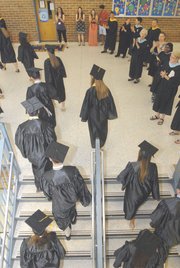 Student speakers Julia Horowitz and Anne Pavlik shared the podium as they expressed their sorrow of leaving high school behind and the prospects of college. Among the ordinary music selections, graduate Kristen Inglese preformed her own written song and piano piece during the ceremony called "Chapters."
Then the moment that the class of 2012 had been waiting for, diploma presentations and the declaration of graduation by Madison Principal Mark Merrell. Graduates and the audience erupted into cheers with black caps thrown into the air.
Among the graduates there were 87 honor students that received an accumulative GPA average of 4.0. Distinguished guests included Richard Moniuszko, Deputy Superintendent of Fairfax County Public Schools and James Kacur, Assistant Superintendent of Cluster II.