Arlington — "From our hearts we speak, declaring Your majesty," sings Nicois Harris on "Glorious," the first track on her latest album, "un-di-'ni-a-bel." Harris is an Arlington-born singer whose music is a fusion of Christian contemporary music, rock and gospel. There are also undertones of tribal African music in her songs. "un-di-'ni-a-bel" was released on May 12.
"I began to get into music around 5 years old, just singing in a church choir," said Harris. "That just kind of blossomed from there into community choirs." However, she did not think seriously of pursuing religious and inspirational music until she was 22, when she was in the middle of a fellowship at the Embassy Ministries in Springfield.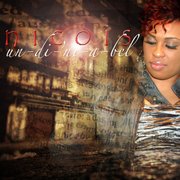 "While there, I had a very profound meeting with my First Lady [her pastor's wife] which gave me some direction in the kind of music I was concerned with. Before that, I had done some secular music — with success — but it did not feel right to me. So when I spoke with my First Lady, she encouraged me to do what felt right. After that, I didn't sing for a few years, but when I picked it back up again, I began to sing religious music," Harris said.
Harris received a diploma in Biblical Studies from the Leadership Bible Institute in 2011. "When you begin to sing about God, you have to know what you are talking about," she said.
Harris has lived in the D.C. metropolitan region her entire life. She moved to Prince William County from Arlington, and currently lives in Triangle, Va. with her husband Jack and her three children.
"un-di-'ni-a-bel" is not Harris' first album. She also released an album called "Everyday Blessings" in June 2002, and an EP, "Undeniable," in October 2010.
Harris also lives her love for music as a music director at Agape Embassy Ministries. In addition, she is involved in local charities, including Operation TACK (Toys And Clothes for Kids). She is particularly proud of an event she and her husband Jack helped to organize for women and children at the Shepherd's Cove Women's Shelter in Capitol Heights, Md. Several artists, including Harris, sang at the event, author Alice Giraud spoke and local comedians Divas of Comedy performed at the event. Harris worked with Holy Heat Entertainment and United Communities Against Poverty, Inc. for the event, and they received over 300 toys and items of clothing to benefit the shelter.
To learn more about Nicois or to hear her music, go to www.nicoismusic.com.