The Lord of Life Lutheran Church will be alive with "The Sound of Music" when its Lord of Life Players perform the classic show of the same name. The church is at 13421 Twin Lakes Drive, off Union Mill Road, just past Centreville High.
Show times are Nov. 2, 3, 8 and 9 at 7:30 p.m., and Nov. 4 and 10 at 5 p.m. Tickets are $15; for reserved seats and advance tickets, call Annie Jenks at 703-347-2613. They may also be available at the door.
"It's probably one of the most popular and beloved musicals of all time," said Director Suzy McCarthy. "The Rodgers and Hammerstein music is glorious, and it's based on the true story of the von Trapp family."
"The cast is fantastic, with beautiful voices and awesome acting abilities," continued McCarthy. "We have delightful von Trapp children, plus six other children who play orphans and sing with Maria. There'll be familiar faces from our production of 'It's a Wonderful Life,' plus new people, so it's truly a community effort."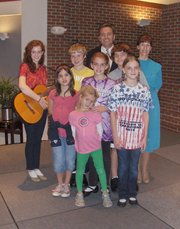 THE CAST AND CREW of 60 includes a live combo and members from the church's locations in both Centreville/Clifton and Fairfax. Professional artist Kari Cannistraro and McCarthy designed the sets. The scenes take place in the Alps, the von Trapps' house, the abbey and Maria's bedroom.
Music director is Bobby Jasinski, who was McCarthy's student when she was Lake Braddock Secondary's choral director. Producer Judy Treichel, who started Lord of Life Players in 1990, calls the cast "disciplined, talented and wonderful to watch."
"It's such a happy story, but also one of God's love and commitment and the importance of family," said McCarthy. "People's hearts will be blessed with the 'Sound of Music.' I guarantee people will leave with smiles on their faces."
Catherine Kyriakakis of Herndon plays Maria, who goes from wanting to be a nun to taking care of the von Trapp children. "She's spunky, optimistic and always finds the good in situations," said Kyriakakis. "She has a wide-eyed innocence, yet is smart. And she loves God, the von Trapp children and, eventually, their father."
Calling it a "dream role," Kyriakakis said, "I've wanted to play Maria since I first saw this movie on TV at age 5. I'm a private voice teacher, so I've sung my whole life, and this music is just beautiful and timeless. It's a little daunting to play a character Julie Andrews brought to life, but she's so full of hope that you want to put your heart out on the stage, every time."
Her favorite song is "Something Good," which she sang as a child while dancing with a broom. "I sing it with the captain when we fall in love," said Kyriakakis. "It's just so sweet and beautifully written."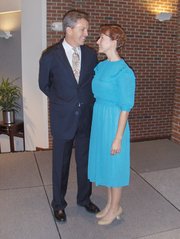 Noting that the von Trapps had to leave everything and flee the Germans, she said the story "touches your heart. It's sad and poignant, yet leaves you feeling that, with God, you can rise above any circumstance and survive. And the children are so cute and such a joy to work with. It's a show for all ages."
Playing Capt. von Trapp is Paul Denfeld. The story takes place just before Germany invaded Austria, and von Trapp is an officer in the Austrian Navy. "His wife has died, so it pains him to be around his children or have music in his life because they remind him of his wife," said Denfeld. "So he runs his house like he runs his ship—strict and stern."
Almost by accident, Maria reintroduces music into his house when she becomes his children's governess. He discovers what he's been missing and, eventually, falls in love with her.
"It's one of the great parts that almost every actor wants to play," said Denfeld. "I get to show the depths of my character's loneliness and anger and the transition of him falling in love again. And to be on stage with someone as talented as Catherine is wonderful."
He especially likes the tune, "Edelweiss," because "it's such a beautiful song and expresses von Trapp's love of his country." Noting that "everyone loves the story," Denfeld said the children in this show are fun to watch and the audience will particularly laugh at the antics of the youngest one. And, he added, "They'll be humming the tunes and whistling the songs as they leave."
HERNDON'S AMANDA HARVEY plays 16-year-old Liesl, the eldest von Trapp daughter. "She's idealistic and sheltered, but gains an understanding of the world," said Harvey. "She's maternal toward her siblings and a little suspicious of people when she first meets them."
Harvey called Liesl "a ton of fun" to portray. "She's such a lively, happy teenager," said Harvey. "She also gets to do lots of marching and dancing and wear nice costumes." Her favorite song is "Do Re Mi" during which "Liesl makes a great transformation from skeptical and unkind toward Maria to more accepting. She finally has fun again with music and a trust forms."
Harvey says attendees "will be blown away by Catherine and Kate's voices; and June Johnson, who plays Gretl, will enchant the audience. I also think people will sympathize deeply with the von Trapps. Paul does a great job of making the captain seem more tormented than cold. He'll really endears the audience to him. People will take something away from this musical that's very personal."