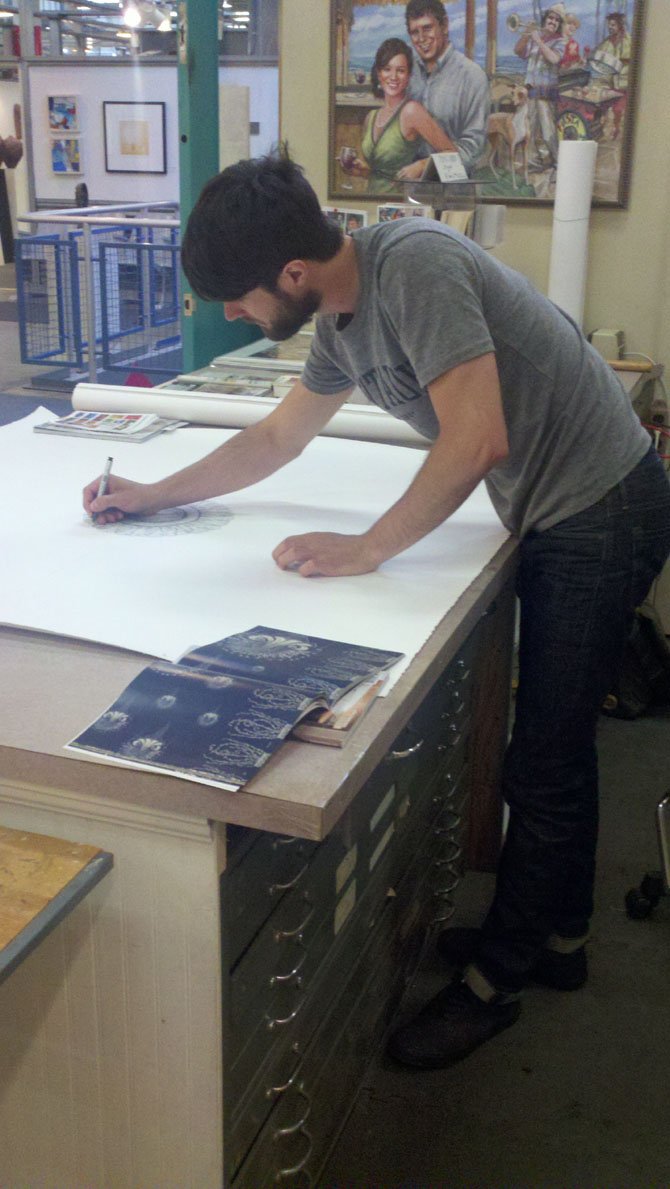 Arlington — Skill, creativity and workmanship are necessary elements for any career artist. Work that is judged worthy by peers through a juried process, however, adds a new level of professionalism.
Arlington resident Joseph Shetler learned he had passed the litmus test when he was selected to take a residency with the Visiting Artist Program at the Torpedo Factory Arts Center in Alexandria.
"I had moved to the Hampton's and was working on a 40-foot catamaran when I got the call," said Shetler. "I had to come back for this residency, I couldn't turn this down. Having space and time to work fulltime is huge."
The Torpedo Factory Art Center in Alexandria has 82 artist studios and six galleries. Competition for space is fierce, as the organization maintains high professional standards via a stringent evaluation of abilities through a juried process.
The Visiting Artist Program was established three years ago, and offers a rotating group of accomplished artists time, tutorage, and studio space to further develop.
Only 16 artists were selected out of 45 applicants for the 2012 program.
Shetler's highly detailed and abstract drawings are unlike any of the work currently pursued by artists at the Torpedo Factory. His originality set him above the competition, a decisive factor for the program judge Paula Amt.
"I looked through quite a few submissions, many were not eye catching," said Amt, a gallery owner and artist who has been in the Washington, D.C. art scene since 1998. "Mostly it was about seeing something different, something the factory doesn't have going on."
Shetler draws on his memories of a life in the deserts of Arizona for inspiration. "I lived in Arizona most of my life; the violent-looking desert plants, the heat and sun influenced me," said Shetler.
Although Shetler has been involved with art most of his life, his passion took a professional bent when he moved to the D.C. area in 2010. A combination of work and practical considerations contributed to his pivot as a career artist.
Shetler took a part time job as a security guard at The Phillips Collection, a position that provided daily inspiration and time to devote to his craft. The spatial limitations of living in a studio apartment were also a factor in developing a voice.
"I couldn't do sculptures or oil painting, there was no space and no ventilation," said Shetler. "That focused me on drawings media-wise. Once that happened, that's what came out."
Photorealistic watercolors were a signature style prior to Shetler's switch to ink drawings. The static landscapes were not fulfilling, however, and he followed the creative pull to move beyond standard fare.
Versatility and a willingness to experiment are key elements of the Visiting Artist Program. According former VAP resident artist Fierce Sonia, the enthusiasm and encouragement of fellow artists sets the stage for breakthroughs of creativity.
"Other artists at the Torpedo Factory are great, the biggest leaps I've ever made were because of the Visiting Artist Program," said Sonia. "It's an enriching experience, with a lot of social aspects as well."
VAP residents like Shetler must go beyond the workbench, however, as the foundations of the Torpedo Factory are grounded in an openness to the public. For Torpedo Factory artists, demonstrating the creative process is as important as the final product.
"They're here to do work, but we also want them to enrich our community," said Susan Finsen, a Torpedo Factory artist and VAP committee member. "This is not the right place for everyone, like the silent worker. We're educating people how we work."
Emotional content means everything to Shetler, and engagement with the public works both ways. "When people look at my work, they might say it reminds me of this or this memory, I'm shooting for a déjà vu feeling," said Shetler. "I'm looking forward to being able to talk to visitors, and hopefully make some connections."