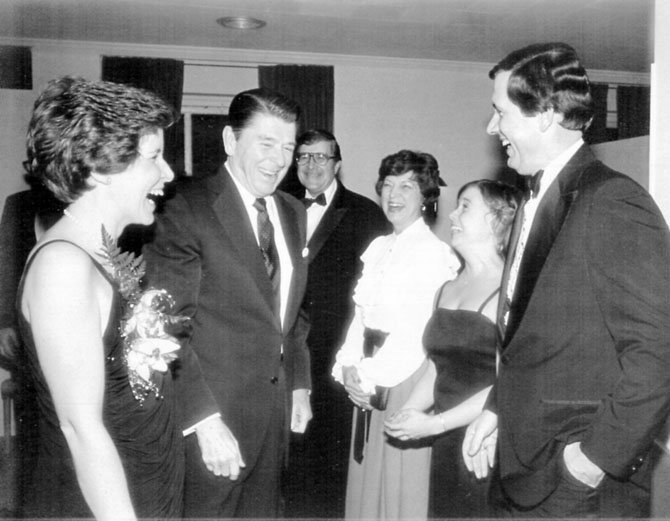 "People are marvelous in their generosity, if they just know the cause is there," said folk hero and proud Oklahoman Will Rogers.
Finding a cause to fit his generous spirit has never been a problem for fellow Oklahoman Lou Priebe.
Since moving to Springfield 42 years ago, Priebe, a public relations veteran, has volunteered, created or lobbied for dozens of organizations and causes - big and small.
He has arranged high-level presidential meetings, met and mingled with just about every notable politician and celebrity, volunteered tirelessly for his Springfield church and community, and launched a lobby to promote chili - yes chili - as the official food of the United States.
In the past six months, Priebe, 71, has been honored with several prestigious awards. In December, he was awarded the National Press Club's Berny Krug Award for outstanding contributions and volunteer service. The former two-term Board of Governor's member is currently chairman of the NPC's House and Bar Committee, where he is responsible for oversight of cuisine and decor for the 105-year old Washington institution.
"Since moving to Springfield in 1970, there have been two constants in my life," Priebe likes to say. "One is my wife, Florence, and the other is my membership in the National Press Club."
"He has been an ardent club supporter for nearly half a century," said past NPC president Gil Klein, one of Priebe's many friends. "He never stops giving to the club, and he's one of those men who inspire others to give back."
Klein jokes that Priebe is also a "professional Oklahoman," and Priebe won't disagree. To know Lou Priebe is to recognize his love of all-things-Oklahoma.


IN JUNE, he returned to Enid to receive an award that dovetails with his past and present. A 1959 graduate of Oklahoma's Enid High School, Priebe received the "Pride of the Plainsman Award," a distinction given to alumni and benefactors who have excelled in their careers. The Pride of the Plainsmen Award was presented May 21 before more than a thousand students at the annual awards assembly. Past honorees have included a Medal of Honor recipient, an astronaut, a Member of Congress, three Pulitzer Prize winners, distinguished educators and successful local business executives and philanthropists.
Priebe said he was especially honored because of the award's selection process.
"You're nominated by the community, but it's the students that select the recipients," Priebe said. "It kind of reflects both of their standards."
Like his hero Will Rogers, Priebe never met a man he didn't like.
"My father is the kind of person who, whether he's known you for decades or just a few months, will make you feel like a part of the family," said daughter Allison Priebe Brooks, an Alexandria resident who owns the jewelry design business Queen Bee Designs.
"The good traits of both of Allison and her brother Brad all come from their mother," Priebe said. "Brad, who is a financial advisor in Scottsdale, Ariz., is the kind of person who engenders confidence for his professional and biblical knowledge and for his authenticity."
Priebe's loyalty to his friends and community is almost as legendary as his pride in Oklahoma.
"The thing I love about Lou is that he lives to make other people happy, although sometimes he drives me crazy with it…" said Dr. M. Bruce Shields, a renowned glaucoma specialist and a close friend of Priebe's since they met in junior high school.
Shields, who has served as the Marvin Sears Professor and Chair Emeritus of Ophthalmology and Visual Science at Yale School of Medicine, is currently a professor at Duke University.
Although they've been close friends for 60 years, Shields and Priebe have a slight difference of opinion about who deserves to be in the Oklahoma Hall of Fame.
"As I mentioned, sometimes his efforts to do nice things drives me crazy," Shields said. "Case in point is his campaign to get me into the Oklahoma Hall of Fame, which is a joke, since I haven't lived in the state since 1966 and have made no contributions to the state. I have begged him to withdraw his nomination of me, but persistence (some might say stubbornness) is another of his traits," Shields said, laughing.
"He is extremely modest, and plain wrong," joked Priebe. "Bruce has written and lectured extensively on the subject of glaucoma, including his "Textbook of Glaucoma," which has been translated in five languages."
In 2006, Priebe points out, Shields obtained a patent for a new glaucoma surgical device, which is currently in clinical trials. "So I'm not giving up on getting Bruce into the Oklahoma Hall of Fame. He deserves it," Priebe said.
"Very stubborn man…But I would be remiss if I did not include that he is a devout Christian gentleman," Shields said.
Some of Shield's colleagues, including Shields, suggest that Priebe deserves a spot in the Oklahoma Hall of Fame for his many successes and Oklahoma spirit.


BORN IN ENID in 1941, Priebe graduated from the University of Oklahoma in 1964 with a Bachelor's degree in journalism. In 1990, the Gaylord School of Journalism and Mass Communication honored him with the Distinguished Alumnus designation. In 1981, he served as president of the 800-member Oklahoma State Society of Washington, D.C. In 2002, Priebe was inducted into the National Capital Public Relations Hall of Fame, during which then D.C. Mayor Anthony Williams paid tribute to his myriad "substantive professional accomplishments" by designating a "Lou Priebe Day."
When asked about his accomplishments, Priebe would rather talk about anything else – usually over a bowl of chili at The Vienna Inn, a place Priebe has treated friends and family for the past 40 years.
The Inn is famous for its chili macs and chili dogs, selling more than 10,000 chili dogs each month since the Vienna institution opened in 1960. Priebe's photo hangs on the wall above one of the restaurant's booths. Not surprisingly, Priebe's love of chili became a cause when he and friends decided chili should be named the nation's official food.
In 1985, Priebe and his pals launched the chili lobby, introducing legislation to promote a Museum of Chili Culture at the Smithsonian. "There's always a good excuse to have chili…I use it for social climbing," quipped Priebe.
In his quest to honor chili, Priebe decided his favorite dish and Oklahoma were a natural fit. So he conceived and co- chaired five Will Rogers' Humanitarian Galas to benefit the James. S. Brady Foundation.
In 1985, the first "black-tie-and-boots" chili gala was attended by former White House press secretary James Brady, who received the first Will Rogers humanitarian award. Oklahoma Governor George Nigh, and Will Rogers Jr., son of the famous folk hero, attended the gala. Priebe helped raise more than $500,000 over a five year period to benefit the foundation.
Priebe, now an independent public relations consultant, said he has enjoyed his proximity to presidents and other high-profile Washington leaders. But it hasn't turned him into a Washington "insider."
"There was another member of National Press Club several years ago by the name of Will Rogers who never forgot where he came from - Claremore, Oklahoma," Priebe said. "And I've tried to never forget where I'm from, and the values of America's heartland it embodies."