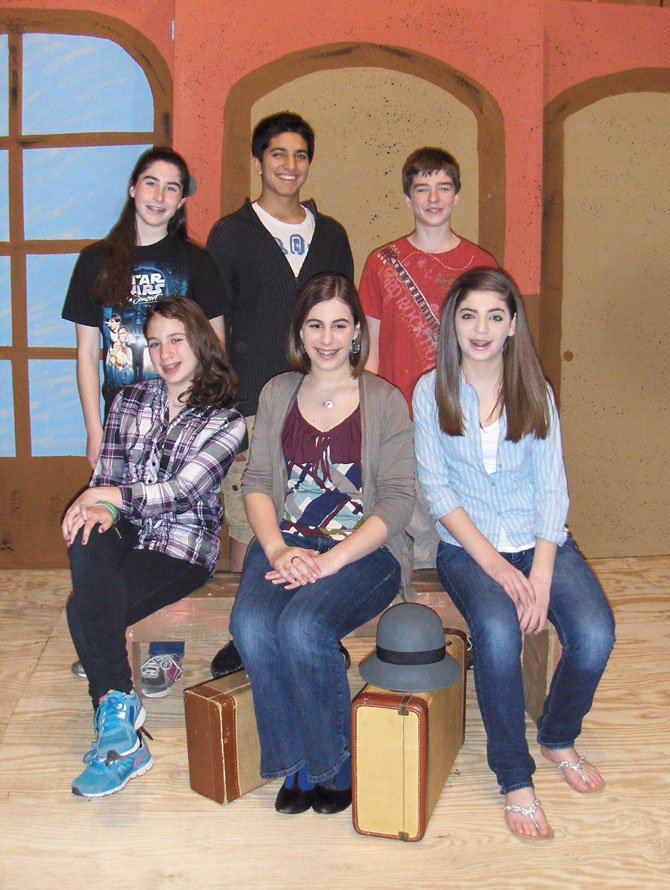 Featuring a cast and crew of 125, Franklin Middle School presents the musical, "Thoroughly Modern Millie." Show times are Wednesday, March 14, at 2:45 p.m., and Thursday, Friday and Saturday, March 15, 16 and 17, at 7 p.m. each night Tickets are $8 at the door and during school lunches.
"I'm very proud of my cast," said Director Marilyn Armon. "I selected this show because it won six Tony awards in 2002 and my leads have amazing voices. The audience will enjoy seeing how the actors in this ensemble take this play from the page to the stage. Everyone has to do their job for it to all come together."
The story takes place in 1922 New York. Millie, in her early 20s, moves there from Kansas to seek her fortune and stays at the Priscilla Hotel for Young Girls. She plans to marry for money but falls in love along the way. Meanwhile, the shady owner of the hotel is involved in an illegal business and, when Millie's best friend becomes ensnared in it, Millie must find a way to free her.
The cast has been rehearsing for three months, and the students are involved in every aspect of the production. They've painted scenery, numbered the tickets and worked on makeup, lights and sound. There are student directors and dance captains. Music director is Beth Atkins, music teacher at Hunters Woods Elementary.
The scenery includes a backdrop of New York, the hotel, the insurance company where Millie works, a cafÈ and a speakeasy. As for costumes, the boys will wear hats, suits and thin ties, and among the girls' outfits will be sequined flapper dresses.
"Some of the dresses are on loan from the Westfield High choir and some were sewn by the moms," said Armon. "The dads put up the sets and even installed a dance floor for the kids to tap dance on."
Portraying Millie is eighth-grader Megan Griggs, and she describes her character as spunky and outgoing, with loads of moxie and charisma. "She's a good person and moves to New York City to change her life," said Griggs. "She's a stenographer who dreams of marrying her boss and becoming rich, but she finds love in an unexpected place."
Griggs said playing this role is both a "dream come true" and "an honor," following Julie Andrews in the movie and Sutton Foster on Broadway. "My dream is to be on Broadway, so I'm on my way," she said. "Millie's very confident, and her aura kind of translates into me and makes me more confident as an actress and a person."
Her favorite song in the show is "Gimme, Gimme," which she sings. "The lyrics are wonderful, and it shows off my singing range," said Griggs. "And the words connect to the audience. All the songs are happy and catchy — the audience will be singing them on the way out. The cast is wonderful, and we're friends in real life, so it'll be a great show that's fun to watch."
Classmate Mohammad Khan plays Trevor Graydon, who runs the insurance company, Sincere Trust. "He's determined in his work, but also stereotypical and set in the 1920s' belief that women belong in the home and men at work," said Khan. "He's really nice, but can also be arrogant. He's fun to play because his songs are uptempo and I like being a lead."
Khan especially likes "Ah, Sweet Mystery of Life" because it's a slow ballad and "It's the first time I've sung a love song in a play. It's a different type song from what I usually sing." He said all the actors are top-notch, have terrific voices and even just the right props for this show. So, said Khan, "For a middle-school play, this is pretty professional."
Portraying Jimmy, a rich person in disguise, is seventh-grader Ryan Davis. "His stepmother sent him out into the world to reform himself," said Davis. "He's spent his money and time on the wrong girls and was sort of a player, and she wants him to mature a little. She wants both him and his sister Dorothy to meet regular people who'll love them for themselves and not their money."
Davis loves this role because, he said, "Jimmy's high-spirited and energetic like me. He gets to do exciting things and really knows how to live. Davis's favorite song is "What Do I Need with Love?" which he sings in jail after being arrested for being at a speakeasy. "I like its energy and the freedom of singing a solo, so it's fun for me. And I've danced with a ballet company for seven years and I choreographed this number."
Eighth-grader Kayla Blatman plays Mrs. Meers, an American pretending to be Asian. "She's a hotel owner who sells orphaned girls into slavery," said Blatman. "She's pure evil and sees nothing wrong with what she's doing; it's her way of making money. She thinks she's amazing. In her song, 'They Don't Know,' she praises her acting ability and how no one will learn her real identity. The notes are difficult, but it's fun to sing because, in it, my character's full of herself."
Blatman's enjoying this part because Meers is her complete opposite and, therefore, a challenge. "She's a really mean woman," said Blatman. "It's fun to let out my 'evil' side and go over-the-top with my acting." She said the audience will love the show's variety of songs, plus Meers's minions, Bun Foo and Ching Ho, because "they only speak Chinese and people will like how these characters are played."
Portraying Millie's best friend, Dorothy, is Sarah Woolf. "She's complicated because she's really Jimmy's sister pretending to be an orphan," said Woolf. "Only Millie knows she's rich. But she acts like a little girl, at times. She hasn't really matured, and everything is exciting and new to her."
Woolf said Dorothy is friendly and nice, like her, but comes from a different background. "She's a unique character, not the traditional best friend, because she and Millie have different personalities," said Woolf. "But Megan and I have been best friends, our whole lives, so it's easy to be best friends on stage."
She, too, likes the number, "Ah, Sweet Mystery of Life," which she sings with Khan. "It's a fantasy, so it's exaggerated, and our characters don't hold back their feelings," said Woolf. "There's also lots of movement, so it's comical and romantic, at the same time." She said the audience will like the overall show for the same reason, because it offers many things at once — "comedy, romance, drama and music."