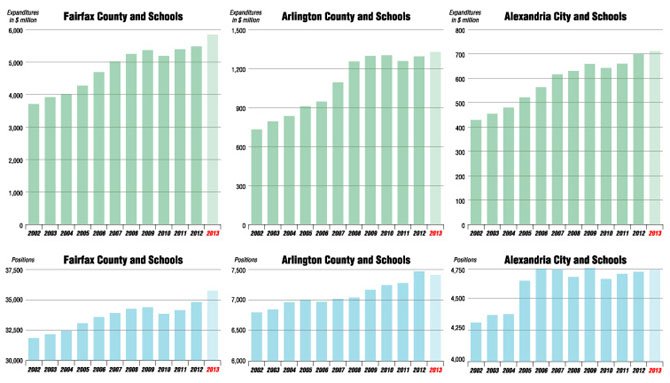 Fairfax — As local governments across America are laying off firefighters and teachers, governments in Northern Virginia are experiencing record levels of spending and an all-time-high number of employees. Budgets now under consideration in Fairfax, Arlington and Alexandria are higher than they've ever been. Experts say the trend is driven by the region's ties to the federal government, which have traditionally insulated the region from downturns in the market. It's also a reflection of a growing population and an increasing number of students in public school.
"When you have the best economy in the country, people move here," said Stephen Fuller, director of the George Mason University Center for Regional Analysis. "Northern Virginia has been pretty hot — not like it used to be but compared to the rest of the country, it's doing just fine."
A look at the past decade shows that spending levels rose dramatically along with the real-estate market. When that bubble burst, local governments across America fell on hard times. Even now, years after the recession technically came to an end, statistics from the Commerce Department show local governments have become a drag on growth. But Northern Virginia belies this trend, in some ways acting as a counterbalance to it.
At least for now.
Because the economic health of the region is so closely tied to the fate of the federal government, any changes to federal spending could have dramatic consequences in Northern Virginia. One scenario that has many local governments worried involves the Government Control Act. That was the legislation that ended the debt-ceiling crisis last year by creating a super-committee that failed to reach an agreement in November. That could mean dramatic reductions in discretionary spending early next year.
"You're not going to gain the savings you need by cutting an aircraft carrier, so you're going to have to cut employees and salaries — the things you need to gain the savings next year, which is required by the law," said Frank Shafroth, director of the Center for State and Local Government Leadership. "For federal agencies, that means disproportionate elimination of positions."
OVER THE LAST two years, local governments across America have cut about half a million jobs. Since the federal government started recording local government jobs in 1955, the statistic declined in only six of those years. The first three were the beginning of the Ronald Reagan administration. And the second three are the beginning of the Barack Obama administration. In the last three years, government employment is down 2.6 percent, In the last 12 months alone, the government sector lost 276,000 jobs.
Contrast those numbers with Northern Virginia. In the last three years, Fairfax County has added about 1,400 jobs. Arlington and Alexandria have added more than 200 jobs. Budget officials say that growth has been built on the strength of the real-estate market.
"We only had one negative year," said Richard Stephenson, budget director in Arlington County. "Because our tax base remains stable, we were able to continue the funding of programs that our population wanted. So we didn't go in and make dramatic cuts to services."
And yet the budgets in local jurisdictions don't always reflect that growth. Libraries and parks, in particular have seen major cuts in all the municipalities. In Fairfax County alone, for example, almost $5 million has been slashed from the library budget over the last four years. And even now that revenues are growing again, County Executive Anthony Griffin's proposed budget for fiscal year 2013 suggests cutting another $860,000 from the library system.
"We've had to make some pretty draconian cuts to the library system, and it's one of our most used facilities," said Providence Supervisor Linda Smyth. "A lot of constituents really use the library and they're feeling that pinch."
PART OF THE STORY of growth in Northern Virginia in recent years has been tied to the growth in the federal government, especially the growth in defense spending as a result of wars in Iraq and Afghanistan. Government contracts to Northern Virginia businesses such as Northrop Grumman have been a cash cow for years, pumping money and jobs into the region. Census records indicate the Fairfax County population grew 12 percent in the last decade. Arlington grew 10 percent, and Alexandria grew 9 percent. Nowhere has that growth been more challenging than in the pubic school systems, which are pushing the limits of enrollment to the point that school administrators are closely monitoring the fire code.
"You can only have so many children in a building," said Tammy Ignacio, chief administrative officer for Alexandria City Public Schools. "Many of our elementary schools are at that limit."
In the last five years, Fairfax County Public Schools has added 15,000 new students and currently has the largest Kindergarten class ever. And more students are expected next year. Much of that growth is from students who live in poverty and speak English as a second language. Because those students cost more to educate, school administrators are seeing budget demands increase at a time when the rest of the country is cutting back.
"We see a lot of immigrant families arriving to Fairfax County in search of a better life, and we see the economy continue to have an impact on our families," said Barbara Hunter, spokeswoman for the county school system. "Thus, we see more kids who are falling below the poverty line."
WHEN THE GREAT RECESSION hit in late 2008, local governments in Northern Virginia responded by imposing hiring freezes and scaling back services. That may seem like an obvious response, but the federal government offered a 7 percent cost-of-living increases at a time when none of the jurisdictions in Northern Virginia were making any cost-of-living adjustments.
"They tightened up early," said Fuller. "They were cutting stuff in 2009 that a lot of people were still waiting and talking about, Maryland particularly was still giving salary raises where they stopped doing that in Virginia."
The story behind the growing expenditures and government employees couldn't have happened anywhere else. Unlike jurisdictions across America, local governments in Northern Virginia have benefited from a growing tax base and an increasing population. That means more money for services at a time when other municipalities are laying off employees and cutting back on programs. But it also means that other sources of revenue have become increasingly reliant on an economy that's still considered by many to be a cash cow.
"The cost of providing services have continued to keep pace with inflation since the Great Recession hit," said Shaffroth. "Meanwhile, the federal government and the state have eliminated a number of services. Guess who gets to pick up the tab?"