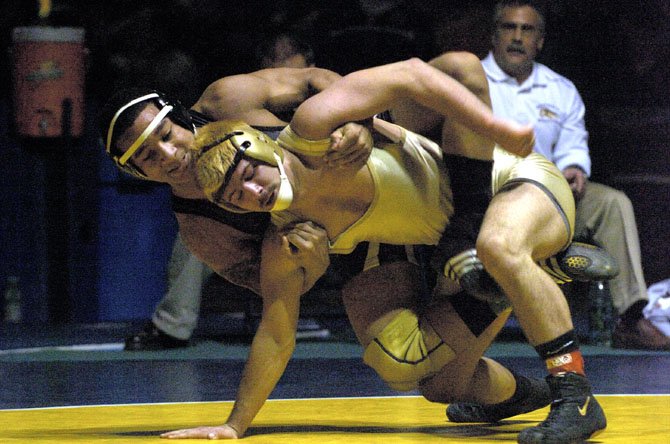 Winning one individual state title is an accomplishment a high school wrestler will always treasure. But winning two is an enormous feat when one considers the pressure to live up to the high expectations of a state champion and the fact that every opponent is highly motivated to defeat the best wrestler out there.
Beau Donahue, Westfield High's sensational junior grappler, won his first individual state championship in 2011 as a sophomore in the 140-pound weight division. This winter (2012), he successfully defended his crown at the state tournament, held a few weeks ago at Robinson Secondary, by sweeping through his 152-weight class, including a finals match win over Forest Park High senior Kevin Johnson.
"This one I was a little bit more prepared for," said Donahue, of this year's state tournament.
Earlier in the postseason, Donahue successfully defended his region crown with a 3-1 title match win over Jake Sage of Lake Braddock. Going on to win another state championship two weeks later was the exclamation point to another banner season.
"It's the best feeling knowing you worked hard to get this goal and coming out on top is a huge accomplishment," said Donahue, of another state crown to his name. "I know I can win no matter what because of where I've come from with my coaches and teammates supporting me."
Donahue is part of a Westfield team, under head coach Chuck Hoskins, which captured its fourth region team title in five years this season before finishing eighth at states.
Donahue, this past fall, was a member of the Westfield High football team which had an extended season as a result of playing in the Div. 6 Northern Region championship game. As a result, Donahue got a little bit of a late start to the mat season.
Before he knew it he was competing with his team at the early season Salem Classic where he faced and lost to Kevin Johnson, the same opponent he would ultimately defeat for the 152 state crown nearly three months later.
He said capturing the state tournament title was extra special because he defeated an opponent in Johnson he had lost to early on in the winter.
"This one is sweeter because I lost to Kevin Johnson [earlier in the season] at the Salem Classic," said Donahue, of the opponent from the Northwest Region. "The first time I'd wrestled him I'd been practicing only three days. I knew going in I'd have a tough match. I thought I'd see him again."
AT STATES, DONAHUE did not simply breeze to the finals match. His most decisive victory was a first round 18-6 win over Michael Ramos, the No. 4-seeded wrestler from Central Region's Matoaca High (Chesterfield). His next two wins were 6-4 decisions over Orange County's Ryan Almond and Thomas Dale (Chester, Va.) wrestler Alex Turley, the latter match coming in the semifinals. Almond was the No. 2-seed from the Northwest Region and Turley was the top seed from the Central Region.
In the championship versus Johnson, the match was deadlocked at 1-1 near the end of the third period. With both wrestlers on their feet, Johnson took a shot at a takedown, surging forward at Donahue. But Donahue posted his opponent, drove him to the mat and got behind him for two points with about 27 seconds remaining for what proved to be the winning move.
Throughout the match and going into the latter stages, Donahue sensed Johnson was tiring.
"I just had to stay in good position the whole time and try to wear him down," said Donahue, of the strategy he implemented. He was tired [later in the match], I could tell. But I was tired too. Near the end of the third quarter I knew I needed to push the pace and be aggressive."
In the moments after winning his second state championship in two years, Donahue, totally thrilled at having won the title again, also felt a huge sense of relief.
"It was kind of like a big weight off my chest," said Donahue, of having successfully defended his state crown."But I was also so excited [to win]. I had to take the moment in. It was the best feeling knowing I was on top."
Donahue, who finished the season 49-7, said he felt pressure to excel all season. He had been named a team captain and wanted to live up to those responsibilities as a team leader. On the mat, he had another sort of pressure – to match or better his success from the year before and help the Wildcats, as a team, achieve all they could.
"I definitely felt a little pressure as a team captain as a junior," he said.
Going up against opponents with nothing to lose all season was not an easy road for Donahue. By defeating him - the state champion from 2011 - opponents realized what a feather in their cap that would be.
"I definitely had a target on my back," he said, of this season. "As soon as I step on the mat, they come after me."
He had the perfect mindset to face such a challenge.
"I go out every match saying I'll be aggressive," said Donahue.
It's a ways off, but next school year Donahue, naturally, will be geared up for a season in which his ultimate individual pursuit will be to win a third state title.
"Obviously being a three-time state champion will be my goal and I won't let anything get in my way," he said.