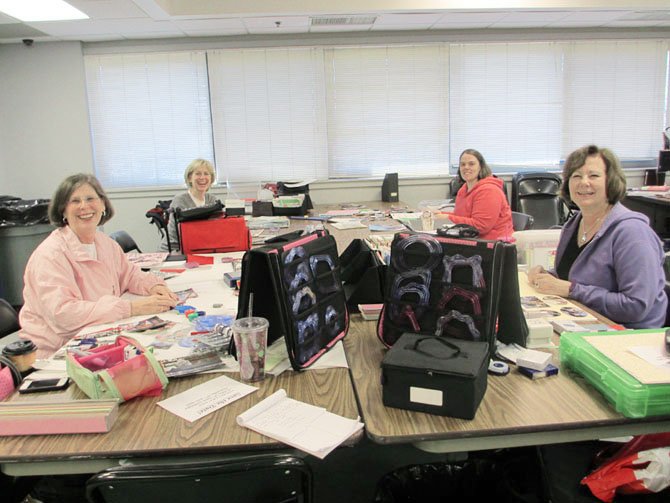 "Scrapbooking is the modern-day quilting circle," says Vienna resident and scrapbooker Judy Barto. To see the women at the Vienna Volunteer Fire Department [VVFD] hall at-work with the diverse accoutrements of scrapbooking – colloquially known as "cropping" – a bystander would concur.
The 50 cropping women at the VVFD Auxiliary's semi-annual scrapbooking fundraiser, held over two days on March 9 and 10, socialized as they worked, cutting, pasting, annotating photos.
"We used to crop all the time at my house for about seven or eight years," said Brenda Belote, until recently a Vienna resident. Now, Belote lives in Gainesville, Fla., but flew in to meet up with her old cropping partners. "Crop 'til you drop," said Belote.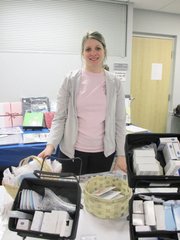 There appeared to be a consensus among the croppers regarding the whys of scrapbooking.
"I am passionate about documenting family history," said Belote. "And the most important thing is journaling, journaling, journaling. You don't just put a photo in. You write something about it."
Scrapbooking, said Sherry Hayden, of Vienna, is like reliving the trips and journeys you've taken. Her children look through the scrapbooks, too. She calls cropping her obsession.
As for the cropping get-togethers, Hayden calls it a "social thing," as well. "Scrapbookers are the nicest people," Hayden said. As soon as the VVFD Auxiliary releases the dates of the scrapbooking workshops, Hayden puts them on her calendar. "I plan other things around these dates," she said.
For Marnie Sturm, a Vienna mother of three youngsters who says she has a "crazy life," scrapbooking is "meditative."
Barto calls cropping a labor of love. "You can socialize with girlfriends, and, it's a forever-gift to your family."