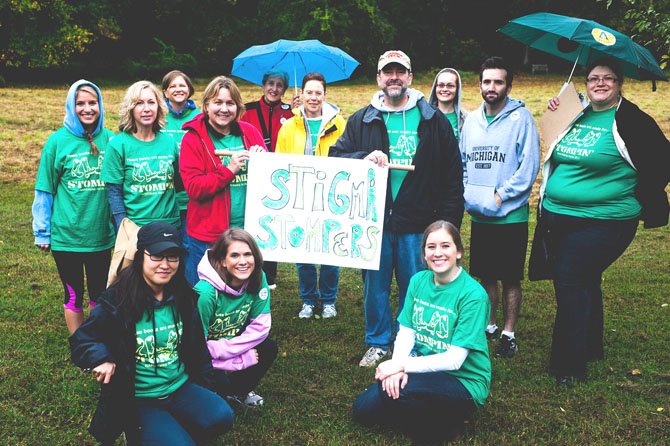 With an increase in awareness and understanding of mental illness, the Northern Virginia Chapter of the National Alliance on Mental Illness continues to experience growth in funding and membership. In the upcoming year, its leadership expects NAMI-NoVA to reach record levels in funding and participation in events.
Robert Cluck, treasurer of NAMI-NoVA, said he attributes its bustling expansion with the organization being able to hire the organization's first program director in 2010.
"Under [Arlington resident] Kristen Duda's leadership as program director, our programs have grown in number and participation has increased," he said. "For example, In Our Own Voice has become a regular program at two local hospitals for individuals living with a mental illness, offering encouragement and understanding to the patients."
He added that Duda has been instrumental in adding to the chapter's volunteer base.
"Very important to the programs, Kristen has developed a strong group of volunteers who are involved in making presentations and facilitating programs," Cluck said. "Her outreach to schools has resulted in a number of NAMI-related events. She has also been exceptionally effective in getting word out to the community about the availability of these and other NAMI programs and has established close coordination with other organizations that help individuals with disabilities."
Duda became the first program director of NAMI-NoVA in June 2010. She was the organization's first paid employee; before her hire, NAMI-NoVA was governed solely by a volunteer board of directors.
WITH A MASTER'S degree in social work from the University of Michigan, Duda said she decided to step on board as program director because she was eager to apply her community organizing skills and passion for helping individuals and families.
Jeanne Comeau, the president of NAMI's board of directors, said it is "the nation's largest grassroots mental health organization."
"It is dedicated to building better lives for the millions of Americans affected by mental illness," she said. "NAMI advocates for improved access to services, supports research, raises awareness and develops educational programs about mental illness."
Comeau added that NAMI carries out its programs through state-level organizations and local affiliates.
"The local affiliates, such as NAMI-NoVA, deliver NAMI programs such as In Our Own Voice, Peer to Peer, and Family to Family, to individuals living with a mental illness and to those who care about them," Comeau said.
Duda said that since she began her tenure, she has been overwhelmed with the amount of community support that keeps NAMI-NoVA's programs alive.
"Since I accepted the position of program director, I have had the privilege of working with mission-driven volunteers to educate our community about mental illness, and bring hope to individuals and families that recovery is possible," Duda said. "My work with NAMI has taught me that there is nothing more powerful than a community motivated by personal stories, and made stronger through peer and family support."
The Northern Virginia Chapter of NAMI has been in existence since 1977, according to Cluck.
"At the time, the organization was called Pathways to Independence," Cluck said. "It had several name changes over the years."
Comeau said she attributes the growth of the over the past few decades to an increasing acknowledgment that mental disorders are just as biological and serious as physical disorders.
"Clearly our understanding of what causes mental illness has dramatically advanced through scientific research in recent decades," Comeau said. "Understanding mental illness as a brain disorder, biologically based, has helped take the mystery away and reduce stigma. And with advances in treating mental illness, life has often improved for many individuals. With hope comes action, and NAMI-NoVA has seen increased interest in our programs and positive responses to community outreach to help those living with a mental illness and their families, friends, neighbors and co-workers."
Duda said the organization is growing so rapidly that she looks forward to potentially bringing on more paid employees, and certainly more volunteers.
UPCOMING EVENTS include a Peer-to-Peer program, which is a free 10-week recovery education course for adults with mental illnesses. This program, Duda said, involves mentally impaired individuals coupled with peers to help them maintain their recovery and wellness.
The classes start Thursday, March 15, from 6:30 - 8:30 p.m. at Woodburn Mental Health Center in Annandale. Participants must register ahead of time.
The program is also offered in Spanish under the name "Persona-a-Persona." It will start Sunday, April 15, from 12:30 - 2:30 p.m. at Annandale United Methodist Church in Annandale. Participants must also register ahead of time for this version.
NAMI-NoVa hosts a free speaker's meetings throughout the year, where highlighted speakers talk about topics on mental illness.
"Every fourth Monday of the month (except July, August and December), NAMI-Northern Virginia hosts a public speaker's meeting from 7 - 9 p.m. at the First Christian Church in Falls Church," Duda said. "These monthly meetings offer an opportunity for members, friends, and the public to learn more about NAMI's free education programs, support groups and community events. Each meeting offers time for snacks and socializing, and features a guest speaker who presents on a topic related to mental illness. Speaker's meetings and all NAMI-Northern Virginia events aim to educate the community about mental illness and the different resources available for individuals and families."
On Monday, March 26, from 7 - 9 p.m., Fairfax County's Wellness Recovery Action Plan (WRAP) team will host a presentation at First Christian Church in Falls Church on classes being prepared that will take place throughout the region.
Duda said NAMI-NoVA also hosts a free Family-to-Family program, which is a 12-week education and support program for family members of individuals with mental illness. Classes start Thursday, April 12 from 6:30 - 8:30 p.m. at Saint John Neumann Church in Reston. Participants must register ahead of time.
Duda said funding for these programs comes completely from supporter and member donations, and she encourages members of the mental health community to take advantage of all the events.
"NAMI-Northern Virginia's education, support and advocacy efforts rely on the dedicated support of our members and the community," Duda said. "On Sept. 22, NAMI-Northern Virginia will hold it's annual NAMIWalk, our biggest and most important fundraising and awareness event."
She said all members of the community participate in the event and she looks forward to a large turnout this year.
To register for Peer-to-Peer or Family-to-Family, e-mail: NAMINorthernVA@gmail.com or visit its website: www.NAMI-NorthernVirginia.org to become a member and learn more about NAMI-NoVA's educational programs, support groups, and events for individuals with mental illness and their family members and friends. Also, individuals, families, and community groups who are interested in participating in the NAMIWalk or making a donation should visit its website for more information: www.NAMI-NorthernVirginia.org.
Ashley Simpson
The Connection