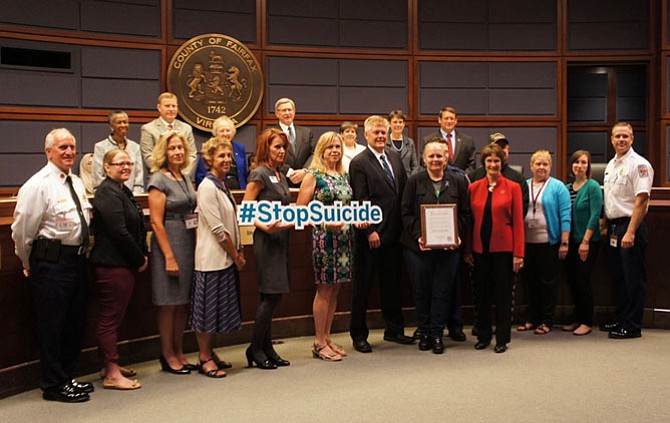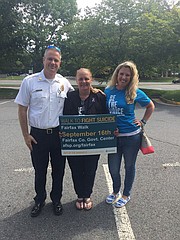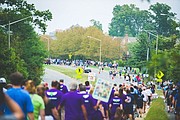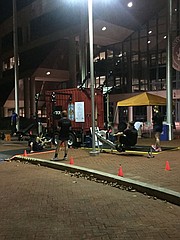 At its meeting on July 11, the Fairfax County Board of Supervisors presented a proclamation, designating September 2017 as Suicide Awareness and Prevention Month.
Suicide is the 11th leading cause of death in Virginia. On average, one person dies by suicide every eight hours in the state. According to the statistics published for 2017 by the National Capital Area branch of the American Foundation for Suicide Prevention (AFSP), suicide is the second leading cause of death for ages 15-34 in Virginia, third for ages 10-14, and fourth among people 35-54.
"So many of these tragedies are preventable," said Ellen Shannon, area director for the region's AFSP chapter, "if only we can end the stigma and get people talking. It's not a conversation that we're comfortable having, but if we listen, and talk, we might just save a life."
Studies show that more than 50 percent of all people who attempt suicide tell someone about their intentions, but too often people considering suicide are afraid to ask for help, and those who think they see the signs of trouble are reluctant to be wrong and then offend, or cause embarrassment.
Wendy Gradison, CEO of Psychiatric Rehabilitation Services, Inc. (PRS) that runs Northern Virginia's crisis hotline and textline, agrees. Gradison said that by "turning up the volume, we can make it OK to have a conversation, make a call or send a text. Making a call or sending a text [to our CrisisLink] saves lives."
PRS reports that for every death, 278 people are able to move past that crisis moment, and the numbers could increase to the positive if more people can be reached. The nonprofit has contributed to those survival statistics, handling nearly 34,000 crisis calls and exchanging more than 33,000 crisis text messages from the Northern Virginia region in 2016 alone through its CrisisLink program.
All of the area organizations that support mental health and fight against suicide are actively engaged in that battle all year long, 24/7, but during Suicide Awareness and Prevention Month, those efforts get magnified to engage as many citizens as possible in the conversation.
Who's doing what to promote suicide awareness and prevention during September, and how can to get involved? Here are just a few of the events and activities taking place in the area:
Out of the Darkness Walk
The 10th annual Fairfax/NoVA Out of the Darkness Community Walk to benefit the American Foundation for Suicide Prevention, National Capital Area Chapter, (AFSP) takes place on Saturday, Sept. 16, starting at 11 a.m. Check-in begins at 9 a.m. The walk begins and ends at the Fairfax County Government Center in Fairfax.
Online registration for the event at www.afsp.donordrive.com is open until noon on the Friday before the walk, but individuals and teams can still register in person at the walk from check-in until the start of the walk.
The event is family and pet friendly. Walkers and spectators are encouraged to come early in order to explore the resources area. Representatives from local agencies and non-profits will be on hand to offer information and news about upcoming events. The organizers say it's also a good time to simply "connect and gain support" from others with similar experiences.
Working closely with the AFSP and leading the charge for the walk for the second year in a row is retired Fairfax County firefighter, Karrie Leigh Boswell, who has been an advocate for firefighter line-of-duty death benefits during her 27-year career. She got involved in the cause to prevent suicide deaths when "trying to make sense" of the suicide "of one of our own, Nicole Mittendorf." Mittendorf was a firefighter from Woodbridge, who took her own life in April last year and whose death sparked investigations into cyberbullying as a possible contributing factor in her death.
Boswell says she felt compelled to get involved and do her part for suicide prevention for everyone, but particularly for her "brother and sister" firefighters and rescue personnel. "If you think there's a stigma among the general public when it comes to talking about your mental health or feelings of suicide," said Boswell, "it's even greater in those ranks and with law enforcement. We feel like we're supposed to be the ones helping, not the ones needing help."
Boswell is committed to doing what she can personally and to building a community to tackle the tragedies of suicide. "Nothing ever gets done without a broad-based coalition," she said.
"Last year we had about 1,000 walkers and raised about $150,000," said Boswell. Those numbers made the Fairfax Walk number 18 of the 411 AFSP-sponsored walks that took place across the country in 2016. Her goals for this year? "Double? Triple? Ultimately to break a million dollars!" Boswell is pleased that half of the funds raised will remain here in the community, with the other half going to fund scientific research, and national suicide prevention and advocacy efforts.
AFSP.org offers seminars and workshops for clinicians as well as the general public. The group also raises funds for research and resources and advocates at all levels of government to "find better ways to prevent suicide, to educate and to procure resources."
Contact information: Website www.afsp.org, Twitter @AFSP_NCAC and on Facebook.
24 Hour Work-Out of the Darkness
Organized by Fairfax County's LiveWell program and Fire and Rescue's Well-Fit program, this 24-hour workout event is a "great companion piece" for the Out of the Darkness Walk," said Capt. II Dennis Kotecki, wellness and fitness program manager with Fairfax County. The action also takes place at Government Center, starts at 8 a.m. on Friday, Sept. 15, and concludes an hour before the Walk check-in begins on Saturday morning.
"We are really looking for ways to help our county employee community stay fit, physically and mentally … and it's just a great, fun experience and way to support efforts to prevent suicide."
The Workout is open to all Fairfax County government employees, retirees, family members and first responders from surrounding jurisdictions. The activities are divided into 30-minute sessions and include opportunities for individual exercise as well as group fitness classes.
"We'll have it all going on," said Kotecki. There will be cycling, Zumba, a walking labyrinth, a kids' fitness zone, kettleballs and routines using TRX equipment.
Like the Out of the Darkness Walk, the Work-Out will also have a mental wellbeing expo, from 11 a.m.-2 p.m. on Friday, with information about community resources, as well as county employee benefits.
Eligible participants can learn more, register and select workout activities and timeslots at m.signupgenius.com/#!/showSignUp/20f04aaba92fa1fbg-workout2.
#CallTextLive
PRS, Inc. Is launching its third annual #CallTextLive campaign, using that hashtag to reach out directly through social media to engage the community and encourage those in need to make contact with people who can help. The campaign works to educate the community about what resources are available, and what they can do to get help, or give it.
On the PRS website, the organization has posted an interactive Calendar of Events. Throughout the month of September on the calendar viewers can click on links that guide them to resources, training classes, ways to volunteer or donate, inspirational messages, and actions that anyone can take to help raise awareness and prevent suicide.
On Sept. 10 on the PRS calendar, there's information about World Suicide Prevention Day. Sept. 21 invites people to join in on "Selfie Day!" by sharing pictures on PRS's social media platforms dressed in a #CallTextLive T-shirt. Sept. 16 and 17 direct viewers to information about, and registration for, a two-day ASIST training session. ASIST is a suicide intervention workshop. The sessions are open to "virtually anyone older than 16, regardless of prior experience or training."
In addition to running the CrisisLink Hotline and Textline, PRS offers training workshops and programs such as "CareRing Services" to maintain supportive contact with area older adults.
Contact information: Website – prsinc.org. The Crisis Hotline number is 703-527-4077. Text "CONNECT" to 85511 to reach the PRS Textline.
NAMI Northern Virginia "Help Shine a Light" Walk
The local affiliate of the National Alliance on Mental Illness will host its annual Walk on Saturday, Sept. 23, in Tysons Corner, with check-in starting at 9 a.m.
NAMI Northern Virginia has been serving residents of Fairfax, Arlington, Alexandria, Falls Church and Loudoun County for 40 years. They offer numerous classes, clubs, and support for individuals living with mental health conditions, as well as support groups, sessions and resources for the families, partners, and friends of those individuals.
Contact information: Website www.nami-northernvirginia.org. Helpline 571-458.7310 Email at info@nami-vova.org.
Other mental health resources are available through the county on line at www.fairfaxcounty.gov, and through the Fairfax-Falls Church Community Services Board. Emergency mental health services with the CSB are available 24/7 by calling 703-573-5679, or coming directly to the Merrifield Center at 8221 Willow Oaks Corporate Drive, lower level, rear entrance, in Fairfax.