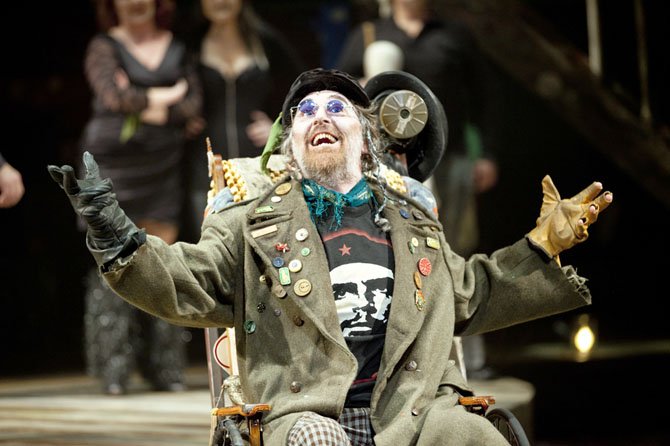 Born in a remote Siberian village, he was raised impoverished and uneducated yet became powerful enough to infiltrate a Russian dynasty. Such was the journey of Grigori Rasputin, whose story is brought to life in the world premier musical of "Brother Russia," now playing at Signature Theatre.
The innovative rock musical — a work commissioned by Signature Theatre — is the latest creation by musical theater team Dana P. Rowe and John Dempsey, the award-winning creators of "The Fix" and "The Witches of Eastwick."
The play-within-a-play opens in a desolate potato field north of Omsk, where a fourth-rate traveling theater troupe has set up its tents to entertain the local farmers with tales of Tolstoy and Dostoevsky. But on this night, the company instead decides to tell the story of their impresario and star, the larger-than-life Brother Russia, more commonly known as Grigori Rasputin.
Under the masterful direction of Eric Schaeffer, Signature colorfully traces Rasputin's path from poverty to power over the Romanov Dynasty in the waning days of Imperial Russia.
To pull off the ambitious account of Rasputin's life, Schaeffer has assembled a stellar cast led by Doug Kreeger in the pivotal role of Grigori/Sasha. Kreeger is nothing short of electrifying, unleashing a powerful passion throughout a driving score of more than 25 original songs.
Helen Hayes-award winner Natascia Diaz is Anastasia/Sofya, the recipient of Grigori's intensifying desires. Kreeger and Diaz, whose hunger for each other is palpable, combine for a vocally powerful duo in songs such as "The Room Above the Tavern" and "I Belong to You."
Acting as the elderly Brother Russia and director of the traveling troupe is John Lescault with Amy McWilliams and Russell Sunday nailing the commanding roles of Tsarina Alexandra and Tsar Nicolas.
Stephen Gregory Smith, fresh from his performance as Corny Collins in the Signature production of "Hairspray," adds comic relief in a brilliant performance as Sergei/Felix.
Rounding out the artistically gifted cast are Kevin McAllister, Christopher Mueller, Tracey Lynn Olivera, Erin Driscoll and Rachel Zampelli.
Stunning sets by Mischa Kachman depict both the desolation of Siberia and the opulence of St. Petersburg while Gabriel Mangiante directs the orchestra through a memorable score highlighted by the driving rhythm of the anthem-like Brother Russia.
With a flawless cast and dazzling performances, "Brother Russia" leaves audiences wanting more — more Kreeger, more Diaz and more of what Schaeffer does best — innovative and award-winning theatre.
"Brother Russia" is playing now through April 15 at Signature Theatre, 4200 Campbell Ave., Arlington. For tickets or more information, all 703-820-9711 or visit signature-theatre.org.