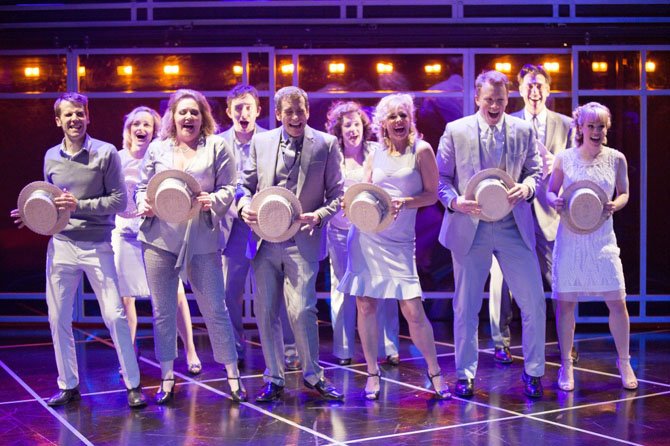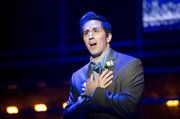 Arlington — For Bobby, the word marriage is actually a sentence — a jail sentence. A perpetual bachelor, he is turning 35 and surrounded by five married couples who all have an opinion about his lifestyle in the Stephen Sondheim musical "Company," now playing at Signature Theatre.
Whether with envy or mild disapproval, "Company" features Bobby's friends battling him and one another in a series of comic scenarios as he struggles to commit to commitment. But as he faces up to middle age, he begins to wonder whether it's time to change.
Directed by Signature's Artistic Director Eric Schaeffer, the star-studded production is headlined by Matthew Scott with a cast that includes three real-life married actor couples taking on the roles of three onstage couples: Sherri L. Edelen as Joanne and Thomas Adrian Simpson as Larry; Tracey Lynn Olivera as Sarah and Evan Casey as Harry; and Erin Driscoll as Jenny and James Gardiner as David.
Adding to the stellar ensemble are Sandy Bainum as Susan, Bobby Smith as Peter, Erin Weaver as Amy, Paul Scanlan as Paul, Madeline Botteri as April, Carolyn Cole as Marta and Jamie Eacker as Kathy.
Originally produced in 1970, "Company" went on to win six Tony Awards, including Best Musical, and Schaeffer, fresh from directing the critically-acclaimed production of Sondheim's "Follies" on Broadway, has expertly revived the wit and neurotic comedy of Sondheim with enough star voltage to light up Shirlington Village.
As the birthday boy, Scott is the heart of this show. He is effortless and likable and brings an easy sexiness to the role of Bobby, who drives a series of girlfriends crazy by his lack of serious intentions. A charismatic performer, his vocal talents especially shine in the spine-tingling finale of "Being Alive."
With such a deep bench of talent on stage, each musical number brings the house down, highlighted by Edelen's powerhouse snarl of "The Ladies Who Lunch" and Weaver's razor sharp "Getting Married Today."
Schaeffer's award-winning production team includes Matthew Gardiner (choreography), Jon Kalbfleisch (musical direction), Frank Labovitz (costume design), Daniel Conway (scenic design) and Matt Rowe (sound design).
For most theater lovers, every revival of a Sondheim work is greeted with great enthusiasm and Signature Theatre's revival of "Company" is one of the most dazzling productions ever brought to the stage.
"Company" is playing now through June 30 at Signature Theatre, 4200 Campbell Ave., Arlington. For tickets or more information, call 703-820-9771 or visit www.signature-theatre.org.