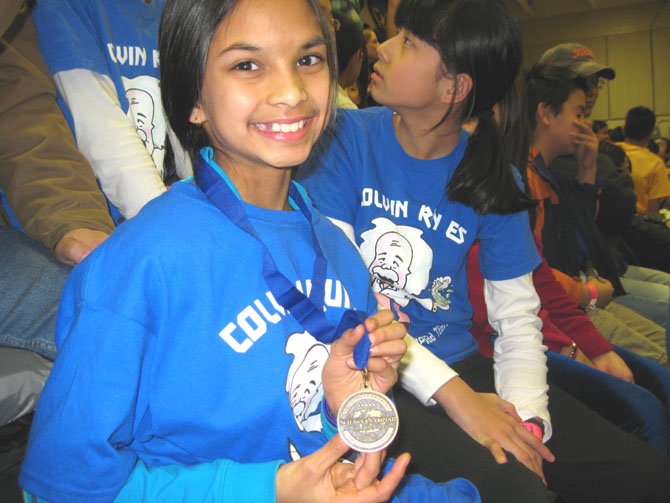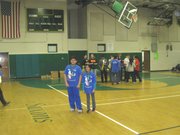 Colvin Run Elementary School (CRES) participated in the Regional Science Olympiad (SO) Tournament, Division B (grades 6-8) on Feb. 25. Twenty-four teams from several middle schools and elementary schools competed in each event.
Colvin Run SO Team of 15 members from 5th and 6th grades participated in 21 events ranging from lab events and knowledge events to building events.
Team members are Aaraj Vij, Aileen Lo, Anvitha Metpally, Caelan Shoop, Dan Ni, Elaine Zeng, Harriet Khang, Joshua O'Cain, Katherine Cheng, Lee Hou, Lily Menzin, Mihir Patel, Siona Prasad, Susan Suh, Wendy Tang. Majority are first time participants.
CRES SO team did very well and won 8 medals for placing in the top 6 in the following VASO events:
1st place- Awesome Aquifers: Dan Ni, Lee Hou
1st place- Disease Detectives: Aaraj Vij, Siona Prasad
2nd place- Meteorology: Joshua O'Cain, Mihir Patel
2nd place- Mission Possible: Aileen Lo, Elaine Zeng
2nd place- Water Quality: Dan Ni, Lee Hou
3rd place- Rock the Minerals: Anvitha Metpally, Katherine Cheng
4th place- Anatomy: Anvitha Metpally, Katherine Cheng
5th place- Keep the Heat: Aaraj Vij, Siona Prasad
CRES principal, Mr. Steven Hockett and CRES PTO supported the SO program and encouraged the teams wholeheartedly. Mr. Kuldeep Prasad is the Colvin Run ES SO Coordinator.
VASO seeks to engage and challenge students in science, technology, engineering, and mathematics through various levels of team based competitive tournaments. Science Olympiad information can be found at http://www.virginiaso.com and http://soinc.org/.