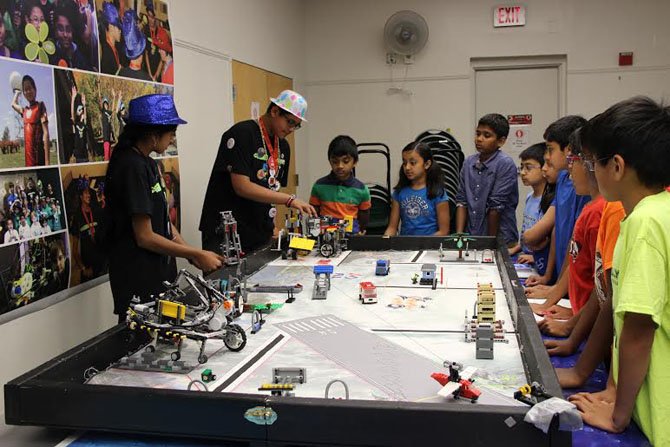 Where some might see colorful bricks, the six members of Team Positive Aftermath see Legos as the building blocks of the future. In a brain-charged feat at the St. Louis FIRST (For Inspiration and Recognition of Science and Technology) Robotics World Festival, these elementary and middle school students won rave reviews for their robot and research. Returning home to Great Falls, their heads were filled with new ideas, and their arms toted their first place trophy award for innovative solutions and research.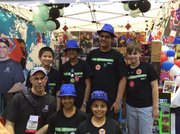 Along with regional and state contests, a year of preparation under expert coach Aditi Vij brought the team to St. Louis for the world championship of Lego robotics. They faced over 600 teams under one roof, flown in from 70 regions around the globe.
Much unlike athletic competitions, FIRST innovatively encourages inter-team cooperation, which fosters enduring international friendships. "Our favorite part was definitely meeting all the other teams!" remembered sixth grader Alex Tisseront.
THE TEAM'S ROBOT "Bubbles" was lauded by judges for its multi-geared cage design and pneumatic function, which maximized accuracy and efficiency. "Our team went through at least six different robots before coming up with our final design," remarked sixth grader Sanjana Meduri. "So giving up is not a word in our dictionary!"
As in any project, the final product was the result of apportioned roles and teamwork. Programming, digital design, research and documentation, construction, and professional outreach were all on the team's agenda. With perseverance, the end result was realized through long weekend practices, evening calls, and biweekly meetings.
"We know each other's strengths and weaknesses. We know when it's time to be serious, and simply being together makes every meeting fun."

— Siona Prasad, seventh grader on Team Positive Aftermath
But if robot construction wasn't enough, the team also recruited the aid of MIT professors and the National Institute of Health (NIH) to tackle the problem of safe drinking water in the wake of disasters. According to their findings, the demand for potable drinking water is expected to exceed supply by 40 percent in the next two decades.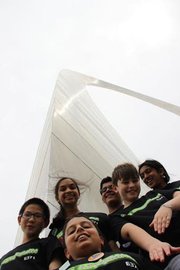 Using labs at NOVA, the team created patented prototypes of a water purifier, which filters all from heavy metals to hurricane contaminants. "We also grew e-coli cultures to test the bacterial effect of colloidal silver," explained seventh grader Aaraj Vij, "Doing the experiments ourselves and seeing the results was both fun and educational!" Their creativity and intellect is destined for good. "Our dream has come true, and we want to keep pushing forward until our solution is in stores internationally," said seventh grader Vishnu Murthy.
Even after brainstorms and Google hangouts, these members aren't ready to split. They enjoy dozens of hours of time together—on field trips, fundraising for the Red Cross, and mentoring younger teams. "We tend to bring out the best in each other!" said seventh grader Siona Prasad.
THEIRS IS A TEAM that bridges school boundaries and earth's four corners; they attend five area schools and their nationalities include French, Indian and Chinese. One fun tradition has been learning a new dance each year—this year, the robot dance itself—and sharing their interests of chess, music, athletics and even comedy.
Zach Wang, a sixth grader, thanks the coaches for fine-tuning his public speaking skills. "At first, I didn't like to talk, and now I'm much less shy," he said. Parent Astrid Tisseront also listed First Lego League contributions of real-life skills: everything from research presentation and receiving feedback, to analytical questioning and product marketing. "These are certainly not the first things 'legos' and 'robotics' bring to mind."
Now heading into its fifth year, Team Positive Aftermath encourages fellow students at school and in the community to join them. Learn more at www.usfirst.org.