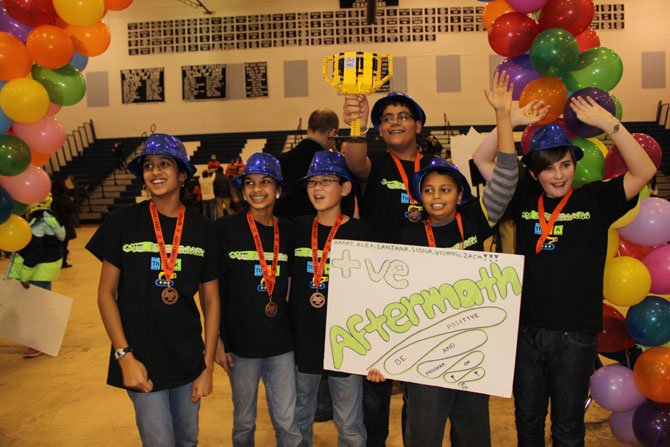 A local, Great Falls-based, FIRST LEGO League Team Positive Aftermath won the 1st Place Grand Champions Award at the VADC Championship Tournament held at James Madison University, Harrisonburg on Dec. 7-8, 2013. The team members Aaraj Vij, Alex Tisseront, Sanjana Meduri, Siona Prasad, Vishnu Murthy, and Zach Wang received the Grand Champions trophy and medallions to commemorate their achievement. They also earned the opportunity to participate in the FLL World Festival, to be held in conjunction with the FIRST Championship, April 23-26, 2014 at the America's Center and Edward Jones Dome in St. Louis, Mo.
In early fall every year, FLL releases a Challenge, which is based on a real-world scientific topic. This year's challenge, Nature's Fury focuses on devising innovative solutions to keep people and property safe before, during, and after a natural disaster. Each Challenge has three parts: the Robot Game, the Project and the FLL Core Values. Teams participate in the Challenge by programming an autonomous robot to score points on a themed playing field (Robot Game), developing a solution to a problem they have identified (Project), all guided by the FLL Core Values. Children work alongside adult mentors to design, build, and program autonomous robots using LEGO MINDSTORMS technologies and create an innovative solution to a problem as part of their research project. After eight intense weeks, the competition season culminates at high-energy, sports-like tournaments. Like any other organized "sport," teams also fund raise, create a team identity, and go on field trips.
This season, Team Positive Aftermath studied hurricanes and focused on the problem of access to clean drinking water for families in the days following a hurricane. They were inspired by stories from family and friends who lived through hurricanes and set their goal on finding a feasible solution. For their innovative solution, they devised a portable and energy efficient water purifier to filter out contaminants commonly found in hurricane water. To accomplish their goal they interacted with many professionals in the related fields and incorporated feedback of scientists from USA and India.
The team also organized a Typhoon Haiyan Emergency Fund fundraiser in which all FLL teams and the community members could participate in order to help victims of Typhoon Haiyan. Among other needs, families in the Philippines desperately need access to clean water. Team Positive Aftermath has raised over $1000 so far, and anyone can still donate at the following website: www.gofundme.com/Positive-Aftermath
FIRST LEGO League (FLL) is an international program for 9 to 16 year-old children created in 1998 to get children excited about science and technology – and teach them valuable employment and life skills.
Official FIRST website: http://www.usfirst.org