Arlington — Bryant Fultz wasn't among the top performers in the dunk contest during NVABBC all-star festivities on March 17, but the West Potomac senior made his mark during the main event.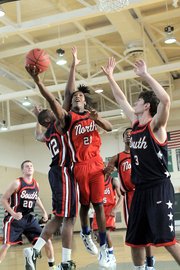 Fultz threw down a fourth-quarter alley-oop dunk from fellow Wolverine Randall Brobbey, scored a team-high 15 points and earned game MVP honors as the Concorde/Patriot All-Stars defeated the Liberty/National team 109-108 in overtime at Wakefield High School. The all-star game featured some of the top players from the Northern Region, and matched a team composed of athletes from the Concorde and Patriot districts against players from the Liberty and National districts.
"With the dunk contest, it was really hard because I'm not really a trick dunker," Fultz said. "I'm more of a go-up-and-do-it kind of guy."
Fultz made up for any lack of flair in his dunk-contest performance. With the Concorde/Patriot squad leading by four late in regulation, Brobbey threw an alley-oop pass off the backboard, which Fultz slammed home for a 99-93 advantage.
"In practice," Fultz said, "we do it all the time for fun."
The West Potomac boys' basketball program had a strong showing during the St. Patrick's Day event in Arlington. The afternoon started with a 3-point shooting contest, won by Wolverine junior Brandon Pressley. After the dunk contest, Fultz and Brobbey participated in the all-star game, which is a senior-only event. Brobbey scored 10 points.
"All three of those guys had great seasons," said West Potomac head coach David Houston III, a spectator at the event. "It feels good. We put a lot of time in and they did, too. It took a long time to build a good program with good kids. … We had a lot of my younger guys here and Brandon is only a junior, and [participating in all-star festivities is] something they look to. That's why it's good for our league and for our region. It's something they look forward to doing. There's a lot in it. Guys know that you can't just be on the team. You have to have a good season to be selected."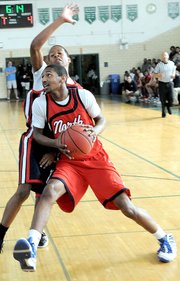 After the 3-point shootout, South County's Oren Burks held off Lake Braddock's Tyler Snow to win the dunk contest. Jumping over a human prop became the unofficial theme of the event. T.C. Williams' T.J. Huggins was one of the first to attempt the maneuver, leaping over fellow Titan Jordan Byrd, who stands 6 feet.
"It was his idea at the last minute," Byrd said. "I was just supposed to throw the [alley-oop]. He missed it a couple times and then at that time he just changed it and said, 'Can I dunk over you?' I said, 'Go ahead, I'll give it a try, but you better not hurt me.'"
The all-star game provided an exciting end to the afternoon. The Liberty/National team overcame an 11-point second-half deficit to force overtime and held a one-point lead late in the extra period. But after allowing the go-ahead bucket to Hayfield's Nate McShay of the Liberty/National team, Huggins, the region Player of the Year, drove to the rim and scored the game-winner for the Concorde/Patriot team.
"The dude had just scored on me and I was like, I can't lose the game," Huggins said. "… I just said, 'I've got to get this.'"
The Concorde/Patriot All-Stars, led by Woodson head coach Doug Craig, featured a balanced scoring attack. South County's Marqueice Johnson and Westfield's Quentin Basil each scored 11 points, and Lake Braddock's Snow had 10. Centreville's Evan Fuller and Robinson's Robert Pillow each tallied nine points, while Huggins added eight.
Johnson, a rebounding force for the Stallions, said it took some time to settle into a rhythm while playing with athletes from other schools, but the teams eventually found a groove. He also said there was a relaxed approach in terms of competition, but that didn't stop hip from hustling.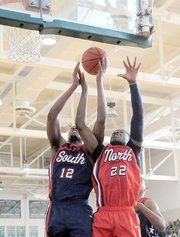 "It's not a want to win the game, It's just always play hard," Johnson said of his approach. "Everything I do, I just want to show everybody that I'm trying to play hard. I just want to show the coach if I'm going to be on his team, I'm going to play hard.
Chantilly's Brady Caslavka (7 points), Robinson's Tristian Crenshaw (7), T.C. Williams' Byrd (6), Centreville's Robert Coker (5) and Lake Braddock's Brendan McHale (2) also competed for the Concorde/Patriot team.
Edison head coach Terry Henderson led the Liberty/National All-Stars. Henderson received a good-natured ribbing for calling a timeout in the closing seconds of the first half to design a play for Langley's Daniel Dixon. The play worked, as Dixon buried a 25-foot 3-pointer at the buzzer to give his team a 49-48 halftime lead.
"It's fun. You get some talent you don't normally have," Henderson said. "It's kind of like coaching at a private school or something. You've got your shooters, you've got big men [and] you've got ball handlers. I was like a kid in a candy store; I didn't know what to do and what to call."
Dixon, who also had the ball in his hands near the end of regulation and overtime, said he enjoyed having opportunities during crunch time.
The play prior to halftime "was drawn up to get me the ball, but probably in a different spot than near half-court," Dixon said. "But I just pulled it from there."
Hayfield's McShay led the Liberty/National team with 20 points. Dixon scored 17 points, South Lakes' J.D. Wallace finished with 15 and McLean's Gordon Rogo added 11.
Edison's Tyrone Mackall (9), Wakefield's Justin Glenn (8) and Corey Aldrich (5), McLean's Sango Amolo (7) and Thomas Van Wazer (6), South Lakes' Jordan Francis (4), Langley's Joey Robinson (4) and Marshall's Latrell Watkins (2) also competed.
Wakefield head coach Tony Bentley hosted the festivities for the third consecutive year. He said the all-star game was the best it has been and he enjoyed watching his players --- Glenn and Aldrich --- participate.
"That was really good to see those guys get out there and play with some of the best competition and see how they matched up and played," Bentley said. "I was happy to see Justin and Cory just get out and play with smiles on their faces, unlike playing with me when I'm fussing and yelling at them."