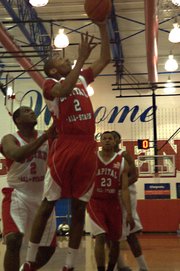 Alexandria — A nervous T.J. Huggins received an ovation from the crowd as he checked into the 39th Annual Capital Classic's main event with 7:27 remaining in the opening quarter.
Playing on his home court as a member of the Capital All-Stars, the T.C. Williams senior found himself matched up against a U.S. All-Stars team composed entirely of Division I-caliber basketball players. Huggins had earned Northern Region Player of the Year and first-team all-state honors during the 2011-12 season, but facing opponents heading to such schools as Virginia, North Carolina and Maryland would put his skills to the test.
It didn't long for Huggins to show he could play with some of the nation's best.
After entering, Huggins promptly knocked down a pair of jump shots. He finished the contest with 10 points, six rebounds and four steals, earning him the team Most Valuable Player award for the Capital All-Stars, which lost to the U.S. All-Stars 105-93 on April 21 at T.C. Williams High School.
"It was great to know," Huggins said, "that everyone supported me on my home court."
Huggins said the competition was quicker, stronger and more physical than what he was used to. The U.S. roster included players from Georgia, New Jersey and Texas, among other states. Eight athletes stood 6 feet 6 or taller, including three listed at 6 feet 10.
The 6-foot-5 Huggins, who was the only player from the Northern Region to compete in the Capital Classic's main event, is verbally committed to Navy.
"For him, it's a big confidence booster," said T.C. Williams boys' basketball coach Julian King, a member of the Capital Classic Coaches Committee. "It lets him know he can play at a high level — it doesn't get any higher than that right there. Hopefully he'll carry this on into the future and have some good years a head of him."
The score was tied at 45-all at halftime before the U.S. All-Stars started to pull away in the third quarter. Huggins' final bucket came on a putback late in the third, which cut the U.S. lead to 75-67.
"I thought T.J. played very well," said Episcopal boys' basketball coach Jim Fitzpatrick, who coached the Capital All-Stars. "To be honest with you, I thought T.J. played as well tonight in the game as I've seen him in the practices, and I think that's a product of him just capitalizing on the moment. Obviously, this is a comfortable setting for him, but he still has to make the shots and make the plays. The best compliment I can say about T.J. is he played within himself, and I think that was the difference for him."
"For [T.J. Huggins], it's a big confidence booster. It lets him know he can play at a high level — it doesn't get any higher than that right there. Hopefully he'll carry this on into the future and have some good years a head of him."

— T.C. Williams boys' basketball coach Julian King
Fitzpatrick, who led Episcopal to a state runner-up finish, also got to coach two of his own Maroon players: Arnaud Adala Moto (Wake Forest) and Kethan Savage (George Washington). Savage scored eight points and Adala Moto finished with four.
"It was fun to coach them, but at the same time I wanted to make sure they meshed in with the other players," Fitzpatrick said. "I'm not sure I would have had this honor of coaching tonight if I didn't have those players play for me, so I wanted to make sure that I gave them the proper respect to let them play. But I also wanted them to understand that they were the same as all the other 10 members of the team in terms of their importance to the team."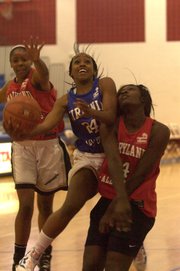 The Capital Classic was an all-day event, with two girls' games in the afternoon and two boys' games at night. The first girls' game was a public school matchup between the Virginia All-Stars and the Maryland All-Stars. T.C. Williams senior Gaby Moss was a member of the Virginia starting five and finished with nine points as Virginia cruised to a 74-49 victory.
Moss, who will play for Georgia State, said players were unselfish, making it easier to mesh on the floor.
"We've played against each other, so we know each other's game," Moss said. "We know what each other does. It was really just getting into a groove. … You don't want to get lost in the mix, but at the same time they're good players, so you look better when you get other people involved and they do the same thing."
West Springfield senior Logan Battle came off the bench to score 12 points and earn game MVP honors. After a slow start by both squads, Virginia's second unit of Battle (Georgetown), West Springfield teammate April Robinson (Duquesne), Forest Park's Lexi Carpenter (Dayton), Stafford's Merritt Hempe (Georgia) and Fairfax's Liz McNaughton (UMBC) sparked an 11-2 first-quarter run as the team gradually pulled away.
"Sitting on the bench starting out gives me a chance to see how the other team plays and get a feel for what I'm supposed to be doing," Battle said. "…We've all seen each other play [and] played with each other during AAU or in other all-star games before. When we got on the court, we worked well together [because] none of us are selfish."
Fred Priester, who led Oakton to an undefeated record and the 2012 state championship, coached the Virginia All-Stars.
"There's always a little edge there," Priester said of the inter-state matchup. "We in the Virginia suburbs think we play pretty good ball, they think they play pretty good ball, so there's a little bit of bragging rights there."
Oakton's Katherine and Caroline Coyer scored six and five points, respectively for the Virginia squad, playing their final high school game before suiting up for Villanova.
"It was a little bittersweet," Katherine Coyer said. "It was definitely great to get to represent Oakton High School one more time. Of course, it's sad that this is the last time were going to be putting on these shorts and playing to represent Oakton, [but] even going forward, this isn't something we're going to forget."
Robinson scored six points, Edison's Ruth Sherrill (Hofstra) finished with five and McNaughton had three.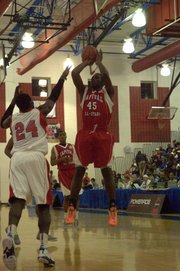 In the other girls' game, the Prep-Private All-Stars defeated the Interhigh All-Stars 76-67. Bishop O'Connell's Nicole Carty scored three points for the Prep-Private team.
In the first boys' game, the Suburban All-Stars defeated the District All-Stars 109-100. The Suburban All-Star roster had four players from the Northern Region: Langley's Daniel Dixon, Yorktown's Jack Earley, Edison's Matt Murphy and Westfield's Zach Elcano.
Dixon was a standout during the Northern Region all-star game on March 17, scoring 17 points for the Liberty/National team in a losing effort. On Saturday, Dixon scored 16 points and knocked down four 3-pointers to help the Suburban squad get the win.
"I try not to force things and try to just let the game come to me because I know I have great players around me," Dixon said. "I know I can make them better, they can make me better so it's much easier. … My goal today was to come back and redeem myself and I felt like I did that."
Elcano (American) scored 11 points for the Suburban team. Murphy finished with six and Earley (Claremont McKenna) added three.
Paul VI guard Tilman Dunbar (Navy) scored 16 points for the District All-Stars.
"Everyone out here, for the most part, is going to play college ball — lots of Division I players," Earley said. "It's great to come out here and play against that caliber of players."