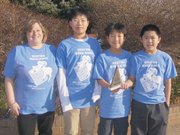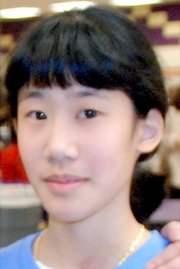 Rocky Run Middle School's MathCounts team didn't win the state championship this year. But it did capture second place, which is a big achievement, in itself.
"It's still pretty good," said eighth-grader Sydney Zheng. "I was honored that my team could come this far."
To reach the state competition, held March 16 in Richmond, she and her teammates, eighth-grader Dan Lee and seventh-graders William Li and Joshua Lee, won the regional championship, Feb. 2, at Lake Braddock Secondary School. In addition, out of 250 students in the Northern Virginia Region's Fairfax Chapter – containing some two dozen schools – Dan finished 17th; William, seventh; and Joshua, third.
Rocky Run's after-school MathCounts club meets twice weekly; but being on the team representing the school also required math-problem competitions. And Joshua, Dan, William and Sydney made the final cut.
"I picked these four for the team, and I could tell early on that they belonged on it," said math teacher and team coach Melanie Roller. "Josh was always the first one done, and I knew William was strong, quick and accurate. Sydney competed last year as an individual, and Dan was consistently a high-scorer — you could see the accuracy in what he did."
William started doing MathCounts last year at Greenbriar West Elementary. "My brother Hans did it the last two years at Rocky Run and liked it," he said. Sydney also began in sixth grade.
"I joined Math Counts because it presented math in a way that wasn't normally taught in schools," she said. "It was in word problems, which required the solver to understand different concepts and use creative thinking to solve them. A problem could be solved by using a mix of probability and geometry, or algebra and number theory."

Brothers Dan and Joshua came to the U.S. from Korea in March 2012. "Before starting the new school year, I saw MathCounts on a list of activities, so I researched it," said Dan. "I found out it contained contests, so I got into it." And Josh was excited about it after learning Rocky Run had won the 2012 MathCounts state championship.
Each member brings particular strengths to the team. "I'm usually slow at solving problems, but I'm accurate and get everything right," said Daniel. Joshua and William solve things quickly and have time to check their work. And Sydney makes sure the team works together as a unit.
"As team captain, I formed the strategy when we worked together and organized the members, especially in the team round," she said. "I did best with algebra because it's the most logical." Sydney enjoys Math Counts because "it turns math into something that involves creative thinking and problem solving. It makes it challenging to find the solution."
Dan likes math and has fun going to contests and winning prizes, as does his brother. "I really feel proud if I win for the school," said Joshua. "So when we won the chapter competition, I was proud of myself and my team."
Actually, he's had a flair for math since age 2 or 3. "My parents said I finished an addition book in no time," said Joshua. "I did the same in multiplication; in kindergarten, I memorized a poster of the multiplication chart, from 1x1 to 19x19."
At regionals, he said, "Two people worked on five problems together and we'd solve them in about 12-13 minutes. William and I did the odd numbers and Dan and Sydney partnered. Then we'd check each other's work."
Whenever they faced an especially difficult problem, they worked on it together, explaining how they'd reached their answers. If all the answers were different, they'd focus on finding their mistakes.
The most challenging questions, said William, involved making "a long list of numbers. It takes more time, for example, to find the sum of all the prime numbers less than 50."
Joshua, however, said the easiest questions confused him most. "The first five questions of the sprint round can be the trickiest," he said.
Sydney said having to work quickly is toughest for her. "I can usually solve any problem if I have enough time, but MathCounts didn't present that luxury," she said. "To do well, I had to understand concepts thoroughly and memorize several shortcuts." Agreeing, Dan said he didn't always have time to check his answers for any mistakes.
The best part of regionals, said William, was "just having fun solving problems." Dan, though, liked "the award part where we won first place."
For Joshua, the high point was "when they said second was Nysmith, so we knew we'd won."
Roller said Rocky Run's victory came in the team round where the members collaborate on 10 questions in 20 minutes. That's because they'd prepared for those types of questions before the competition. To do so, said Dan, "We tried solving questions from previous years that were in states and nationals."
Happy they won regionals, Joshua said, "I wasn't expecting it because there were a lot of high scorers." Dan and William were both excited and proud, as was Sydney, who was "amazed at how well our team worked together to obtain that award."
Roller was proud, as well. "At one point, they weren't sure how they were doing, so I kept encouraging them and saying, 'We can do this.' And when we won, we were all thrilled. They did a great job preparing and then worked hard readying for states. And they had fun with it because math is fun."