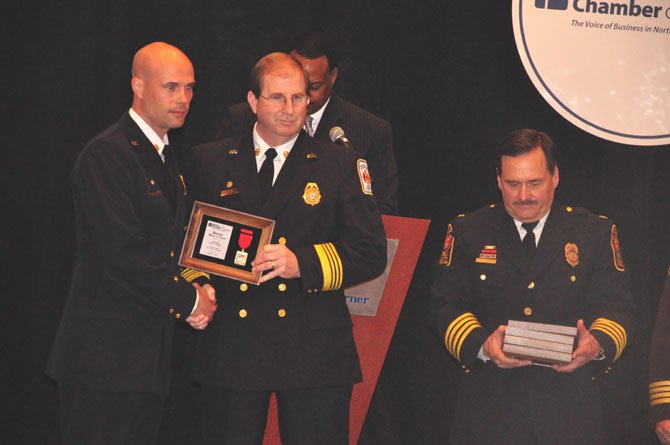 McLean — The Fairfax County Chamber of Commerce recognized 108 of the county's first responders Wednesday, March 21 at the 24th annual Valor Awards. Members of the Fairfax County Police Department, Sheriff's Office, Fire and Rescue Department, as well as from the Towns of Herndon and Vienna, were given awards.
Thirty-five responders were given bronze or silver Medals of Valor, whose children will receive post-secondary education scholarships from the Valor Scholarship Fund, a 501(c)3 foundation. To date, more than $250,000 in scholarships have been awarded.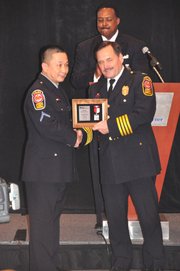 EIGHTEEN FIRE AND RESCUE PERSONNEL were given awards for their efforts during the Sept. 8, 2011 floods. Firefighters in Great Falls, Reston and Alexandria saved dozens of lives that day by rescuing people who were trapped by rising water, in danger of washing downstream or otherwise trapped by the severe weather conditions.
Lt. Thomas Flint and Technician Robert Pickel responded to a residence in the Huntington Avenue area that day, when they encountered two females, one who was eight months pregnant and one with a two-week-old newborn trying to evacuate their neighborhood.
During the rescue, Flint and the two females were washed away by a sudden surge of water when Flint grabbed a street sign and grabbed the other two females before they were swept away.
Meanwhile, Pickel placed the baby in a car seat and got it to safety. The five individuals were able to take shelter in a nearby residence, where they were rescued by boat an hour later.
"I remember the day of the floods, I was miserable because I was stuck on Leesburg Pike, and all I wanted to do was get under a roof and stay dry," said Gary Wiseman, one of the guests at the ceremony. "To think these brave men and women were out there saving lives at incredible danger to themselves leaves me in awe. They deserve every single accolade we can give them, and a whole lot more."
Almost a dozen others were saved during that day, with rescuers wading through swiftly moving water and getting flotation devices to trapped passengers with unsure footing and often without the aid of ropes or shoreline support.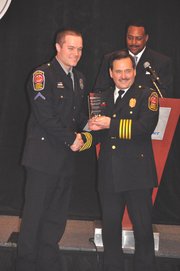 Capt. Ron Novak, 2nd Lt. Kevin Barrington, Police Officer First Class Jessica Kane and Police Officer First Class Nathan Sloan were also awarded Silver Medals of Valor. The group responded to a vehicle fire at 2 a.m. April 5, 2011, where they found an unconscious woman inside.
Unable to get her out through the doors, Barrington broke the window and Kane used her knife to cut the seatbelt, and the four worked together through smoke and fire to take the woman 200 feet to safety, just before the car's engine compartment exploded.
Police Officers First Class Ali Sepheri and Federick Yap were also awarded silver medals for their efforts to save a suicidal woman at Great Falls National Park. The woman jumped into the water upon seeing the officers and Sepheri jumped in to rescue the woman.
Yap reinforced his colleague after the woman began fighting with Sepheri, and both men were able to get her to safety, and she was able to get psychiatric evaluation.
"The two officers didn't seek the spotlight, or any recognition for the personal risk they took, they just took a quick shower, changed their uniforms and completed their shift," said Leon Harris, local television anchor and master of ceremonies for the event. "That's just the kind of men we're talking about: protecting other citizens at all costs."


THE CHAMBER also awarded 48 lifesaving awards and 25 certificates of valor during the ceremony.
"We have heard some remarkable accounts of heroism today," said Doug Brammer, chair of the Valor Scholarship Fund. "Having done this for a number of years, it just reinforces that when things are at their worst, our first responders are at their best."