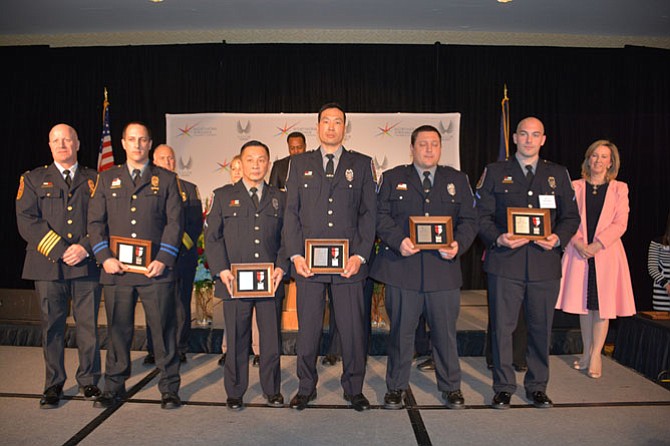 Technician Ryland Chapman and Lieutenant Lawrence Mullin with the Fairfax County Fire and Rescue Department were preparing to return home from a deployment with Virginia Task Force 1 to earthquake-rocked Kathmandu, Nepal when another quake sent them back out for duty.
Photo Gallery
Valor Awards 2016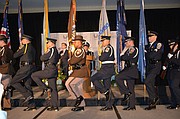 Click Photo for Flash
Task Force 1 is an international urban search and rescue outfit sponsored by Fairfax County Fire and Rescue. Chapman and Mullin were part of a team assisting in Nepal in May 2015.
Because most of their equipment had already been loaded for transport, they were only able to bring minimal tools for a 72-hour mission, including small axes and sledgehammers. A helicopter took Chapman and Mullin to search for survivors that might be trapped in collapsed buildings. In one structure, they found a woman who was wedged on the ground floor with another part of the building collapsed on top of her.
After more than three hours of the rescue operation, Chapman and Mullin were able to free the woman and save themselves from continuing aftershocks and landslides.
"It was an extraordinary effort in a disastrous situation," said Fairfax County Fire and Rescue Chief Richard Bowers Jr. "It was one of the most dangerous situations I've ever seen in my 40 years of experience. They could've been crushed at any minute."
For their efforts, Chapman and Mullin were recognized with the Gold Medal of Honor at the 38th annual Valor Awards held March 30 at the Westfields Marriott in Chantilly.
Officers, deputies and other first responders from the Fairfax County Police Department, Sherriff's Office, Fire and Rescue Department, as well as Police Departments of the Towns of Vienna and Herndon, received the Lifesaving Certificate, Certificate of Valor and Bronze, Silver and Gold Medals of Valor.
In many cases, the responders were cited for acting "without regard to their personal safety under extremely hazardous conditions."
"In a situation where they have to save a life," Bowers said, "that means the motivation to do anything to maintain and preserve that life."
For Chapman, a Fairfax resident based at Fire Station 29 in Tysons Corner, he didn't see his actions in Kathmandu as anything out of the ordinary.
"We just have to be ready for all emergencies," he said. "I just did what's within my job description, what was expected of me to do."
Chapman's wife Taylor said the communication to families from Nepal was good, but not great, and that it was "intense" waiting for updates. What's more, with the extra mission Chapman was called on, he nearly missed the couple's wedding.
Going from being a community firefighter to launching into collapsed buildings on the other side of the planet was "strange," Chapman said, but despite being far away, still gave him "good feeling" of helping people in emergency situations.
Leon Harris, News Anchor for ABC7/WJLA-TV and emcee for the awards, thanked all the first responders present for being the ones who are always there on the ground level for the various emergencies he reports on the news.
"You're there to make sure every one of those has a possibility of a happy ending," Harris said.