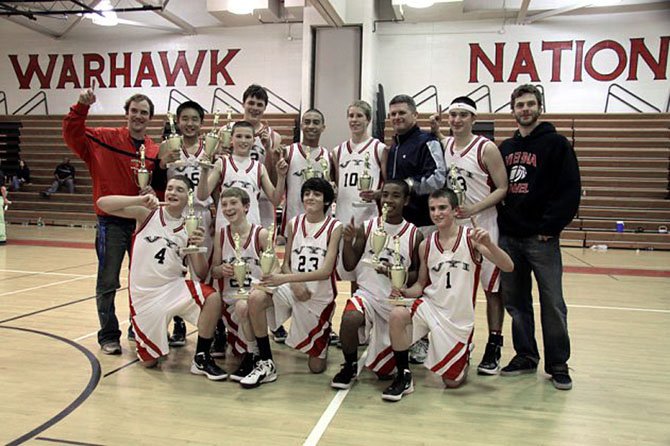 Vienna — The Vienna Div. 1 eighth grade boys' basketball team came from behind to beat McLean, 46-40, in the finals of the Fairfax County Youth Basketball League (FCYBL) Tournament Championship. The title game victory capped a perfect 17-0 season for the Vienna team, under head coach Dean Marsden.
It marks the first time in more than a dozen years that there has been an undefeated champion in the Div. 1, eighth grade league. Vienna, prior to the postseason tournament, captured the regular season championship with a 14-0 record. As a result, Marsden's squad entered the playoffs as the No. 1 seed.
In its quarterfinals round postseason game, Vienna, nicknamed the Warhawks, beat Chantilly, 56-49. That was followed by a 61-45 triumph over Gainesville in a semifinals game to put Vienna into the championship game versus No. 3-seed McLean.
There, the Warhawks put together a strong second half to overcome a five-point halftime deficit to pull out the victory. Ben Christenson led the team in scoring and was selected tournament MVP. Marsden was named Most Valuable Coach by the FCYBL, and the team also had two All-League selections in Jelani Murray and Tyler White.
The key to the Warhawks' perfect unbeaten season was their ability to defend. Vienna allowed fewer points than any team in the league during the regular season, a differential of more than 200 points. In the tournament, Vienna kept all three of its opponents under 50 points. As the opposition got better, so did Vienna's defensive effort. The Warhawks held McLean, the highest scoring team in the league, to only 40 points, 26 points below their average.
"There was a lot of pressure, as the season progressed, to go undefeated," said Marsden. "The players really responded and saved their best for last."
Other players on the Vienna Warhawks are: Mikey Briody, Khalid Darab, Kyle Hayes, Theo Stamatis, Daniel Ungerleider,Taiga Walker, Daniel Wheeler, and Oak Zoom. The team's assistant coaches are Ryan Flaherty and Mark Magellan.