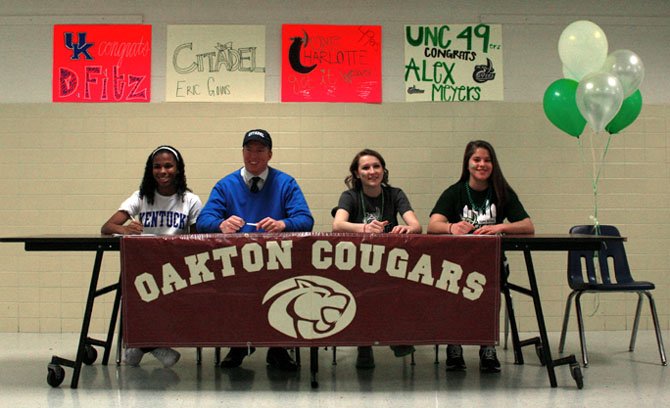 The Fairfax Little League will celebrate its Opening Day on Saturday, April 14 from 9 a.m. to 10:30 a.m. Festivities will start with the annual parade behind Paul VI High School and move on to Chilcott Field, located in Fairfax City. Following the ceremonies, there will be a Challenger game to officially begin the new season.
The Girls Basketball Summer Camps, sponsored by the Westfield High Athletic Booster Club, will hold sessions on the following dates: June 19-June 22 (Session 1, noon time to 4 p.m. for rising seventh through 12th graders); July 2 through July 6 (Session 2, 9 a.m. to 3 p.m. for girls ages 8 to 15); and July 16-20 (Session 3, also 9 a.m. to 3 p.m. for girls ages 8 to 15). Please note there will be no camp session on the Fourth of July.
The Girls Basketball Summer Camps, which draw youngsters from the Centreville, Chantilly, Burke, and Fairfax areas, will be run by former Westfield High girls' basketball coach Pat Deegan and assistant Alice Andersen. Current college and high school players will also serve as camp workers.
Session 1 is designed for the serious athlete who is planning on or is currently playing varsity basketball. The session will included intense one on one, two on two, and three on three basketball drills to help campers achieve their basketball potential. In addition to the skill drills there will be two, five on five games as well as sessions focused upon developing quickness, strength, and endurance.
Sessions 2 and 3 are designed to help the young ladies accomplish three things: to learn more about the game of basketball, to enjoy a competitive week of supervised contests, and to have lots of fun while doing so.
Camp tuition is $85 for Session 1, $130 for Session 2 (four days), and $150 for Session 3 (five days). For multiple family members, there is a $15 discount for each child. There is also a $15 discount for those who attend subsequent sessions. The first 120 players to register will receive a camp basketball, in addition to the camp tee shirt. For more information or applications, please contact Pat Deegan at: Pgdeegan@fcps.edu, or by phone at 703-488-6363, ext. 7201.
With the swiftness of leprechauns, 1,693 runners, most dressed in vibrant hues of green, dashed to the finish at the Irish Sprint 10K, a festive but challenging 6.2 miles course through Prince William Forest Park in Quantico. The event took place March 17.
The two winners were Marine Major Jason Kut, 34, who won the men's race in 37 minutes, 16 seconds; and Marine Captain Erin Demchko, 33, who won the women's race in 41:43.
Kut, a logistics officer, had also won the race in 2011. Demchko, a training and support officer, was a member of the All-Marine Running Team at last year's Marine Corps Marathon (MCM) and placed second at the Turkey Trot 10K in November.
"The Irish Sprint was a great scenic course and I enjoyed all of the bridges," said Kut, after his first place finish. "But they were a little tricky, which made it more of a challenge."
"It was a great race and perfect with the hills at the beginning and a lot of downhill toward the end and really overall a great course," said Demchko.
In the Masters men's category, Retired Marine Lt. Col. Alex Hetherington, 45, of Vienna, finished first at 38:56. In the Masters women's race, Annandale's Lynda Hymans, 43, was victorious.
Hetherington, a former member of the All-Marine Running Team, also is a member of the Marine Corps Marathon Hall of Fame Class of 2009.
From Northern Virginia, other winners, in their respective age categories, included: 14-year old John Gieseler of Falls Church; Alyssa Coon, 13. of Ashburn; Philip Fahrenholz, 40, of Ashburn; Yuko Whitestone, 40, of Springfield; Paul Matheson, 45, of Arlington; Beth Defrancis Sun, 52, of Arlington; and Patricia Patrick, 69, of Falls Church.
Stuart High School in Falls Church will host its annual sports camps this summer. The girls' combination Volleyball-Basketball camp will be held July 16-19 for grades kindergarten through fifth. Also, a girls' Volleyball-Basketball camp for youngsters sixth through 10th grades will take place July 23-26. The boys' basketball Camp will be held June 25 through June 29. For more information and to get registration forms, go to raidersports.org.
Spring Break is still a couple weeks away, but the Madison High girls' softball team got an early start in Spring Break tournament play with the first game of its own `Madison Spring Tournament' last Thursday, March 22 versus Mount Vernon High.
Even with Madison being the tournament host, Thursday's game took place at Mount Vernon High. There, just off the Route 1 corridor in Alexandria, Madison defeated the home team Majors, 4-1. Mount Vernon gave Madison all it could handle, but the Warhawks were able to escape with the victory over Mount Vernon, a member of the National District.
Madison's bats accounted for seven hits throughout the game. Tori Lipnicky (2 RBIs), Elizabeth Fallas, and Kelsey Ross each had two hits to lead the attack, with Fallas hitting a double and a triple, and Ross contributing a triple. Kristyn Buscemi and Jackie Yahner each had an RBI for the Warhawks.
Ross started the game in the pitching circle and earned the win, giving up one hit and striking out two in four innings of work. Fallas pitched the final three innings, also giving up only one hit while striking out four. Mount Vernon's lone run was unearned.

Two days earlier, on Tuesday, March 20, Madison defeated Fairfax High, 9-1, in both teams' Liberty District opener. Madison, in the game at Fairfax, jumped out to an early lead, plating six runs in the second inning. Fallas, a sophomore, earned the win by pitching four strong innings, giving up three hits while striking out four and walking one. Ross pitched the last three innings, giving up two hits with five strikeouts and three walks.
Madison senior Ally Grasso led the offense, reaching base five times, the result of three hits and two base-on-balls. She also drove in three runs. Also for the Warhawks, junior Brittany Powers went 2-for-4 with an RBI; Lipnicky knocked in a pair of runs; and both Kristyn Buscemi and Jackie Yahner had a base hit and RBI.
The Vienna Div. 1 eighth grade boys' basketball team came from behind to beat McLean, 46-40, in the finals of the Fairfax County Youth Basketball League (FCYBL) Tournament Championship. The title game victory capped a perfect 17-0 season for the Vienna team, under head coach Dean Marsden.
It marks the first time in more than a dozen years that there has been an undefeated champion in the Div. 1, eighth grade league. Vienna, prior to the postseason tournament, captured the regular season championship with a 14-0 record. As a result, Marsden's squad entered the playoffs as the No. 1 seed.
In its quarterfinals round postseason game, Vienna, nicknamed the Warhawks, beat Chantilly, 56-49. That was followed by a 61-45 triumph over Gainesville in a semifinals game to put Vienna into the championship game versus No. 3-seed McLean.
There, the Warhawks put together a strong second half to overcome a five-point halftime deficit to pull out the victory. Ben Christenson led the team in scoring and was selected tournament MVP. Marsden was named Most Valuable Coach by the FCYBL, and the team also had two All-League selections in Jelani Murray and Tyler White.
The key to the Warhawks' perfect unbeaten season was their ability to defend. Vienna allowed fewer points than any team in the league during the regular season, a differential of more than 200 points. In the tournament, Vienna kept all three of its opponents under 50 points. As the opposition got better, so did Vienna's defensive effort. The Warhawks held McLean, the highest scoring team in the league, to only 40 points, 26 points below their average.
"There was a lot of pressure, as the season progressed, to go undefeated," said Marsden. "The players really responded and saved their best for last."
Other players on the Vienna Warhawks are: Mikey Briody, Khalid Darab, Kyle Hayes, Theo Stamatis, Daniel Ungerleider,Taiga Walker, Daniel Wheeler, and Oak Zoom. The team's assistant coaches are Ryan Flaherty and Mark Magellan.
Vienna Team Awards winners were: Kyle Hayes (Highlight Award); Jelani Murray (Charge Award); and Taiga Walker (Man of Steal Award).
The Langley High girls' varsity lacrosse team overcame an early 3-0 deficit to rally past traditional rival W.T. Woodson High, 11-8, in a non-district match-up last Tuesday night, March 20. In a hard-contested game featuring aggressive defense on both sides, the Lady Saxons evened the score in the waning minutes of the first half and finally took the lead for good midway into the second half. Junior Grace Goettman led Langley's scoring with three goals and won a series of key draws, and senior Margo Swomley tallied a clutch goal and also had an assist in the second half. Saxon junior Hayley Soutter registered three assists and a goal, while Woodson was led by Junior Laura Dunn's four goals. The win improved the Saxons' early season record to 2-0.
In Chantilly High boys' soccer action last week, the Chargers, in a non-district game played at Lake Braddock Secondary, lost a close 3-2 contest to the Bruins. The game was scoreless at halftime. But Lake Braddock came out strong and scored a goal a few minutes into the second half. The Bruins tallied a second goal about 10 minutes later for a 2-0 advantage.
Chantilly gave up a foul outside of the box and Lake Braddock scored a third goal with about 20 minutes left. But Chantilly, down 3-0, never gave up and with four minutes left, Billy Germain was fouled at the top of the box. He took the free kick and scored. Chantilly then came back on a nice play up the right side, with Germain playing a through ball to Chris Treme, who scored the second goal to get the Chargers within 3-2. That was how the contest ended. Evan Ragland and Irvin Perez played good games on defense for Chantilly.

In its next game, Chantilly lost a 2-1 decision to South County, another team from the Patriot District. Germain scored the lone goal for Chantilly, the score coming on a penalty kick in the first half to put the Chargers up 1-0. South County came back and tied the game in the second half, then went up a goal with 10 minutes left.
Alexandria's Earl Lloyd, the first African-American to ever play in the NBA, is set to be inducted into the Washington, D.C. Metropolitan Basketball Hall of Fame on May 5 at Capital Hylton. Lloyd, a forward who played collegiately at West Virginia State, was originally selected in the ninth round of the NBA Draft by the old Washington Capitols in 1950. Later in his career, he was a member of the old Syracuse team that won the NBA title in 1955. Following his playing days, Lloyd enjoyed a stint as head coach of the Detroit Pistons. In 2003, he was inducted into the Naismith Memorial Basketball Hall of Fame. In recent years, the T.C. Williams High basketball court was named in Lloyd's honor.
Hundreds of the best 11 and 12-year-old ice hockey players from across the country will descend upon Northern Virginia to compete in the USA Hockey 12 and Under Tier II National Championships, Wednesday, March 28 through Sunday, April 1, at the twin rink Ashburn Ice House and SkateQuest Reston facilities.
Two local squads – the Reston Raiders and Ashburn Xtreme – will be among the 38 teams, representing 36 different states, set to participate in the five-day tournament. Each team qualified for the national championships by having won their own respective league, state championships or qualifying tournaments.
While Ashburn received an automatic berth as the official host team, the Xtreme 99 Pee Wee squad is well deserving of the honor, having compiled a 23-1 mark during the 2011-12 Chesapeake Bay Hockey League (CBHL) regular season and playoffs, including a two-game sweep at the Virginia State Championships over local rival Reston, who will represent Virginia as the state runners-up.
All games will be open to the public. Tickets are available for purchase at both the Reston and Ashburn rinks throughout the course of the five-day tournament. Week-long tournament passes cost $35 (ages 13 and older) or $25 (youngsters ages 5 to 12). Single day passes are $15 (ages 13 and older) and $7 (youngsters ages 5 to 12). Admission is free for children ages four and under. For more information on the USA Hockey National Championships, visit www.usahockey.com or contact Brian Bishop at 703-533-4830 or brian.bishop@aboutbwf.com.
Andrew Rodriguez, a 2008 graduate of Bishop Ireton High (Alexandria) and a member of the Army football team, was awarded the 2011 James E. Sullivan Award by the Amateur Athletic Union (AAU) at the prestigious New York Athletic Club on March 20. This award honors the nation's outstanding amateur athletes. Presented annually since 1930, the Sullivan award is based on character, leadership and sportsmanship. Notable recipients of the AAU Sullivan Award include: Mark Spitz, Jackie Joyner-Kersee, Florence Joyner, Peyton Manning, Michael Phelps, J.J. Redick, and Tim Tebow.
"We congratulate Andrew on this tremendous accomplishment and are all so proud of how well he continues to exemplify what we hope all Bishop Ireton High School graduates will bring to their endeavors," said Bishop Ireton Principal Tim Hamer.
While at Ireton, Rodriguez was captain of the football teams in 2006 and 2007; a three-time first team All Virginia Independent School Linebacker; National Football Foundation Scholar-Athlete; and the Alexandria Sportsman Club football player of the year.
"His coaches, teachers, and teammates can attest to the fact he is an even better teammate and person than an award can capture," said Ireton football coach Tony Verducci.
Rodriguez, a native of Alexandria, is the son of Commanding General of the U.S. Army Forces Command David Rodriguez. His sister, Amy, graduated from West Point in 2006 and recently completed a tour of duty in Iraq.
Upon receiving the AAU award, Rodriguez said, "It is an incredible honor to win this award – and a tribute to everyone I've had with me in my life, from my family to my coaches to my teammates."
He went on to pay tribute to the servicemen and women around the world adding, "They are who we play for and this award goes out to them."
Rodriguez, an Army team captain, was selected for the Sullivan Award as the result of his athleticism and sportsmanship in collegiate football at West Point, as well as for his achievements off the field. As a sophomore in 2009, he was selected as the Army-Navy football game MVP. He missed the entire 2010 season due to two back surgeries. While recovering, he served as the Ireton JV assistant lacrosse coach. He returned to Army as a team captain in 2011 and appeared in all 11 contests.
In addition to athletic achievements, Rodriguez excels in the classroom. Carrying a 4.14 GPA as a mechanical engineering major, Rodriguez ranks third in a class of 1,052 cadets. He is Army's first Campbell Trophy winner and the school's 14th National Football Foundation's National Scholar-Athlete.
Ireton Athletic Director Bill Simmons said, "Andrew Rodriguez is just a very special young man. At Bishop Ireton he was an exceptional student and football player, but more than that, he is just a wonderful person. He is the type of young man every parent hopes their son will grow up to be."
Following graduation from West Point this spring, Rodriguez will begin infantry training in Georgia before reporting to his first duty station in Vicenza, Italy.
The All-Virginia State Girls' Basketball Team was named recently. Caroline Coyer, the Oakton High senior guard who helped the Cougars capture their first-ever state AAA title this past season, was named Co-Player of the Year, along with Woodside's Adrienne Motley. Katherine Coyer, meanwhile, was named to the Second Team, as was West Springfield High's Logan Battle. Katherine Coyer, twin sister of Caroline, was this year's Northern Region Tournament MVP. Two other Northern Region players made the All-State Team – Fairfax High's Liz McNaughton (Honorable Mention) and Edison High's Ruth Sherrill (Honorable Mention). In all, seven players made first team, five made second team, and eight made honorable mention.
Last week's Top 10 high school baseball poll, as selected by the Northern Region Coaches, was as follows: Lake Braddock (1); Madison (2); South County (3); Oakton (4); West Springfield (5); McLean (6); Robinson (7); Westfield (8); Centreville (9); and Langley (10).
The Northern Virginia Community College (NOVA) women's basketball team won the 2012 Virginia Community College System (VCCS) Championship by defeating Southside Virginia Community College, 48-26. The tournament was held March 2-4 in Chesapeake.
Former Marshall High standout Carlie Zirkle (Vienna) received the most valuable player honor and was named to the All-Tournament team, along with Halley Cummins (Vienna) and Yvette Gilliam (Woodbridge).
During the championship game, Zirkle was the leading scorer with 17 points. Cummins netted 15 points, all in the second half to help NOVA pull away from the top-seeded Panthers. Kasee Hilliard (Richmond) scored 14 points, Hoda Nasseri (Springfield) added 13, and Gilliam contributed 11 points.
"This season was exciting for our basketball program," said NOVA head coach Wayne Vincent. "Our team endured injuries but we stayed together and our student athletes believed they could win the VCCS if we got healthy."
In Saturday's semifinals, NOVA defeated Thomas Nelson Community College (Tidewater area), 92-61. Zirkle led all scorers with 27 points. Cummins connected on six three-point baskets to score 22 points. Nasseri scored 14 points, Gilliam added 13, and Hilliard had 12 points.
The championship will be the final VCCS title for NOVA, as the college will now compete in the National Junior College Athletic Association (NJCAA) starting in the fall of 2012.
On March 16, Northern Virginia Community College (NOVA) women's volleyball coach Marcus Robinson inked the inaugural signing of four-student athletes to letters of intent to play for one of the nation's newest intercollegiate athletic programs. The four high school signees represent NOVA's first-ever class as new members of the National Junior College Athletic Association (NJCAA). The signing event took place on the NOVA Annandale Campus.
"This is an excellent recruiting class coming in that will provide us some strong net play and gives us a very big presence," said Robinson. "They are all pretty versatile and that will give us good opportunities to be flexible which will make us even more competitive."


Taylor Laksbergs (Alexandria) brings three years of varsity experience to NOVA out of Edison High School. As a freshman, she was selected the Most Valuable Player (MVP) of the junior varsity program. Laksbergs, a 5-foot-9 setter, earned a starting role with the Eagles as a sophomore and received the Edison program's `Coaches Award' in both her sophomore and junior seasons. As a senior, she was also the starting setter and co-captain. She was named the team MVP, and received second team National District awards. She was her volleyball club co-captain as well.
Ashley McMahon (Herndon) has been a two-year starter as a junior and senior on the Westfield High varsity team. As a co-captain, the 5-foot-8 outside hitter led her team to the Northern Regional tournament in 2011. She played in 140 matches with career stats of 120 kills, 18 aces, 175 digs and 31 solo blocks.
Chelsea Dudley (Millsboro, Va.) brings three years of varsity experience to the NOVA squad and a state championship. As a senior, she helped lead Bath County to the Virginia Group A, Div. I state title with a 26-4 record.
Moriah Ryans (Ashburn), a 5-foot-11 middle and outside hitter, competed on the XCVB volleyball club. She attended Briar Woods High School.
Fairfax Adult Softball (FAS) honored its dedicated volunteers in ceremonies on Sunday, Feb. 26 as FAS President John Carney presented the Ron Bullock Volunteer of the Year award (for 2011) to Bill Sikes of Fairfax.
Sikes, who has served on the FAS Board of Directors for nearly 30 years, devotes countless hours to the promotion of the Men's Masters League (35-plus) in Fairfax County. His innovative ideas and passion for the development of the program are demonstrated in the annual improvements to FAS. Sikes continually displays his commitment to the program by his ongoing tenure as Masters League Coordinator, working on committees and also supporting the program on the field.
Sikes has played ball at every level of competition but to him only one aspect is most important.
"The camaraderie has always been the most significant reason I continue," said Sikes. "I have had the pleasure of playing with some truly remarkable people over the years."
He also participates in the Special Olympics softball league and has been doing so for 20 years.
"Playing in the Special Olympics league is one of the most rewarding experiences of my life," he said.
Fairfax Adult Softball, a non-profit organization, prides itself on the success of its program from the continued support of its volunteers. The Ron Bullock Volunteer of the Year award was created to recognize individuals who make a substantial commitment to volunteering and improving the FAS program. The award is given to those that demonstrate outstanding volunteer service over the course of 12 months.

To learn more about FAS, to enter a team into the program, or to become a volunteer, please visit the FAS website at www.fairfaxadultsoftball.com.
Eric Reed of McLean was honored as the 2011 US Youth Soccer Administrator of the Year award recipient on Feb. 17 at the US Youth Soccer Awards Gala, held in Boston. More than 1,000 individuals were in attendance.
As treasurer of McLean Youth Soccer, Reed has played a pivotal role in bringing the club to a healthy financial position, enabling strategic investments in field improvements. Reed brought modern business and financial practice expertise to a club with more than 3,500 players from nearly 2,500 families and a budget of nearly $2.5 million. Reed has also served on the McLean Youth Soccer Board of Directors for almost five years.
The recipient of the Administrator of the Year award is selected by the US Youth Soccer Board of Directors. The Administrator of the Year Award honors the extraordinary accomplishments in administration over a career.
The Dominion Speedskating Club, based out of Reston SkateQuest, recently competed at the US Speedskating Short Track Age Group National Championships, held at the Cornerstone Arena in Green Bay. Several Dominion skaters won awards and broke records.
The Dominion team is under the direction of co-coaches Jimmy Jang and Choi Kwang-Bok, who have trained world class Olympians and World Class champions.
One member of the team, Maame Biney of Reston, is a sixth grader at Terraset Elementary. In Green Bay, she won all of her races and was awarded the overall winner for her age group (Midget Ladies). She also broke a record in the 500 meters event.
Another team member, Luca Lim of Annandale, broke several Pony Boys records. He smashed four National Pony age class records – in 222-meters (22.935), 333 (33.866), 500 (49.783) and 777 (1:19.251).
His twin sister, Siobhan Lim, won all her races and was a short track National
Champion in Pony Ladies.
Over 240 skaters, from Alaska to Florida and points in between, traveled to Green Bay to close the season.
The Madison High boys' tennis team, in a Liberty District match versus cross-town rival Marshall last Friday, defeated the Statesmen, 6-3. The competition took place at Jefferson District Park, Marshall's home playing site this season.
Madison No. 1-singles player John Adam won his highly competitive match over Adam Ghazzawi, 11-10 (7-3 tie-breaker). It marked the second consecutive match in which Adam, a senior, has won by tie-breaker.
Madison's other singles winners on Friday were: No. 4 Matt Blosco; No. 5 Albert Chang; and No. 6 Alex Russell.
In doubles, Madison's No. 1 team of John Adam and Gunnar Baskin was victorious, as was the Warhawks' No. 3 team of Alex Russell and Alex Dondershine.
Marshall's two singles match winners were Nick Koludrovic at No. 2 and Ryan Feenick at No. 3. In doubles, the Statesmen got a victory from its No. 2 team of Feenick and Dan Bleykhman.
Madison, under head coach Glenn Adams, improved to 2-1 on the season. Marshall is 1-2.
The Langley High girls' varsity softball team traveled to Marshall High and defeated the Statesmen, 8-0, in a Liberty District victory on Tuesday, March 20. Pitcher Emily Templin toed the rubber for all seven innings. She pitched a shutout, allowing no runs with four hits while striking out nine. Templin, along with Julia Weeks, Kaitryn Evans, and Ashley Panetta, each belted doubles at the plate. Weeks led the Saxons with four RBI's. Maggie Natal had three singles and two stolen bases. Carina Sturm, Gabi Pijaca and Melanie Dronfield all singled. The game ended with a deep hit to center field in which Langley outfielder Ashley Panetta made an all-out, huge diving catch.
Three days later, Langley hosted district opponent Fairfax and surrendered the lead in the top of the seventh inning in a 4-2 loss. The game was tight to the bitter end. Langley's Weeks got things going in the bottom of the fourth inning with a double. Pijaca then reached on a walk and Evans singled to load the bases. A batted ball by Natal resulted in an error and allowed fast-running Weeks to score for a 1-0 Langley lead. That was the lone run of the inning for the Saxons.
In the fifth, Panetta got a single before moving to third on sacrifices by Sturm and Templin. Then, a single by Weeks plated Panetta to give the Saxons a 2-0 lead.
Fairfax did not let up and, behind four singles and a double over the final two innings, rallied for the win.
Storm White followed up its recent Arlington Invitational Spring Soccer Tournament win with their biggest championship victory yet as they garnered the coveted gold medal in the girls' under-12 Championship Division (eight versus eight) of the Jefferson Cup, held March 17 and 18 in Richmond. The Jefferson Cup is one of the largest and most prestigious youth soccer tournaments in the country, attracting teams from approximately 35 states and receiving more than 1,400 applications to play.
Over the weekend of March 10-11, Storm White won the highly competitive Arlington Invitational Spring Soccer Tournament (11 versus 11). And last week, the locals took the title at the Jefferson Cup.
"We are very proud of our Storm players, who showed both great skill and joy in their first full-sided matches (Arlington) and in their first Jefferson Cup," said head coach Mark Heilbrun. "The kids simply love to step on the field and play, and these two tremendous tournaments are a reflection of that and also provide a great foundation for Storm White."
Storm White, which receives additional professional training from Gayle Wilson, Curtis Wilson and Tony Howard, is generously sponsored by local businesses Kay Jennings Springfield Toyota; Mannix Heating and Cooling; Peter K. Cocolis, Jr., DMD, Family and Cosmetic Dentistry; Elhady Orthodontics; and Glory Days Grill. Storm White is a part of the Springfield/South County Youth Club and competes within the Washington Area Girls Soccer League (WAGS).
The Lee High boys' soccer team (1-2-1), under head coach John Millward, was able to hold off a late charge by the Oakton Cougars to win 1-0 in Lee's home opener this past Tuesday night, March 27. After a quick re-start, and some quick midfield play, Luis Aguilar, a senior forward, found senior midfielder Jamie Ahmed, who took a one-touch into space then placed a 36-yard shot into the upper net with 12 minutes left. Lancer junior goalie Douglas Gutierrez had his first shutout of the season and tallied eight saves in the net. The Lancers' next home game will be after the spring break when they take on visiting Patriot District opponent Lake Braddock on Tuesday night, April 10 at 7.
The Springfield Youth Club (SYC) Pride United under-14 girls' soccer team was crowned champion of the Classic Level at the Baltimore Mania Tournament, which took place March 24-25 in Jarrettsville, Md.

Coached by Stu Pierson, United was able to battle back after a loss in their first game – notching a shutout win in their second game, a 1-0 shootout victory in a semifinals match, and then a 2-1 finals triumph in the championship game.

A month earlier, the Pride United had also captured the championship of the Elite Level during the Richmond Kickers Ultimate Cup Tournament, held Feb. 24-26.

The team is looking forward to a successful WAGS season in Div. 3, beginning this weekend. More information on Pride United can be found on the team website at http://sycprideunited.teamopolis.com/members/default.aspx.