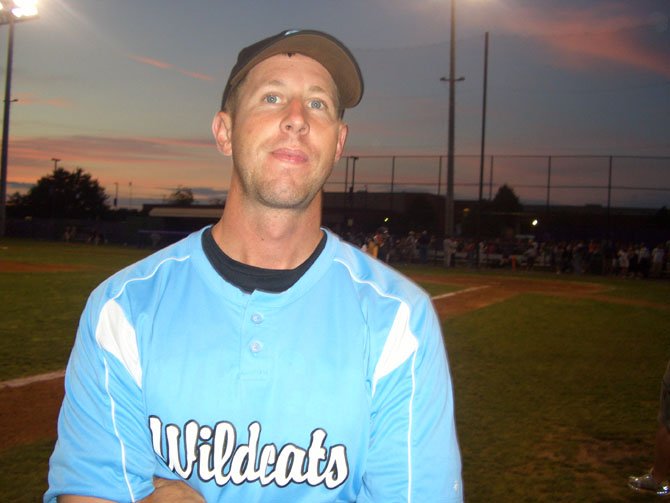 An early season trip to Florida for spring break week is always nice for a high school baseball team, but it's even better when a team has gotten off to the sort of fast start that the Centreville Wildcats have.
Centreville, going into this week, was 4-0 this spring and has a little giddy up in its step as it prepares for Florida. The Wildcats were scheduled to play a home game on Wednesday, March 28 of this week versus Flint Hill School (Oakton) before getting out their travel plans and heading to the sunshine state for next week's spring break week.
"I think the guys are pretty confident right now," said Centreville head coach Morgan Spencer, earlier this week. "We have a lot of guys back from last year and we're just playing pretty solid, fundamental baseball. We haven't done anything extraordinary or had monster games, but we've been consistent and our line-up is good."
Down south over the break, Centreville will be competing in the Orlando Spring Classic and is scheduled to play five games – two on Monday, and one game per day Tuesday, Wednesday, and Thursday. The games will all be played at gorgeous Samford Stadium, a state of the art ballpark and facility.
Centreville competed at the same tournament last year over spring break. Two years ago, the team spent the free week in Sarasota.
"For the most part it's hot and we play a lot of baseball in five days," said Spencer. "The facilities [in Orlando] are gorgeous."
"Every year the idea is to come back a better team than when we left," he said. "Typically what happens is we come back a [more cohesive] team and the guys form a bond, which is the idea."
Centreville's first game in Florida will be a Monday day game versus Charlotte Amalie, a team from the Virgin Islands. That night, the Wildcats will meet a California team, Narbonne Harbor. On Tuesday, the opponent will be a team from Athens, Tennessee. The opponents for Wednesday and Thursday's games are not known yet.
CENTREVILLE'S SQUAD is an experienced, talented bunch. Following an outstanding season in 2010 when the Wildcats proved to be one of the best teams in the Northern Region, Centreville had a more mundane spring last year, going a respectable 12-11 with a relatively young line-up but failing to qualify for the 16-team regional playoff field.
This year's group, Spencer said, is hungry to re-emerge into the top tier of teams across the region and make a solid postseason run at both the Concorde District and regional playoffs later this season.
So far, Centreville has set a good tone to the season.
"We have eight starters back," said Spencer, who has 10 seniors on the roster. "Our senior leadership is outstanding. They've done a nice job. The guys have a bitter taste at missing the region tournament last year. The team is real focused."
Centreville opened the new season on March 13, winning handily over visiting Falls Church, 19-0. Carson Bach was the winning pitcher and senior outfielder Chris Simpson homered in that win over the Jaguars.
The Wildcats traveled to the Tidewater area for a couple of non-region games versus private school opponents March 16-17. They defeated Cape Henry Collegiate of Virginia Beach, 5-3, on March 16, and bested Atlantic Shores Christian School of Chesapeake the next day. Last year, Centreville lost early season games to those same teams.
Daniel Woodruff (2-0), a freshmen pitcher who has been impressive thus far, earned the win in both contests. Senior outfielder Bret Fite homered in the win over Atlantic Shores.
Last Thursday, March 22 saw Centreville defeat visiting Wakefield High (Arlington), 10-0. Mitch Mahoney earned the mound decision in that one.
Following its Orlando trip, Centreville, the following week, will start up play within the Concorde District. The Wildcats will play at Robinson on Tuesday, April 10 and host Herndon High later in the week on Friday, April 13 at 6:30 p.m. Those will be the first two of 10 straight games against teams from the district.
Key Centreville position players this season include outfielders Simpson and Fite, senior catcher Bobby San Martin, and senior shortstop Kevin LaChance. The pitching staff will be led by seniors Mahoney and Mitch Ferrick (third base), junior Bach, and ninth grader Woodruff (outfield), a right hander.