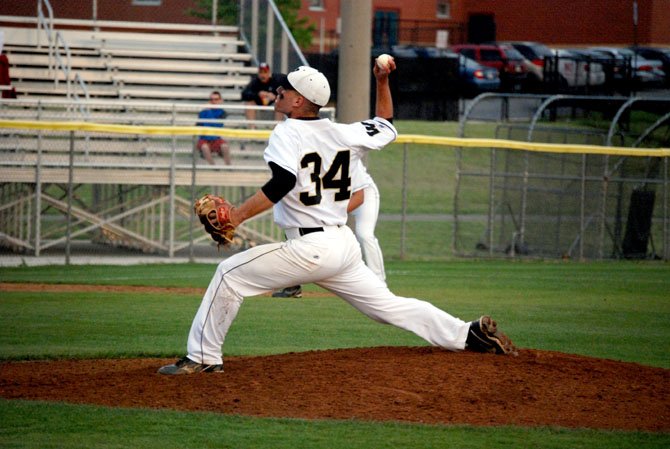 Centreville — Back and refreshed from spring break week, the local high school baseball teams opened up the Concorde District portion of their schedules last week. For the final month of the regular season, the six Concorde teams, including Centre View area schools Centreville, Chantilly, and Westfield, will go head to head to determine regular season final standings and seedings for the postseason district tournament set to begin May 15.
The top two regular season finishers will earn first round Concorde District tournament byes and automatically have a place in the semifinals.
The top four teams from each of the Northern Region's four district tournaments, including the Concorde, will earn berths to the following week's 16-team Northern Region Tournament.
It is the primary goal of teams to ultimately qualify for regionals. But in order to do so, teams must get beyond the quarterfinals rounds of their respective district tournaments.
In the six-team Concorde, two good, quality teams will not make it to regionals as a result of not winning their quarterfinals round district tournament games. Oakton, Herndon, and Robinson are members of the district along with Centreville, Chantilly, and Westfield.
THUS FAR, THE THREE Centre View area teams - Centreville, Chantilly, and Westfield - are having good seasons.
Westfield (8-4) opened district play last week with a pair of home losses to Chantilly, 4-3, on Tuesday, April 10, and Robinson, 3-1, on Friday, April 13. But the Bulldogs got a much needed district win earlier this week on Tuesday, April 17 when they won at Centreville, 9-2. Westfield, under head coach Chuck Welch, will look to make it two straight when the Bulldogs travel to Herndon High for a district affair with the Hornets this Friday night at 6:30.
Centreville High (12-2) lost to Westfield this week but won its first two district games last week with clutch, one-run victories at Robinson, 5-4, on April 10, and at home versus a talented up-and-coming Herndon team, 4-3, on April 13. In the earlier week win over the Rams of Robinson, game highlights for the Wildcats included 13 strikeouts by junior pitcher Carson Bach and a home run by senior outfielder Chris Simpson. In the win over the Hornets, senior starting right-handed pitcher Mitch Mahoney earned the win with senior Mitch Ferrick getting the save.


Robinson coach John James said his Rams (6-6 overall, 2-1 district) have seen their ups and downs thus far this spring. The loss to the Wildcats earlier last week was a tough one for his crew.
"Our season so far has been a learning process," said James. "We've done things well at times and not so well at times. We're just trying to find some consistency in our approach. The Centreville game was a game that could've gone either way, and Centreville got the job done when they needed to. Give them credit."
Centreville, under head coach Morgan Spencer, is scheduled to play at Oakton on Thursday, April 19 of this week. Next Tuesday, April 24, the Wildcats will travel to Chantilly for a big cross-town outing versus the Chargers. Centreville does not play at home again until next Friday night, April 27 at 6:30 versus visiting Robinson.
Chantilly, under head coach Kevin Ford, won both of their district games by one run last week. On Tuesday, April 10 at Westfield High, Chantilly edged the Bulldogs, 4-3. Then in a home game last Friday night, April 13, the Chargers defeated Oakton High, 3-2.
In the win over Oakton, Cory Donovan had a pair of hits and three RBIs for Chantilly. Starting pitcher Tom Wood got the win in six innings of work, allowing two runs and four hits. Chris Fraser earned the save in working the seventh inning.
Going into this week, Chantilly held an impressive 9-2 overall record with a 2-0 district mark. Ford's team was scheduled to play district road games this week versus Herndon on Tuesday night, and at Robinson this Friday night, April 20 at 6:30.
Chantilly's top hitters on the season thus far have been senior third baseman Sam Hellman, senior Casey Gittings, and junior Sonny Romine. Senior catcher Kevin Johnston, Ford said, has been outstanding behind the plate. On the pitching mound, the Chargers have received solid work from seniors Caleb Reinhardt and Wood.
Over the next month, Chantilly, like all the other teams in the balanced, up-for-grabs district, will continue to be challenged as it faces strong competition in the Concorde.
"Moving forward we are going to have to keep doing the same kinds of things in terms of executing, pitching and playing good defense," said Ford. "Our district schedule is going to be a battle every night and could come down to who executes."