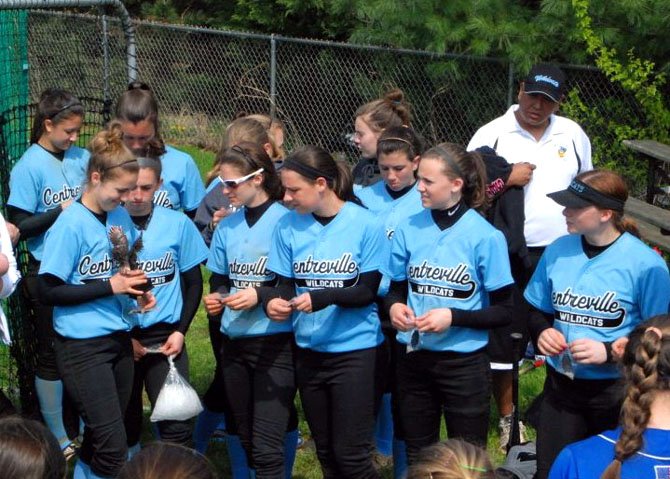 Centreville — All things considered, coming off a three-win season in 2012, being under a new head coach, and playing a tough schedule over the season's first half, the Centreville High girls' softball squad has been quite impressive thus far this spring.
The Wildcats entered this season with a new head coach, Donnie Dutton, who was taking over a Centreville program which struggled with a 3-13 record last spring. Dutton, a Westfield High softball assistant over the past seven years before being hired to lead the Centreville program this past September, realized he and his new players would have their work cut out to win more games and improve overall as a team.
"This is a rebuilding year for the program after finishing 3-13 last year," said Dutton. "We expect to continue to get better and to be competitive through the rest of the year."
The Wildcats have certainly been competitive over their first 11 games and have built a 6-5 record, particularly impressive considering some of the elite teams the locals have gone up against over the first month of the regular season.
Centreville, a member of the Concorde District, has played two games apiece versus renowned Northern Virginia stalwart programs Madison High (Liberty District) and Briar Woods (Dulles District). Both the Warhawks and Falcons have fielded teams in recent years which qualified for the Virginia State playoffs and continue to be among the best programs around.
Centreville, following a season-opening 7-0 win over visiting Yorktown (National District) on March 13, lost a road game the following day in Ashburn to Briar Woods, 3-0.
That was not a bad loss for the Wildcats, who held the talented Falcons to just the three runs. However, in its next game on March 16, Centreville lost a lopsided 13-1 affair to Madison, a team just two years removed from capturing the Northern Region crown.
A 9-4 road loss at Lake Braddock (Patriot District) followed on March 19 before the Wildcats, in a second meeting against Briar Woods on March 21, lost at home to the Falcons, 5-1. That setback was hardly a lopsided contest but it was the fourth consecutive loss for a Centreville team which was trying its best to get back into the win column for the first time since its season-opener victory over the Patriots of Yorktown eight days earlier. Centreville snapped the losing skid with a decisive 19-1 win at Lee on March 24.
OVER THE SPRING BREAK, the Wildcats enjoyed an outstanding week away from the classroom by reaching the finals of the Madison High Spring Break Tournament. In the title game, they, not surprisingly, were matched up against the tournament host team, the Warhawks. Madison, in the game played on the last day of March, defeated Dutton's feisty outfit, 8-2.
Centreville did win three games over the spring break week, defeating Patriot District member West Potomac, 9-7, as well as two National District opponents, Edison, 21-5, and Annandale, 10-0, both in convincing fashion.
In their most recent game since spring break, the Wildcats, in their Concorde District opener, bested visiting Robinson, 5-4, earlier this week on Tuesday, April 10. Centreville will be at home this Friday night at 6:30 for a district meeting against Herndon.
Centreville's team leaders this season include seniors Kara Love, Lexi Murdock, and Courtney Burke.