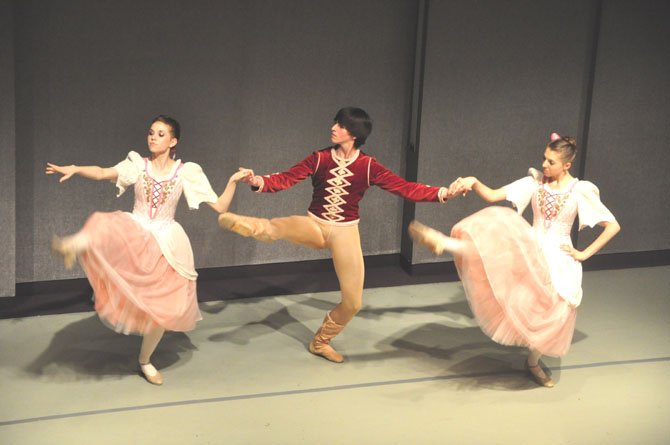 Herndon — When Cynthia Donavin, executive director of the Classical Ballet Theatre, was searching for inspiration to find a new location for the studio, she turned to one of the area's most famous patrons of the arts: Reston founder Robert Simon.
CBT Presents 'Swan Lake'
The Classical Ballet Theatre will present their rendition of "Swan Lake," starting Saturday April 14. Showtimes will be April 14, 10 a.m. and 1 p.m. at the theatre, 320 Victory Drive in Herndon.
There will also be two shows at the Ernst Community Cultural Center Theatre on the Northern Virginia Community College Annandale campus, 8333 Little River Turnpike. The Annandale shows will take place Sunday, April 15 at 2 and 5 p.m.
Tickets are $25 for adults, $12 or children, and can be purchased at www.cbtnva.org
"I gave Mr. Simon a ride to our studio, he checked it out and said he knew the perfect place to relocate," Donavin said. "And sure enough, the spot he picked will be our new location. He said he chose it because of its proximity to two future Metro stops."
The Classical Ballet Theatre, a nonprofit dance studio dedicated to providing education, performance and outreach throughout the area, will be moving August a little more than a mile east in Sunset Hill Road, next to the Plaza America shopping center. To help facilitate their expanded facilities, the theatre hosted their annual Ballet and Bordeaux fundraiser at the Center for Innovative Technology in Herndon Saturday, March 24.
"We exist for one reason, and that's to raise young dancers in a way that not only prepares them to dance well, but to succeed in many aspects of life," said Richard Thayer, chairman of the CBT's board. "This is where you can get the best regional training in the Mid-Atlantic."
Thayer said he was "thrilled at the possibilities" of the new space, which will feature a third studio to help the CBT increase their program offerings.
"We're bursting at the seams at our current location, and the move to Reston will ensure the continuation of our quality programs," he said. "We want to continue everything positive we do, which includes reaching out to dancers, students, families and the community at large."
The CBT hopes their new location will encourage people to take a look and see what happens on a daily basis.
"We're growing by leaps and bounds, and this move will help us provide more offerings to the communities of Herndon, Reston and beyond," said Patricia McCabe, the CBT's director of development. "We want to open ourselves up more to the community, so we'll have a lot of windows and open space."
The CBT was founded in 1991, and since then more than 30 of its alumni have gone on to professional dance careers around the country, on Broadway and around the globe in Russia and Germany. More than two dozen current students have been accepted into summer dance programs around the country as well.