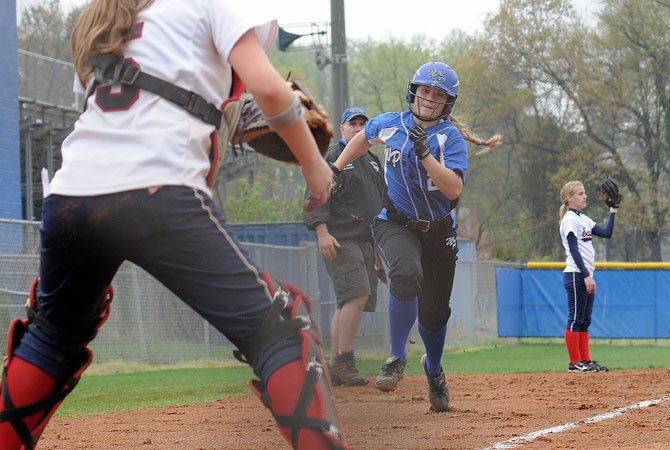 Danielle McHugh started West Potomac's weekend long-ball party with a leadoff home run against West Springfield on Friday, March 23. After a double by Hannah O'Neil, Morgan Maniglia and Jasmine Picini launched back-to-back homers for the Wolverines. Maniglia would hit another later in the contest.
The following day against Edison, a cold, rainy afternoon did nothing to cool the West Potomac bats. Maniglia hit her third home run in two games, Picini went deep again and freshman Nikki Minnis — all 5 feet 2, 101 pounds of her — provided the finale by smashing a ball over a fence for the first time in her career.
The West Potomac softball team produced a torrid offensive start to the 2012 season. Through four games, the undefeated Wolverines outscored their opponents 55-6. After a 4-3 win against Mount Vernon in the March 15 season opener, West Potomac defeated T.C. Williams 20-1, West Springfield 16-1, and Edison 15-1. The Wolverines batted .403 during the four-game stretch and belted seven home runs.
While the Wolverines didn't face the fiercest of competition, and coaches and players have stressed the one-game-at-a-time mentality, Maniglia is hopeful West Potomac's bats will remain hot.
"I think it's contagious," she said, "so I think it's going to hopefully travel into the rest of the season."
Multiple Wolverines credited a practice drill called "rapid fire" for the team's success at the plate. Rather than going through a standard bucket-of-balls batting practice, each Wolverine gets just one pitch to make something happen. Players are to approach the drill as if they have a full count. If the pitch is out of the strike zone, one should let it go.
Head coach Craig Maniglia brought back the exercise after he said West Potomac struggled in the opener against Mount Vernon.
"The reason why we do it is because we look nervous in the batter's box," Coach Maniglia said. "... The way I've done it in the past with other teams is I'll throw a bucket of balls and everyone is standing around. This keeps everybody involved in the practice, everybody's moving."
Morgan Maniglia, who produced team highs in batting average (.714), home runs (3) and RBIs (12) to start the season, said the exercise has changed the team's approach at the plate. Entering her senior year, the standout pitcher had yet to hit a home run during a high school game.
"We're jumping on things," she said, "and being a lot more confident in the box."
"We're jumping on things and being a lot more confident in the box."

— West Potomac senior Morgan Maniglia
Picini batted .533 with two homers and nine RBIs through four games. The senior all-district catcher had two home runs all of last season.
"['Rapid fire' is] just one ball and that's the one you have to hit," Picini said. "If you swing and miss, you're done. You have to go back to the end of the line. I think that's taught us discipline, in a way."
Minnis, the team's starting second baseman, said she excels during "rapid fire" at practice and thinks about the exercise during games, causing her to focus on "anything close." Against Edison, Minnis said her home run was the first she had hit on any level.
"I thought it was just going out to the outfield," Minnis said. "But then it was going higher and higher and then [the left fielder] just put her hands up and I was like, 'Oh my goodness, it's over the fence,' and I got really excited."
McHugh batted .571 with one homer and three RBIs through four games. Maggie Grady had five RBIs and Minnis, Hannah Graham and Zoey Williams each had three.
West Potomac will host Annandale at 6:30 p.m. on Thursday, March 29 before competing in the Madison spring break tournament on March 31.