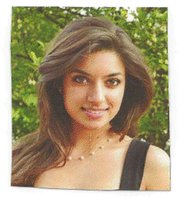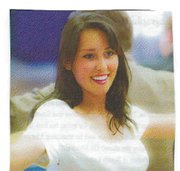 Romeo and Juliet are waiting for you to come see them at South Lakes High School. In addition to the "Star-Crossed Lovers," you'll also get to see and hear lavish production numbers with "A Cast of Thousands" and a lot of gorgeous music.
The SLHS Theatre Arts Department produced Leonard Bernstein & Stephen Sondheim's "West Side Story" this past weekend and will again present it for Reston on May 3, 4 & 5. With ticket prices at $10, it's clearly next weekend's attractive big bargain.
Faithfully reproducing the Broadway musical, the audience was treated to the beautiful melodies of Bernstein and the wit and smart lyrics of early Sondheim. Fine choreography was found throughout, done once more by SLHS alumna Lisa Girdy, while the orchestra, placed to one side as there is no "pit," was conducted by her husband, Air Force veteran Michael Girdy, doing his fourth show for SLHS.
The production numbers, with a large cast of energetic and appealing students, were especially well done. They were perfectly prepared, vibrant, engaging and the audience just loved them.
Although the spotlight was literally on Maria (Juliet) and Tony (Romeo) for a good deal of the night, Riff, the leader of the Jets gang played by Sean McCoy, and Bernardo, the leader of the Sharks, played by Mitchell Parker, were both spot-on, powerful performers all night.
The lovely, graceful and fine soprano Michelle Slivinski, had an important role as Marie's closest friend Anita, and she extolled the virtues of America. But a friend, Rosalia, played by Megan Desisti, who sang and danced to perfection, kept remembering Puerto Rico more fondly. It was funny; it was well played; it was musical theatre at its best.
But the show belonged to Maria, played by an experienced singer-actress-dancer by the name of Ariana Kruszewski, who was cast perfectly. Her interpretation of "I Feel Pretty" was a knockout. A Senior this year, Ariana threw herself confidently into this huge role.
In addition, Tony was played by Ben Peter, Kenzy Forman was the Stage Manager, the lighting and sound was good and the entire production was directed by Maria Harris, the well known and widely experienced Theatre Arts Director who is also the Performing Arts Chair at SLHS.
Details regarding tickets, etc. are at www.southlakesdrama.com/wss/boxoffice.htm