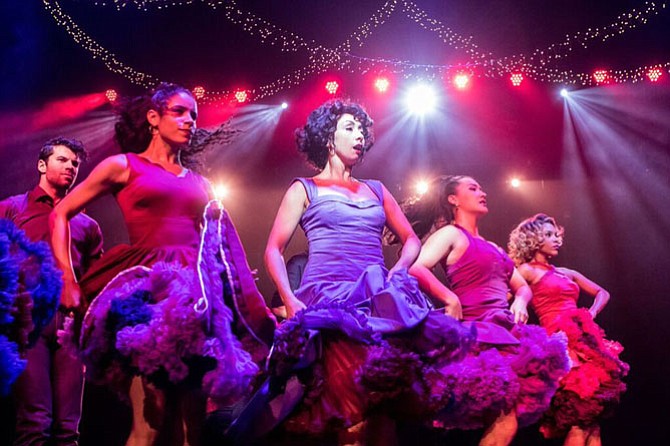 Signature Theatre in Arlington is staging "West Side Story," considered to be one of the greatest musicals of all time, through Jan. 24.
The highly stylized show is about two star-crossed lovers who find themselves wrenched between two rival gangs, the Jets and the Sharks, in New York City's Upper West Side in 1957 in this musical adaptation of Shakespeare's "Romeo and Juliet." The play features original choreography by Jerome Robbins and a score by Leonard Bernstein and Stephen Sondheim that includes "America," "Maria," "Somewhere," "I Feel Pretty," and "Tonight." It also marks the 25th production of a Stephen Sondheim musical in Signature Theatre's history. The 1961 film of the same name won 10 Academy Awards, including Best Picture.
MaryJoanna Grisso plays the role of Maria, a young girl who has just moved from Puerto Rico to New York City and is eager for the possibilities of being a young lady in America. "She falls in love for the first time and doesn't see the 'sides' the way the rest of the gangs do," she said. "She and Tony strive to have their love survive in a world of bigotry, hatred, and violence and are hopeful that there is a place for them, somewhere, in this world."
She said the role of Maria was a huge responsibility for her vocally, emotionally and physically. "I have been fortunate to grow in this piece for almost 500 performances of Maria as I performed the role on the National Tour," she said. "But doing a new production, with a new cast always brings new and exciting challenges.
"And having different people to interact with changes your show completely," she said. "Also, getting used to the new thrust stage configuration is something that has been a challenge for me, as I am used to doing this piece on a proscenium stage. The performance feels much more intimate and in some ways a bit more honest rather than presentational as it would need to be in a huge theatre."
She hopes the audience will take away the incredible message and challenge that this show offers — "that the only way to stop violence and hatred is with extreme love and forgiveness," she said. "If we perpetuate violence with violence, we will never end the vicious cycle."
She added: "I hope people take away that 'there is a place for us,' a place of peace, but it has to begin with each of us, on a personal level. This show has changed my life. I know it will do the same for those who open their hearts to this incredible story."
Associate Artistic Director Matthew Gardiner said "West Side Story" is a show that they've wanted to produce at Signature Theatre for several years now, but it is also a mammoth show from a financial and artistic perspective. "We finally feel like it was the right time to produce it," he said.
Gardiner said this musical is the perfect piece of theatre, "relevant and important in a country that seems to have grown more openly xenophobic by the day. Terrified by the other, terrified of the people that don't look and talk like us. This piece has been a reminder that we can do better."
He added: "I hope our production plays a small part in reminding people to be a little more understanding, a little more compassionate."
He said it was a challenge fitting 30 actors and 17 musicians into a 300-seat theater, and finding a way to tell this epic story in an intimate space. "But it is what makes Signature so unique," he added.
Performances for "West Side Story" run Tuesdays through Sundays, with matinees on Saturdays and Sundays. A student matinee has been added for Wednesday, Jan. 20 at noon. Tickets start at $40. The Pride Performance is Jan. 8; a Discussion Performance is Jan. 13. Single tickets are available in person at the Signature Box Office at 4200 Campbell Ave., in Shirlington, by calling 703-820-9771, and online at www.sigtheatre.org.