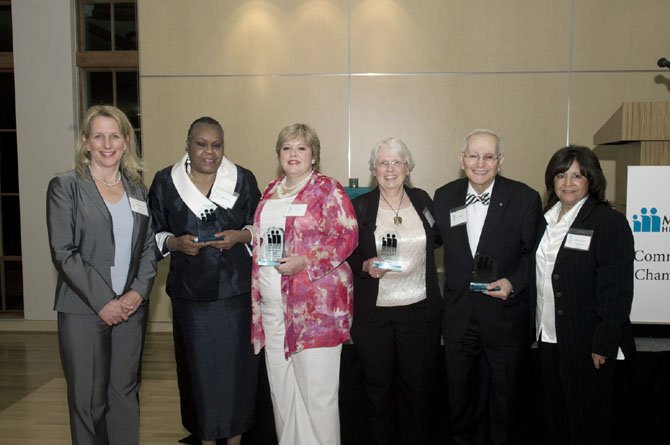 Four Northern Virginia volunteers were honored for their charitable efforts recently. Edward Shahin of McLean, Marie Markey of Alexandria and Mattie Palmore and Kari Warren of Mt. Vernon received the Molina Healthcare Community Champions Award during a ceremony at the at the Stacy C. Sherwood Community Center in Fairfax.
"We are pleased to celebrate Marie, Ed, Mattie and Kari — individuals who have made such a positive impact in the lives of others through their selfless work," said Dr. Jean Glossa, medical director of the Fairfax County Community Health Care Network (CHCN) for Molina Healthcare. "Each of their stories is so inspiring, and the work that they do to better the health and well-being of their communities is so important. It is our pleasure to not only recognize these four winners, but also to be able to support their worthy causes."
Palmore and Warren were honored for their work to support victims of domestic violence through their organization, the Women's Group of Mt. Vernon.
"This award means that the work that we do is not done in vain," said Palmore. "We don't do the work that we do for recognition. We do it to help the victims."
Markey, a volunteer at Annandale Christian Community for Action, is the coordinator and chair for the group's Family Emergency Assistance program. As a retired physical therapist, she also provides free physical therapy for clients at local free clinics.
"I believe that helping people is what one should do if one has the time and the opportunity," she said. "The 'haves' should help the 'have-nots.'"
Shahin is a senior citizen from McLean who advocates on behalf of other Fairfax County seniors through his volunteer work at Lewinsville Senior Center and as one of the elected members of the McLean Community Center Governing Board.
"I retired three times," said Shahin. "I was afraid to retire until I could fill my life with worthwhile pursuits. I have taken up causes on behalf of seniors and it is the most worthwhile thing that I have done. I am more proud of this award than any award that I have received for anything in the past because it is giving of myself to help others."
The winners were nominated by community-based organizations and received $1,000 grants to donate to nonprofit organizations of their choice. Markey donated her grant to Annandale Christian Community for Action. Shahin gave his to the McLean Rotary Club Foundation. Palmore and Warren gifted their grant to the Women's Group of Mt. Vernon.