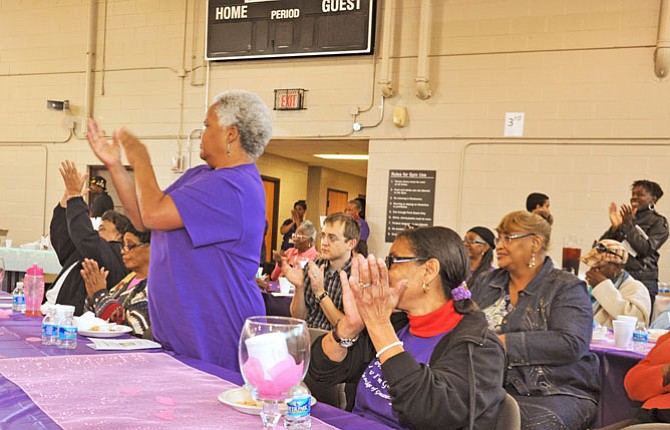 Photo Gallery
Healing from Domestic Violence
Click Photo for Flash
"It took me almost 20 years to look in the mirror to say 'I love myself, I know I'm grand,'" said Mattie Palmore, co-founder for The Women's of Mount Vernon, Inc. "I Love Myself, I Know I'm Grand" was the theme for the organization's 10th anniversary celebration at the Gum Springs Community Center on Saturday, Oct. 25.
"God kept me," said Palmore as she described her recovery from an abusive relationship and her efforts to help others. "Just listen to me" she told the community members in attendance, which they did. She and Kari Wright Warren are the co-founders for the group and have helped many survivors throughout the years.
Warren honored Det. Melissa Wallace from the Mount Vernon District police station with the Beacon of Light award for the support she provided to the group over the past six years.
Additionally, there was a reading by Tilly Blanding as well as performances by the West Potomac High School dancers, West African Dancers, Betty Graves and Gail Arrington. The mime, Tyesa Collins, brought the audience to their feet with her performance "Stand." Debbie Knapp, survivor of domestic violence, was honored at the event and shared her story with a short film about her experience.
Supervisor John Cook from the Fairfax County Board of Supervisors talked about the effects on children who come from domestic homes. He noted that 400 children in the county of Fairfax are homeless and most of them come from homes with domestic violence. "It is tremendously important that we get the word out. We have to get the word out that it is not just an issue for somebody else," he said.