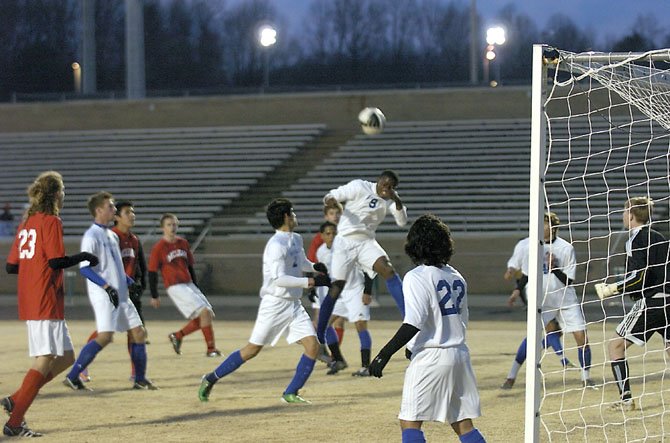 McLean — It has been a season of several frustrating, down to the wire losses for the McLean High boys' soccer team. On the other hand, the Highlanders have also won enough games to have clinched a winning regular season record and to believe they can be an impact team at the upcoming Liberty District and perhaps even the Northern Region playoffs.
"I think we've played well," said McLean head coach Mike Anderson, whose team held a decent enough 6-4-2 overall record with one regular season game remaining. "We've been a little unfortunate."
McLean, which was scheduled to close out the regular season on Wednesday, May 9 of this week with a district home game versus Marshall, is 3-3 in district play. All three of the Highlanders Liberty losses - setbacks to Jefferson, 1-0; South Lakes, 2-1; and Langley, 2-1 - came in the late stages of second overtime sessions.
In the most recent defeat - a district home setback to cross-town rival Langley last Wednesday night, May 2 - the Highlanders held a 1-0 lead late in regulation play before the talented Saxons tied the contest and ultimately won in extra play.
Those close game losses McLean has undergone this season are going to have to be the types of games the Highlanders win if they want to make a strong run at next week's eight-team Liberty District tournament.
"Some of it has been lack of focus," said Anderson, of the overtime district losses. "And we've been a little bit unlucky."
McLean is likely to be the district tournament's No. 4-seed and will meet either South Lakes or Stone Bridge in a first round (quarterfinals) game next Monday night, May 14. If the Highlanders clinch the No. 4-seed by beating Marshall this week, they will host their first round playoff game on Monday.
By winning its playoff opener, McLean would advance to a district semifinals contest at Fairfax High School on Wednesday, May 16. Also, a quarterfinals win would automatically qualify McLean for the following week's 16-team Northern Region playoffs. A loss, however, would end the Highlanders' season.
Anderson believes his team, which has proven to be an offensive juggernaut this spring (an impressive 36 goals over 12 games), can catch fire and get on a postseason roll.
"I think we're really starting to find our stride," said Anderson, whose team looked outstanding last Friday night - two evenings following the disappointing loss to Langley - in a 5-1 district win over visiting Madison. "We have an awesome team and can beat anybody."
But the coach also realizes his team can be beaten if it is not on its game. Monday's quarterfinals round playoff affair, against either South Lakes or Stone Bridge, will be a must-win game against a good opponent.
Anderson said both the Seahawks and Bulldogs are good teams. He said South Lakes, while not a prolific scoring team, is tough and good on defense. Stone Bridge, he said, is outstanding in scoring off of set pieces and would also be quite a challenge. McLean did beat Stone Bridge during the regular season by a 4-2 score on May 1 in Ashburn.
DEFENSIVELY, McLean has played fairly solid this season.
"Our defense is good," said Anderson. "We've had some hiccups."
A couple of positional changes proved to be beneficial for McLean in the win over Madison. Midfielders Theo Erickson and David Galdo, both juniors, were moved back to defender positions while a couple of defenders, including Jonathan Dunn, moved to midfield.
"Both are natural defenders and stabilize the back for us," said Anderson, of talented players Erickson and Galdo.
Anderson was pleased with the way his players took to and responded to the changes. McLean scored all five of its goals over the first 50 minutes of play versus the Warhawks. Dunn contributed a pair of assists. The Highlanders played a solid game defensively and displayed some firepower on offense.
"We have so much arsenal on offense," said Anderson.
McLean's top goal scorers this spring have been senior forward Mark Saunders (10 goals), senior midfielder Mike Russo (8), and senior defenseman Kyle Pyne (7).
Saunders, Russo, and Pyne are senior team captains, along with midfielder Nikolas Pavlis and goalie Rob Maffei.
Russo (University of Central Florida) and Maffei (Manhatten College) have accepted partial scholarships to play collegiate soccer next school year.
Anderson said his 2012 Highlanders have a good, winning mindset.
"Mentally, they're a very strong group with strong captains," said the coach. "They lost a heart-breaker versus their main rival [Langley] and came back and beat Madison."