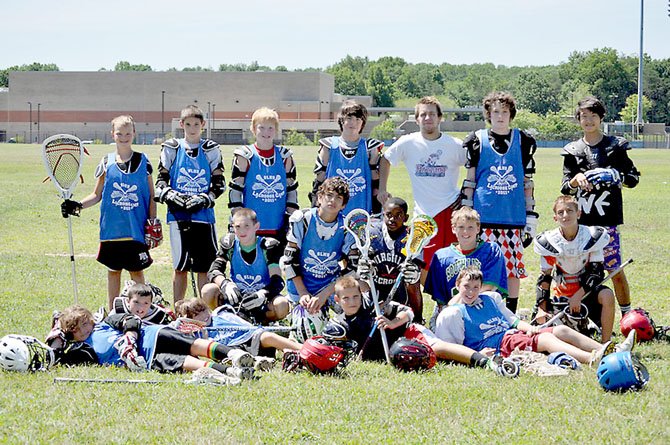 Reston — The South Lakes High boys' lacrosse team has experienced good success on the field this spring. This summer, the Seahawks, under head coach Craig Lunde, plan to once again share their winning ways and knowledge of the sport to youth lacrosse players throughout the Herndon and Reston areas with their South Lakes Lacrosse Summer Camps sessions.
Last summer, South Lakes organized and ran two weeks of the lacrosse camps in which both Seahawks coaches and varsity team players volunteered their time to help the younger players gain more knowledge as well as a love for the game. Money raised by the camp sessions went into the South Lakes lacrosse program.
Over 200 youngsters attended the two-week camp in 2011. Coaches from other local programs stopped by to assist, including West Springfield High varsity head coach, Scott Settar, who donated time to the camp, as well as Ryan Richardson, currently at Westfield High School, who ran clinics during the camp.
"The help the team got from other coaches and the Seahawk assistants, Sean Tate and Harley Connor, was incredible," said Lunde, the camp organizer who said this summer's camp will take place in July. "Even more incredible was our current senior class pitching in - refusing to take any form of payment just so everyone could have new gear."
The South Lakes Lacrosse Summer Camp raised enough money for the Seahawks to design and purchase new uniforms which they have worn throughout this spring season. South Lakes went 7-6 this spring. The team's season ended this past Friday night with a Liberty District tournament loss to Jefferson.
"It was pretty amazing to watch the guys work with the youth kids during the camp," said Lunde, reflecting back to last summer. "I can see where the future generations of Reston coaches will be coming from." As to the attractive new uniforms, Lunde observed, "The guys did it all on their own. They designed everything from top to bottom. All I did was take delivery. They look great."
Supplying the Seahawks' varsity uniforms is no small factor for a South Lakes team which employs a 'no-cut' policy, meaning as many players who come out for the Seahawks team with the desire to play the sport and work hard at becoming the best players they can become do not have to worry about being let go.
One might presume that such a 'no-cut' policy would result in poor win-loss records and negatively impact performance. But South Lakes has experienced the opposite. The team, under coach Lunde, is enjoying its third straight winning season - the first time South Lakes boys' lacrosse has achieved such heights. The current Seahawks' senior class is poised to graduate with the most career varsity wins than any South Lakes class prior.
COACH LUNDE, who grew up playing the sport in Long Island, N.Y., requires three primary rules of commitment from his players: the first that they display passion, honesty, and commitment to the team; second, for his student-athletes to work hard both on the field and in the classroom; and, third, for them to be good citizens in the local Reston and Herndon area communities.

Team members displayed their commitment to being good community citizens earlier this season when the Seahawks hosted a Friday night Youth Night that honored long-time Seahawk and Herndon-Reston Youth supporter Mark Hughes. The 'Friday night under the lights' event featured a spirited halftime game between Herndon-Reston youth teams, and culminated in the Seahawks' Liberty District victory over Marshall.
"It was such a great night," said Lunde. "It was fun getting a look at the Seahawk Class of 2019!"
Prior to taking over the South Lakes program a few years ago, Lunde and assistant coaches Tate and Connor all coached within the Herndon-Reston Youth league.
Coach Lunde has numerous sources of pride for his Seahawks' program overall and the players who make it up. Nine members of his varsity roster are Eagle Scouts; five of his seniors have already committed to playing lacrosse at the collegiate level next school year; and two former South Lakes players - Brendan Galbraith and Alex Clough, who both played significant roles in the 2010 Seahawks team's success in clinching a berth in the region playoffs - came back to coach current team members in a fall tournament earlier this school year.
"It seems that even though they graduate, the guys never leave the program but remain in touch and close to the team," said Lunde.
Coach Lundes' Role Model
A major influence on Craig Lunde's overall life and love for lacrosse comes from his dad, Hank Lundes, who coached a team known as the Lundes Hempstead Long Island Tigers, back in the 1970s.
"A key figure in my life has been my dad," said Lunde.
Lunde said his dad and several of his father's lacrosse friends currently keep up with the South Lakes team through the internet.
"A lot of them are big fans of the Seahawks and follow our guys closely," said Craig Lunde, of his father and fathers' friends' long distance support of South Lakes lacrosse. "Some of them are considered to be the greatest [lacrosse coaches, innovators] the lacrosse world has ever seen."
Craig said his father, a former high school coach, offers feedback in regards to the Seahawks' play.
"He watches the games through the internet and reviews them and offers the team advice," said Craig Lunde. "It's interesting how technology is changing the way teams at the high school level can perform. It's almost like he is the head coach."