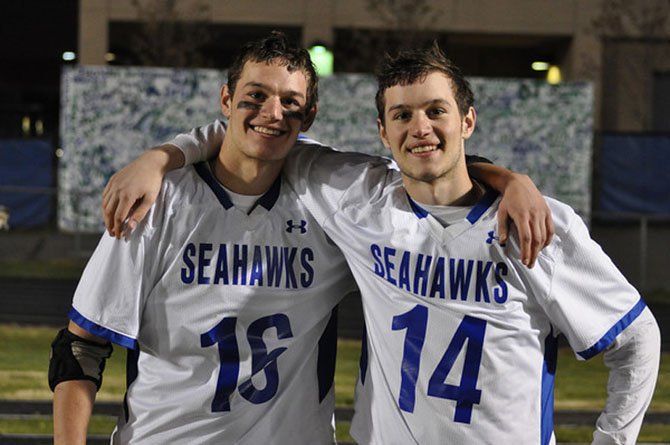 Reston — Despite being far from 100 percent healthy, the South Lakes High boys' lacrosse team assured itself of a winning record this season by defeating McLean High last Thursday night, April 26, by a 9-7 score in the Liberty District contest played at South Lakes.
With the late regular season win, South Lakes, under head coach Craig Lunde, improved its overall record this spring to 7-4. The Seahawks were scheduled to wrap up the regular season earlier this week on Monday, April 30 with a district home game versus Langley. South Lakes was set to celebrate its Senior Night that evening.
The postseason Liberty District tournament is scheduled to begin this Friday night with quarterfinals round games. Friday's first round winners will not only advance to the district semifinals, but also qualify for the upcoming 16-team Northern Region playoffs.
In last week's win over McLean, several South Lakes players - starting defenseman Freddy Lehner, midfielder Kyle Savage, Najee Lewis, starting attackman Alex Rofail, and captain Jeff Church - were unavailable due to injury or illness, or hurt during the course of the game.
But other Seahawks helped pick the team up. Especially strong games for South Lakes came from: Nolan 'Nails' Boyle, who played almost the entire game at midfield and scored for the Seahawks; sophomore Ben Bush, who scored twice from the midfield; junior Peter Moran, who won most of his face-offs; and freshman Joe Flynn, who started on attack.
Sophomore Hank Madden and junior Srikar Kuppa, who filled in for the injured Freddy Lehner, played solid games. Junior Zach Smith stepped in for the injured Alex Rofail and scored a much needed goal. It was a total team effort, said coach Lunde, who went on to credit Tony Dickerson, Chris Jennings, Dave Mathews and Dough Esherick with playing stellar games as well versus McLean.
For the South Lakes seniors (Class of 2012), who have been a part of the Seahawks' program over the course of their high school careers, the victory over the Highlanders was extra special because it was their 27th career varsity win, the most any South Lakes class has ever experienced. Five of South Lakes' 12th graders will be playing the sport at the collegiate level next school year. Those players are: John Oakes (Ohio Wesleyan); Harrison Drier, Jeff Church, and Freddy Lehner (all at Christopher Newport University); and Nolan Boyle (Frostburg State).
The win over McLean was a huge one for South Lakes.
"The guys were so excited to win considering we have had a tough year for injuries," said Lunde. "The younger guys stepped up and gave the seniors the record."
OVERALL, IT HAS BEEN an outstanding season for South Lakes, which opened the season with three straight wins - 15-1 over visiting Falls Church (National District) on March 13; 11-7 at Yorktown (National District) on March 20; and a 12-8 triumph at Liberty District opponent Fairfax on March 28.
Over spring break, the Seahawks competed at the West Springfield Tournament. There, they lost their first game to defending Northern Region champion Chantilly High (Concorde District), 10-8, on April 2. The following day, however, the Seahawks edged tournament host West Springfield (Patriot District), 12-11. In its third and final spring break game on April 4, South Lakes lost to Westfield High (Concorde District), 9-5.
South Lakes, after going 1-2 over spring break, did not resume its season again until April 13 when it hosted and defeated Liberty District opponent Marshall High, 15-12, to improve to 5-2 overall and 2-0 in the district (the prior district win coming over Fairfax).
The Seahawks, however, lost consecutive district road games - 8-7 in overtime at Jefferson on April 17, and 8-1 at Stone Bridge on April 19 - to fall to 5-4 and 2-2.
However, Lunde's squad bounced back strong last week with a district road victory at Madison, 8-7, on Monday, April 23, and then the home win over McLean four days later on Friday. The win over the Highlanders put McLean at 7-4 overall and 4-2 in the district going into its final game versus Langley.
Versus Madison early last week, both the South Lakes' varsity and JV teams were victorious in games over their Warhawk counterparts. South Lakes had never before beaten Madison. The Warhawks, for years, have been a stalwart member of the Liberty District.
One key to South Lakes' success has been a mindset of individual players stepping up to make things happen. That simple 'Do it Yourself' philosophy, cultivated by coach Lunde, has helped the Seahawks as a team.
Instead of reacting to the opponent or waiting for a teammate to initiate a play, Lunde encourages his players to make something happen, within the context of the team, with aggressive, but smart, controlled play. That mantra has helped lead the Seahawks to enjoy an exciting season - one in which Seahawks' supporters hope will extend deep into the postseason.