Alexandria — Wearing a polo shirt and sunglasses with a T-shirt tied around her waist, St. Stephen's & St. Agnes girls' lacrosse coach Kathy Jenkins roams the sideline during the first half of the Saints' May 3 home game against Holy Child.
As Jenkins shouts instructions, the Saints continue scoring, eventually building a 15-2 halftime advantage. In the second half, Jenkins stands the collar on her shirt and the Saints go into "turtle" mode, passing the ball around the field and chewing up clock rather than running up the score.
It was business as usual for St. Stephen's & St. Agnes in the sense that its 15-2 victory against Holy Child was the kind of dominant effort for which Jenkins' Saints are known. But while the performance was commonplace, it carried greater significance for the 61-year-old Jenkins, who earned the 600th victory of her 37-year career. After the game, players gathered around Jenkins and hugged the coach who has become an icon since co-founding the girls' lacrosse program at St. Agnes School in 1976.
"I just loving doing it," Jenkins said. "I try to not think about the 600th win. I'm more about how the girls are doing and having a great experience and playing. It's great. Today they came really enthusiastic. They were very excited for me, which is really nice. I don't like to think about myself, I'd really rather think about the team and my passion for the sport."
Jenkins' passion for girls' lacrosse helped bring the sport to St. Agnes, which merged with St. Stephen's School in 1991. She joined the St. Agnes faculty in 1971 as a 20-year-old from Erie, Pa., with a background in basketball. Five years later, she co-founded with Alix Fellows a girls' lacrosse program that would grow into of the nation's best. At first, however, Jenkins had to recruit athletes at St. Agnes to try a new sport.
"She's very inspiring as a coach. She's tough on you, but it's a good kind of tough. You want to play for her and you want to represent her."

— SSSAS junior Carly Reed
One of the athletes who played for the Saints during the program's infancy is West Potomac head coach Lori Cochran.
"I think I was in the eighth grade … when she decided to start a lacrosse team and she was pretty much just trying to recruit all the athletes," Cochran wrote in an email. "We had no clue what it was but she said she would get us some sticks. I vividly remember the first day on the field with my really cool wooden stick and she was standing next to the goalie cage in a Lilly Pulitzer pink and green skirt with matching headband, and had a rule book in her hand. She was reading what a 'crease' was and that we couldn't cross over it.
"We weren't really sure what was going on but we all thought it was so cool to be a part of something totally different."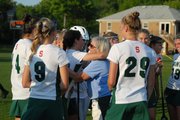 Nearly four decades later, Jenkins' teams have produced 24 conference tournament titles, 21 league championships and six state titles, and Jenkins has been inducted into the U.S. Lacrosse Hall of Fame Potomac and Virginia chapters.
"I feel like the school has been unbelievable in the backing and support I've gotten and all of our teams have gotten," Jenkins said. "It's a great school academically and athletically. My four children went here. They had great opportunities and I feel like they learned how to be a student and an athlete. I feel like the school gives so much that I've never wanted to leave.
"I think I'll be on my deathbed when I leave."
This year, SSSAS improved to 19-3 with a 17-4 victory against National Cathedral on May 8. The Saints' three losses came against Bryn Mawr, Vero Beach and Georgetown Visitation.
"Our three losses this year, [our players] were devastated," Jenkins said. "It was really hard to pick them up. I say, 'You know what, you played hard out there … you learn from your losses,' but I have never seen a team so devastated because no team really wants to be the one to lose those big games."
Part of the reason the Saints take losses so hard is because the players want to win for Jenkins.
"She's very inspiring as a coach," said junior Carly Reed, the program's all-time leading goal scorer. "She's tough on you, but it's a good kind of tough. You want to play for her and you want to represent her. … Everyone knows she's a great coach, so as a team we have to go out and prove how great of a coach [she is] and how much she's taught [us]."
Jenkins' teachings stick with her players after they leave the program. Her knowledge helped Cochran as a player, and now it's helping her as a coach.
"She was awesome from day one," Cochran wrote. "She was passionate about the girls as individuals and loved her job. She and Mrs. Fellows had a blast on the field every day. They worked really well together. As a coach now myself for the past 12 years, the one thing I have realized from her was to be consistent. Every day she was up, positive, serious and committed. You can't come one day and be moody or just joking around all the time, because the coach needs to set the tone for the team.
"Consistency is the key to success. We would run the same drills, same routines every day the first couple of years. We knew what she expected from us and what we could expect from her."
Along with coaching the girls' lacrosse program, Jenkins teaches fifth-grade physical education and coaches middle school tennis, basketball and lacrosse, and high school tennis. She said she would like to continue coaching for "four or five more years."
"I'm 61, so I would like to stay as long as I can and as long as I'm able," Jenkins said. "I think it's what keeps me young and keeps me going. I look forward to coming here every day and being with the team."