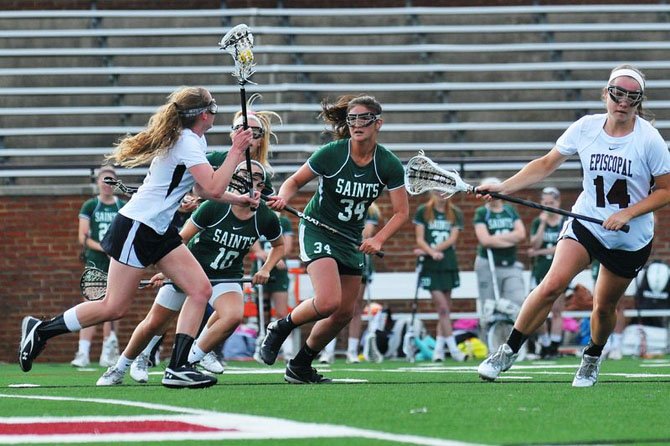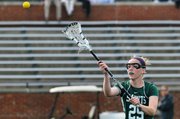 How does a program respond to the graduation of multiple All-Americans, including one of the most prolific goal-scorers in high school lacrosse history?
If that program is St. Stephen's & St. Agnes, led by legendary coach Kathy Jenkins, it just plugs in some new athletes and keeps on winning.
The St. Stephen's & St. Agnes girls' lacrosse team defeated rival Episcopal 17-3 on Tuesday at Episcopal High School. Ten different players scored at least one goal for the Saints, who improved their record to 14-0.
Junior midfielder Ellie Majure and senior midfielder Olivia Mikkelsen each scored four goals for the Saints. Majure leads the Washington, D.C.-metro area with 60 goals, according to stats from the Washington Post's allmetsports.com.
"She has very quick hands and feet," Jenkins said. "Watch her hands, her hands are so quick. She sees [the field] really well and she likes to score."
While it's nothing new for the Saints to have a standout goal-scorer, having someone other than Carly Reed at the top of the list is a change of pace. Reed, now a freshman on the University of North Carolina women's team, finished her four-year SSSA career with 475 goals, which would be a national record according to the National Federation of State High School Associations. With Reed now in college, the Saints feature a more balanced offensive attack.
"We like to have seven or eight scorers. Last year, people all went after Carly. We'd rather have it more spread out."

— SSSA girls' lax coach Kathy Jenkins
"We like to have seven or eight scorers," said Jenkins, who has won more than 600 games in nearly 40 years of coaching. "Last year, people all went after Carly. We'd rather have it more spread out. … We're still trying to run the same things and we're just feeling like more people are being given opportunities to score. Carly liked the ball in her stick and she was really good at getting open."
Senior midfielder Sophie Davidson scored two goals against Episcopal on Tuesday. Junior attacker Haley Mullen, sophomore attacker Ellie Carson, junior attacker Abby Bailey, junior defender Kendall Swenson, freshman midfielder Caroline Wiseman, sophomore midfielder Anna Pusey and sophomore attacker Mattern Burnett each scored one goal against the Maroon.
The Saints have also been strong defensively, thanks in part to University of Southern California-bound goalkeeper Gussie Johns.
"She's just such a leader, but she's also an athlete," Jenkins said about Johns. "… Her athletic ability, her game knowledge, her understanding the game, her coaching from behind in the goal [make her a strong goalkeeper]."
Johns said she when she was younger she wanted to become a goalie to follow in the footsteps of her older brother, Bo.
"I think being athletic in the goal helps me," Johns said. "I think it brings something else to the position that not a lot of people are able to. I think the position is changing a lot. …. They can go out for ground balls or help on the defense or help on the ride."
The Saints have continued winning despite the graduation of All-Americans Reed, attacker Besser Dyson (University of Virginia), defender Wyatt Whitley (Virginia) and midfielder Margaret Tucker Fogarty (James Madison). Last season, St. Stephen's finished 28-1, winning ISL and state championships. This year, the Saints are undefeated midway through the season.
"It's something I'd like to do," Johns said of going undefeated. "It's a great feat to go undefeated, but it's not something always on the top of my mind."
The Saints will travel to face Flint Hill at 4:15 p.m. on Thursday, April 10, and will host Collegiate School at 4:15 p.m. on Friday, April 11.