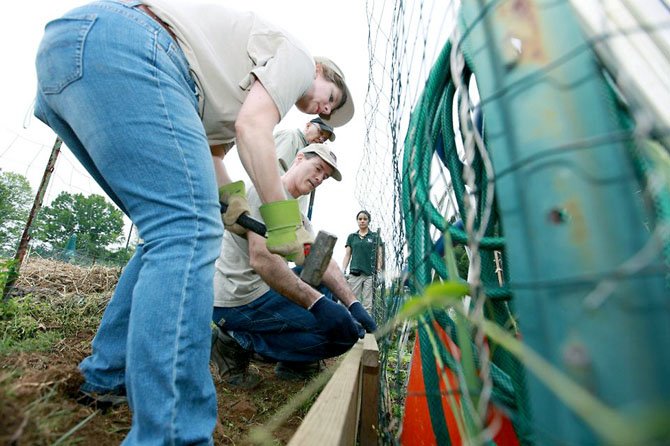 Some community gardeners in Reston will now have an easier and safer trip to their garden plots, thanks to volunteers from a structural engineering firm. Haynes Whaley Associates' eight-person team made repairs to the connecting pathway between the garden plots.
John Gander, Haynes Whaley vice president and principal, was among the volunteer team. He said, "The opportunity to help Reston citizens by creating safe pathways to their garden plots is a real privilege. We thank the Reston Association and their community outreach team for helping us to coordinate such a worthwhile project."
Reston Association has about 270 community garden plots in four areas. They are rented by individuals each season. Patricia Greenberg, Reston Association Environmental Resource Supervisor said the work completed by Haynes Whaley created level paths for the gardeners to reach their plots.
Reston projects completed by Haynes Whaley include Discovery Square One & Two, 1775 Wiehle Avenue, One & Two Reston Crescent, Arboretum I & II, 1925 & 1943 Isaac Newton Square, and The Spectrum retail center.