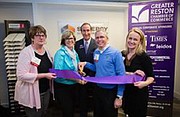 Mark and Mina Fies, owners of Synergy Design & Construction, a design-build firm located in Reston, celebrated the Grand Opening of their new showroom on Jan. 24 with a special ribbon cutting ceremony. The Greater Reston Chamber of Commerce hosted the event with more than 120 local business owners and leaders in attendance.
"It's hard to believe we started in a windowless basement almost 9 years ago and are now celebrating the grand opening of our new showroom. We are about to hire our 12th employee and have garnered national recognition for our design work and customer service experience" said Mark Fies, CEO of Synergy Design & Construction.
Synergy Design & Construction attributes their success to focusing on providing an exceptional client experience with predictable results (on time, on budget but maintaining high quality standards) and staying focused on serving Reston and the immediate surrounding communities. They anticipate hiring an additional 3-4 team members by the end of 2017 with a projected growth rate of 15 percent over 2016.
"We couldn't be happier to have you as part of our community. Thank you for your involvement with the Reston Home Tour, Reston Association's Home & Garden Expo, and for being a Helping Homes partner, where you provide exterior home repair for financially challenged neighborhoods in Reston," said Mark Ingrao, President of the Greater Greater Reston Chamber of Commerce.