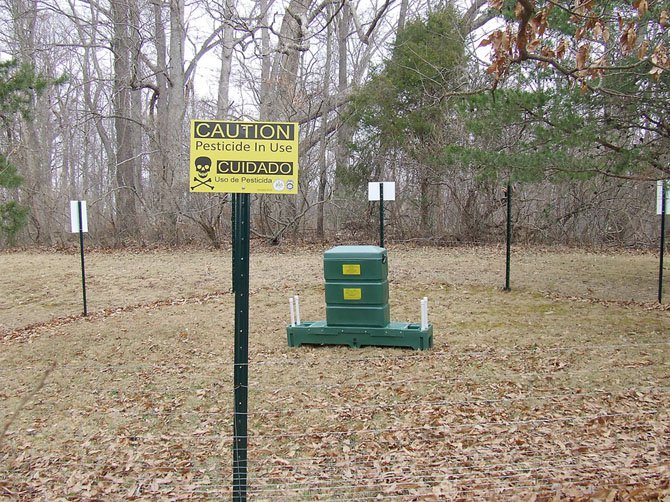 What to Do if Bitten
*Don't panic.
*Gently pull the tick straight out by grabbing the tick as close to the skin as possible with tweezers.
*Place the tick in a bottle or bag labeled with the patient's name, address and date the tick was removed.
*Have the tick identified and tested by a lab, health department or veterinarian.
*Seek immediate treatment if tick tests positive for Lyme disease.
Sources: The National Capital Lyme and Tick-Borne Disease Association, Fairfax County Health Department
About the Pilot Study
The Fairfax County '4-Poster' pilot study is a novel research project to control tick infestations on white-tailed deer at test sites in Fairfax County.
Because Virginia does not currently permit legal commercial use of 4-poster deer treatment stations, the county's pilot study is being conducted under a scientific collections permit issued by the Virginia Department of Game and Inland Fisheries. The research is an extension of the Fairfax County Deer Management Program implemented each year by the Fairfax County Wildlife Biologist Office.
Research Goals:
Over the course of the three-year pilot study, considerable biological data will be collected and analyzed in an effort to assess:
*Efficacy of the devices in reducing the density of ticks carried by free-roaming wild deer at each test site, and comparing tick densities between test sites and the control sites.
*Practicality of the devices as a method for reducing the density of ticks carried by deer.
*Effect of year-round corn baiting on the overall herd health of free roaming wild deer.
Deer Treatment Station Locations
*More information about tick-transmitted diseases, disease prevention, and tick identification is available from the Fairfax County Health Department's Disease Carrying Insects Program at http://www.fairfa...">www.fairfaxcounty...
After an unseasonably warm winter, Fairfax County health officials are bracing for a proliferation of tick infestations as well as a potential surge in new cases of Lyme disease.
Lyme disease, which is spread through the bite of an infected blacklegged tick, has been on the rise in Fairfax County in the past decade.
"Northern Virginia is ground zero for Lyme disease," said Congressman Frank Wolf (R-10). "Anything that we can do to raise awareness and educate people is critically important."
This year, Fairfax County has a new tool in the arsenal to fight Lyme disease. In March, the county set up 20 deer feeding stations —five in Hemlock Overlook Regional Park in Clifton, and 15 in Sully Woodlands in Chantilly – that use corn to bait deer and treat the deer with a pesticide to kill ticks before they infect humans.


THE FEEDING STATIONS, called "4-Poster" deer treatment station, are part of a pilot study to control tick infestations on white-tailed deer at two test sites in the county using a "4-poster" deer treatment station technology.
According to Jeremy Everitts, an environmental technician in the county's Wildlife Biologist Office, a total of four posts that resemble paint rollers are placed on the corners of the station next to two shallow feeding troughs.
The posts are saturated with a pesticide (10 percent permethrin) used to kill ticks on the deer.
"A deer rubs its head and neck against the rollers as it lowers its head to the trough to feed on the corn at the station," said Everitts. "This direct contact results in a self-application of the pesticide on the deer. The pesticide is further spread on the deer's body during regular grooming activity."
Everitts emphasized that the "4-Poster" pilot study is a tick control study only, not a tick transmitted disease control or prevention study.
The Fairfax County Wildlife Biologist's Office is conducting the study to see if the pesticide will reduce transmission of ticks to humans and to research the practicality of the feedings stations. The three-year study on controlling tick infestations will run until 2015 and will cost about $380,000, according to county officials.
It's a program that Supervisor Pat Herrity (R-Springfield) has been lobbying for since 2009 when he hosted a joint town hall symposium on Lyme disease with Supervisor Michael Frey (R-Sully) and Wolf that drew more than 200 people.
"It's about time we got this program started," Herrity said. "The Board of Supervisors approved the project in 2009."
Herrity said he became concerned about the prevalence of Lyme disease after hearing from many of his constituents afflicted with the disease.
"We have an epidemic that we're largely ignoring," he said.
According to Fairfax County Health Department officials, 260 cases of Lyme disease were reported in Fairfax County in 2009, a record high. Officials with the Centers for Disease Control and Prevention (CDC) said that 900 new cases of Lyme disease were reported in Virginia in 2009, a number the CDC acknowledges could be ten times higher due to under-reporting and inaccurate diagnostic tests.


IN 2011, the number dropped to 146 reported cases in Fairfax County.
But Herrity said he expects this year to be as bad as or worse than 2009. "It's been a mild, dry winter, and I can already tell from being out in the woods that (ticks) are proliferating."
A deer tick takes about 36 hours to transmit Lyme disease, according to the CDC. The longer the disease goes undiagnosed and untreated, the greater the chances are for brain, heart and joint problems.
"For Swine Flu, we went on full red-alert, but more people are afflicted with Lyme disease, and it's time we take it seriously," Herrity said.