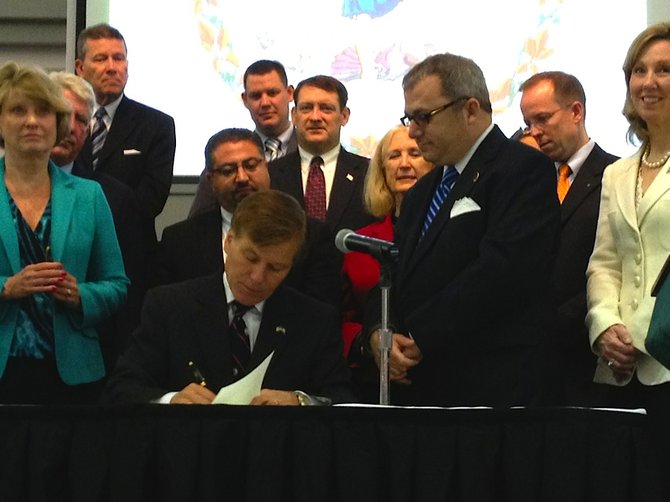 Strangulation will be punished more aggressively to combat violence against women. Campus police will work with other police agencies to crack down on domestic violence of unmarried couples. And the telephone number for a human trafficking hotline will be placed in the restrooms at strip clubs across Virginia, all part of a slate of new bills signed into law this week at the Annandale campus of Northern Virginia Community College.
"Sometimes proximity to major international airports and larger more cosmopolitan cities are the places around the world where you see the incidents of human trafficking," said Virginia Gov. Bob McDonnell after the formal ceremony. "What really needs to be done is to raise the level of awareness."
The National Human Trafficking Resource Center estimates that Virginia ranks 10 in calls to its hotline, and prosecutors in the Eastern District of Virginia have prosecuted 16 separate cases of human trafficking in 2011. Last month, federal prosecutors announced the indictments of five Fairfax County residents in gang-led teenage prostitution that spanned Northern Virginia. One of the bills the governor signed this week was introduced by state Sen. Adam Ebbin (D-30), which would require the State Board of Education to provide training and materials to local school divisions to help them identify and report instances of human trafficking.
"These girls were trafficked while in high school on evening weekends, and it's unconscionable that this could happen," said Ebbin. "We need to better equip teachers, administrators and counselors to detect prevent and report cases like this in the future."
THE CEREMONY represented a rare show of bipartisanship in Virginia, where the state's politics often get mired in divisive social issues. The slate of bills McDonnell signed in Annandale this week offer the Republicans a way to get tough on crime while offering the Democrats a change to combat violence against women and human trafficking. One of the leading champions of fighting crimes against women is state Sen. Janet Howell (D-32), who introduced several of the bills the governor signed into law this week.
"Those of us who have been in the General Assembly for a while recognize that passing the bills is the easy part," said Howell. "Much harder is providing the services to the victims of violent crimes."
Three of the bills were aimed at stemming the growing trend of human trafficking in Northern Virginia. Aside from Ebbin's bill to provide training and materials, the governor also signed a bill introduced by Del. David Bulova (D-37) that will require strip clubs and topless bars to post the telephone number of the National Human Trafficking Resource Center. Another bill McDonnell signed Wednesday was introduced by Del. Barbara Comstock (R-34) to give new tools to law enforcement officials and prosecutors to target gangs involved in sex trafficking.
"The recent arrests of gang members in Fairfax County for forcing high school girls to engage in commercial sex highlights the very real need to pass these critical pieces of legislation," said James Dold, policy council for the Washington-based Polaris Project. "Over the last several years, Virginia's leaders have worked together to make the commonwealth's human trafficking laws some of the most improved in the nation."