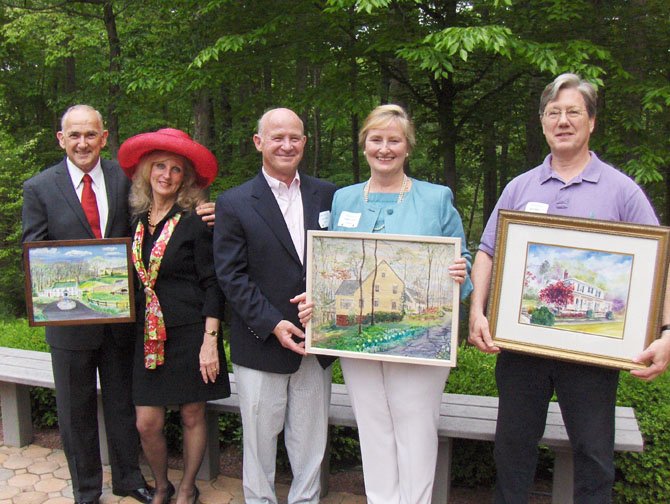 French chandeliers, antique furnishings, original paintings and whimsical collections are among the delights awaiting all those attending the 40th annual Clifton Spring Homes Tour. It's slated for Thursday, May 17, from 9:30 a.m.-3:30 p.m., and includes a marketplace, silent auction and raffle, from 9:30 a.m.-5 p.m., at the Paradise Springs Winery.
Lunch will be available at Clifton eateries; and the winery, at 13219 Yates Ford Road, will sell box lunches with advance reservations (made by May 15) at 703-830-9463. Culminating the day's events will be a "Wine Down," also at Paradise Springs, from 3-6 p.m., featuring a performance by the Steve Smith Blues Duo.
Tickets are $25 in advance; $30 on tour day; single-home admission is $10. There's no charge to enter the winery for the marketplace or silent auction. And Homes Tour Co-Chair JoAnne Gallo says it's a great way to have fun.
"We want people to enjoy visiting the homes," she said. "Then we hope they'll come to the winery after touring, buy lots of raffle tickets, meet their friends, husbands and significant others and stay for the wine and music."
Putting on the tour is the Clifton Community Woman's Club (CCWC), and all net proceeds support its Charitable Trust which contributes to several local charities, student scholarships, food banks and causes including the Yellow Ribbon Fund, which aids injured soldiers and their families.
The homes tour is the trust's primary fund-raiser and generally attracts some 600 visitors from throughout the Washington Metropolitan area. As a result, over the past six years, alone, the Trust has contributed more than $120,000 to help others.
"Every year, we're able to donate approximately $20,000 to our Charitable Trust," said Gallo. "We're a small club of just 80-90 members, and we work hard to make the money to donate to the trust."
This year's event features four homes, plus the newly renovated Acacia Lodge on Main Street. Opening their houses to the public are Kathy Kalinowski and Brant Baber, Lisa and Paul Brockman, Lynne Garvey-Hodge and Rob Airaghi, and Vickie and Joe Luchini.
"This year, we have three homes older than 100 years," said event Co-Chair Diane Smith. "And our tour is fairly compact; people won't have to drive a long way between houses. The Acacia Lodge has never before been on the spring homes tour. And inside the lodge will be an information table with a video of what the CCWC does, plus cookies and lemonade."

For ticket-sales locations and more information about the features homes, go to www.cliftoncwc.org or contact Gallo at jgallo.jbg@verizon.net or Smith at mds727@cox.net.
There'll be a variety of vendors at the marketplace, offering items including hand-woven baskets, beaded and wire jewelry, name art, ceramics, decorative glassware and tableware, handbags with interchangeable covers, skin-care products, fine-art portraits and pictures made of crushed/fused glass.
Items to be raffled off will include gift certificates and merchandise donated by restaurants, woman's club members and local businesses. Raffle tickets will be available at the winery.
At the silent auction, instead of gift baskets, attendees will bid on gift certificates for items such as golf foursomes, hair-salon and spa visits, fine dining, tickets for the GMU Center for the Arts, and a week at a time share.
All in all, said Gallo, "It'll be a wonderful day — a day to peek in other people's houses, get together with friends, have lunch, shop and have a really nice time."
BABER HOUSE
Built in 1880, the Victorian farmhouse of Kathy Kalinowski and Brant Baber on Ford Lane boasts its original tin roof, white-oak siding, yellow-pine floors, banister and mantelpieces. A 19th-century gas chandelier (now electrified) adorns the two-story hall in the home they've lived in for three decades.
Also decorating the home are a Chippendale sofa, Queen Anne chairs, a gilded French-horn chandelier made in Paris, an antique French bookcase and a floor-to-ceiling mirror which once hung in an English manor house. There's a painting of George Washington which was in the Smithsonian 100 years ago, plus an Andrew Copen painting of the Boston Market that came from John Kennedy's senate office.
BROCKMAN HOUSE
Horses grazing in a field by a red barn, a columned porch and family heirlooms make the home of Paul and Lisa Brockman warm and welcoming. This 19th-century farmhouse on Yates Ford Road contains a bookcase that belonged to Paul's father and now holds a collection of Lisa's grandmother's Quimper pottery. There's also a large, decorative pot from the Waldorf Astoria.
The house features many pieces of furniture custom-made from reclaimed wood, especially the farmhouse table and corner cabinet in the dining room. At each end of the table are wing chairs, upholstered by Lisa in old grain sacks. Whimsical touches include a picket-fence headboard, antique shoe-form collection, African headdress and bunny weathervane.
LUCHINI HOME
The Tepper Drive home of Vickie and Joe Luchini is a yellow, New England saltbox in a wooded setting. The couple designed it themselves to remind Vickie of the ones she loved so much in New York and Vermont. Visitors are greeted by a soaring stone fireplace, and the front-hall walls begin the home's color scheme of deep golds, greens and reds. Combined with the black-walnut floors and Oriental carpets, they create a dramatic backdrop for the Luchinis' collection of 18th-century, English oak furniture.
Their oil paintings include impressionistic waterscapes by Kevin Fitzgerald, plus a rendition of West Virginia's Tygart River by Lynn Boggess. Scenes by Martin Poole hang on the staircase and in the den. Since Vickie loves British things, the home also features a pub sign embellished with the Royal Coat of Arms and a painted chest honoring Lord Nelson.
AIRAGHI-GARVEY-HODGE HOME
Recently engaged, Lynne Garvey-Hodge and Rob Airaghi named their home on Blue Dan Lane "Amami Sempre" (love me forever). Overlooking rolling hills and paddocks, it's a serene setting for what was originally an 1870s farmhouse and is now adorned with heart-pine floors and five-paneled doors, plus antiques in each room, such as quilts and needlework stitched by previous generations.
Lynne's own paintings, drawings, watercolors, oils — many featuring scenes of the local area — abound. Also on display are her collection of snails in crystal, pottery and silver, plus international souvenirs from Rob's career as an Air Force officer in places such Berlin and Cairo. They include a massive, German cupboard and a decorative, 17th-century French mirror.
ACACIA LODGE
The Acacia Masonic Lodge represents more than 130 years of Freemasonry in Clifton. It was originally built as a saw mill on Popes Head Creek in the 1870s. The Freemasons purchased the building in 1903 and moved it to Main Street in 1920. It was the first building in town with electricity and is registered as a Historic Landmark.