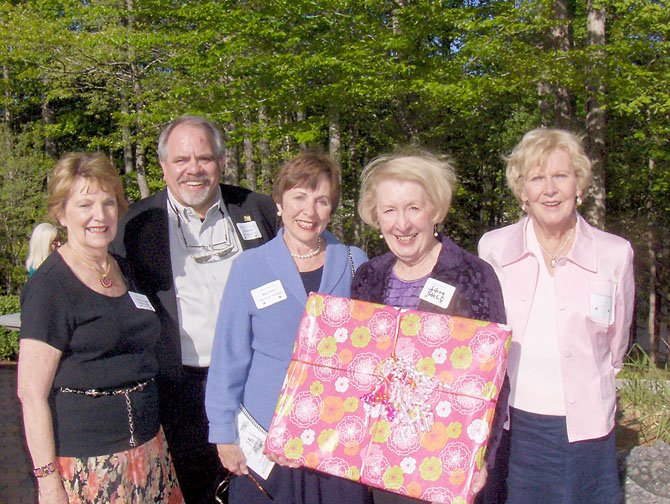 An English garden, 18th-century furnishings and a pool with waterfalls are among the delights awaiting all those attending the 41st annual Clifton Spring Homes Tour. It's slated for Thursday, May 16, from 9:30 a.m.-3:30 p.m., and the fun includes a marketplace and silent auction at the Paradise Springs Winery.
The silent auction ends at 5 p.m., but the marketplace goes until 6 p.m. Tickets are $25 in advance; $30 on tour day; and single-home admission is $10. For ticket-sales locations, go to www.cliftoncwc.org. There's no charge to enter the winery for the marketplace or silent auction.

Lunch is available at Clifton eateries; and the winery, at 13219 Yates Ford Road, will sell lunches with advance reservations (made by May 14) at 703-830-9463. Culminating the day's events will be a "Wine Down," also at Paradise Springs, from 3-6 p.m., featuring a performance by the Steve Smith Blues Duo.
Putting on the tour is the Clifton Community Woman's Club (CCWC), and all net proceeds support its charitable trust, which contributes to several local charities, student scholarships, food banks and causes including the Yellow Ribbon Fund, which aids injured soldiers and their families.
The Spring Homes Tour is the trust's primary fund-raiser and generally attracts some 600 visitors from throughout the Washington Metropolitan area. Over the past seven years, the trust has given more than $160,000 to help others, so the tour organizers hope for another successful event.
"After almost a year of planning, the tour will present amazing and diverse homes with easy access," said homes tour Co-Chairman JoAnne Gallo. "Hopefully, we will have record-breaking ticket sales and our profits will enable CCWC to provide even more money to our community charities. This year, we've had more sponsors than ever and we thank them all so much. It means a great deal to be supported by the community."
This year's event features four homes, plus the historic Acacia Masonic Lodge on Main Street. Opening their houses to the public are Marci and Ken Huntsman, Mary and Frank Presta, Mary and Pete Mills, and Jean and Tom Peterson.
There'll be a variety of vendors at the marketplace, offering items including handmade jewelry, beaded glassware and tableware, women's clothing, purses, scarves, watches, glass ornaments, beaded wine bottles, organic Haitian blue coffees and cookies.
At the silent auction attendees may bid on a variety of items. They'll include a 30-day membership at a fitness club; rounds of golf, with carts; overnight stays at bed-and-breakfasts and gift certificates for local businesses such as restaurants and hair salons.
As for the homes tour, CCWC President Kay Gilbert says it promises to be as special and enjoyable as always. "This year, people will see Clifton as it has transitioned through more than a century," she said. "They'll see houses built in the 1880s and 100 years later."
"All the homes are really great," added homes tour Co-Chairman Diane Smith. "They were all on the tour years ago and were such big hits that we brought them back again, by popular demand. And there's plenty of parking at all the homes."
Huntsman House
The 12,000-square-foot home of Ken and Marci Huntsman on Balmoral Greens Avenue is in a French country Romanesque style. There's a Spanish sandstone fireplace with allegorical carving, heavy paneling and intricately laid flagstone floors with artistic tile insets.
Ken used his engineering talent to install a high-tech computer system to run the house. And the furnishings were all custom-made or hand-chosen by famous designer Barry Dixon. Outside, the grounds contain a tennis court, stables and a peaceful, boulder-lined pool complete with cascading waterfalls.
Presta Home
Frank and Mary Presta's classic colonial house on Redlac Drive features floors of 100-year-old Virginia pine and 18th-century furniture. Highlights include a Scottish grandfather clock, a British bonnet-top highboy and a Dutch cupboard.
There are also paintings and sculptures in equestrian and hunting themes, as well as colorful antique quilts adorning walls and railings. And visitors will enjoy seeing the colorful, springtime flowers in the English garden outside.
Mills House
Owned by Pete and Mary Mills, this home on Main Street was built in carpenter-gothic style in 1884. It features steep gables and pointed arch windows, and the mantle in the parlor was originally in the Willard Hotel in Washington, D.C.
Mary Mills decorated the house with damask wallpapers, some French country furniture and fabrics in soft yellows, blues and teals. This home also contains the original woodwork and heart-pine floors, in contrast to the modern, renovated kitchen.
Peterson Home
Also on Main Street, Tom and Jean Peterson's home is the only house in town built in the Second French Empire style. The town's first postmaster, Lewis Quigg, had it built for his wife in 1874. Highlights include an open, three-flight staircase in the center hall, plus four working fireplaces.
An old farmhouse table is in the glass-enclosed sunroom overlooking the garden. There's also sports memorabilia from Tom's career in sports, as well as an 1850s high chair that Jean used as a child.
Acacia Lodge
The Acacia 16 Masonic Lodge represents more than 130 years of Freemasonry in Clifton. It was originally built as a saw mill on Popes Head Creek in the 1870's. The Freemasons purchased the building for $250 in 1903 and moved it to Main Street in 1920. The next year, it became the first building in town with electricity and was later registered as a historic landmark.